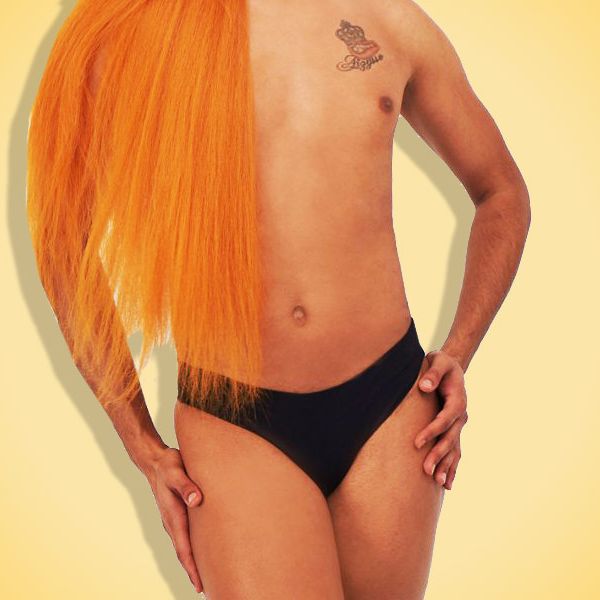 Photo-Illustration: retailer
Like many people, I'm ready to wear clothes once more. I pine for skirts, dresses, and exposed skin. But anyone who's getting dressed to leave the house again knows that it presents a problem we didn't have to think about during our year of living at home: what goes under the clothes. There are, of course, the usual underwear concerns, like finding pairs that balance fashion and function or won't show lines across your butt. For me, those criteria are secondary to another: finding underwear with enough fabric. Without getting too deep into the anatomical reasons behind this, I'll say it plainly: I have a penis. Most of the women I know do. But we still want cute underwear that fits without spilling out of it — or, if you're like me, having to tuck.
If you don't know what tucking is, I'm sure there is a tutorial or an episode of RuPaul's Drag Race you can watch to get the gist. It hurts and, at this moment in my life, I don't care about having a vagina. So why should I bother with looking like I do? There is no pain quite like coming home and removing a pair of underwear that's been pinching skin for an entire day. I've spent years searching for underwear both sexy and basic that feels good and provides enough coverage for me not to tuck (or, on the occasions I do, wear a gaff). Some pairs I've found on my own, while others have come recommended by friends. As we get back to normal, the months ahead present many uncertainties: Will I lock eyes with a sexy stranger? Discover a new talent? Attend the best party ever? I can't say. One thing I do know: Thanks to the pairs below, I won't be worrying about the underwear I'm putting on (or taking off, should the opportunity arise).
Photo: retailer
For casual-sexy, Los Angeles Apparel's Micro Nylon High Cut Panty is a go-to. High-cut briefs that nod to the '80s, like this pair, work well for transsexuals because the front is usually pretty wide. I buy them in bulk; they're great for everyday wear under jeans, with enough space to hold me in. If your shoulder-to-hip ratio makes you dysphoric, these will help give your body a flattering pear shape. Should you want to do a light tuck, go a size smaller than normal. They'll be comfortable without much compression.
Photo: retailer
This high-waist thong is just as roomy in front as the brand's briefs above, but doesn't cut across your butt, making it sexier. It has a lighter compression but still offers enough coverage for those who don't want to smash their bits together. Though if you're not tucking, the thong is better worn with tighter clothes to avoid unwanted lumps.
Photo: retailer
I like to wear this thong on days spent hanging around the house or when I'm exercising at home in warmer weather. The fabric is super-smooth, making it undetectable even under the tightest clothes. It's not tight enough to allow for tucking and the coverage isn't as full as other pairs, but there's enough that I feel secure. Like lots of Parade's underwear, this comes in a range of colorful shades and there's probably a girl you know who has a discount code if you don't want to pay full price.
Photo: retailer/
Sometimes a woman with a bulge on the street is just too much, which is why I do tuck every now and then, especially if I'm wearing something revealing. Still, I like being able to tuck without wearing a gaff — a piece of super-compressive fabric with two loops to stick your legs through that's worn beneath underwear. It just feels too bulky. This semi-sheer mesh underwear from Origami Customs sits low on the torso and has enough compression to tuck. It's a nice, simple style that's designed for trans femmes to wear every day. In addition to black, you can get it in a white called "bone" and a nudeish color called "dawn."
[Editor's note: Origami Customs lists all prices in Canadian dollars, so the price shown above is an approximate conversion to US dollars.]