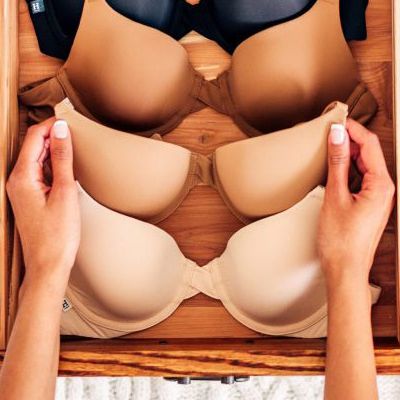 Photo: Courtesy Harper Wilde
Like mattresses, glasses, bedding, and cookware, bras have become one of the most competitive products in the direct-to-consumer, start-up world, with several new brands popping up in recent years. Predominantly led by female founders, these companies are chipping away at the longtime dominance of certain hypersexualized lingerie brands (it's no Secret what they are) by offering what they claim to be comfortable and better-fitting bras. Scrolling through social media, you've probably seen ads from at least one of these newcomers — like ThirdLove, True & Co., or Lively, to name a few — and, in turn, probably wondered if they're actually any good.
To answer that question, I asked seven of the brands I've seen and heard about most often to send me samples of what each considers their basic T-shirt bra. Comparing how each made a staple, everyday bra that should be comfortable and invisible under a simple top, I reasoned, would be a good first step in deciding whether or not to delve deeper into the brands' lines. So I judged each bra on a scale from 1–3 (3 being the best) on the following criteria:
Fit: I ordered all seven bras in my usual size for a fair comparison on how each brand fits. I also wore each on the loosest hook (which bra fitters recommend doing with new bras, and then making it tighter as the bra stretches out) and looked to see if the band is flush against my skin, or does it ride up or feel restrictive? Can I adjust the straps for a comfortable fit? Is there any gaping or spillover in the cups?
Comfort: Probably most importantly, how does the bra feel through a full day of wear? Does the underwire poke into my skin, or do I barely realize it's there? Do I feel the need to immediately take it off when I get home at the end of the day, or is it comfortable enough to wear while lounging around?
Support: None of these are sports bras, so I'm not looking for something to keep my breasts in place during a HIIT workout, but how do they handle everyday walking around or going up and down stairs?
Invisibility: When paired with a fitted, medium-weight white T-shirt, does the bra disappear, or can I see the hooks, straps, or band? Is there enough nipple coverage if it's chilly out? Is there any spillover on the sides or in the back?
After testing them out, I was pleasantly surprised that all seven bras were, overall, comfortable, well-fitting styles that I'd be happy to wear any day. There was no runaway winner or loser, but the brands differ in small ways — I've broken down the pros and cons of each below — that might make you prefer one over the others. Like many bra-wearers, I'm often in the mood for different bras on different days, so I broke down the bras I tested into three categories: the comfy ones (for those days when a bra seems like too much work); the pretty ones (for date nights or times you're just feeling yourself); and the workhorses (reliable everyday bras that you never have to think about).
The comfy ones
Photo: Courtesy of the retailer
Fit: 2 | Comfort: 3 | Support: 2 | Invisibility: 3
One of the first bra start-ups, True & Co. was founded in 2012 and quickly made a name for itself with its online fit quiz (now a staple on most brands' websites) that uses an algorithm to determine your correct size and body type. True & Co. has since been acquired by PVH (the parent company of Calvin Klein, Tommy Hilfiger, and other apparel brands) but still relies on the quiz to predict your best fit. When I tried it out, it correctly identified the size I'm most comfortable in (along with a few other sizes that might work) and labeled my shape as "Shallow Bottom Happy," accurately describing my smaller breasts that could use a little lift.
Their wireless T-shirt bra quickly became one of my favorites of the bunch, and one I found myself reaching for on days when I wanted something easy to wear. It's very comfortable thanks to its soft, microfiber fabric, stretchy band, and full coverage cups with seamless front straps. The smooth band and lightly lined cups totally disappear under a T-shirt. I found that it had enough support for me, but if you have larger breasts, you might want something with more structure. The straps convert to a cross-back or halter, but because only about half of each strap is adjustable (since the front part is an extension of the cup), I wasn't able to tighten them as much as I would like, and I suspect they might start to slip as they stretch out. For something a little sexier, I also tried and liked the brand's Madison bra, which has lacy accents and a deep front plunge.
Fit: 2 | Comfort: 3 | Support: 3 | Invisibility: 2
Tommy John started out making men's undershirts but soon expanded its line to include underwear and loungewear for both women and men. And this year, it launched a small collection of bras. Since its underwear is known for how soft it is (our editors are fans), it's not surprising that Tommy John bras are some of the most comfortable, with styles and materials reminiscent of sports bras.
Surprisingly supportive for a wireless bra, this one has a tight-fitting band (even on the loosest of four hooks) that helps hold everything up. Since the band is thick on the sides and in the back, there's little room for spillover. The full, lightly molded cups are lined with a perforated material that helps with regulating temperature and staying dry. I tried these out during the fall, but I imagine this would wick away the dreaded underboob sweat on a hot summer day. One limitation of Tommy John bras is the sizing. Two of their four styles are sized XS-XL, and the two with cup sizes aren't as inclusive as some of the other brands on the smaller and larger ends of the spectrum. Because this bra doesn't come in my usual 34A, I had to get a 32B (technically a "sister size"). But I found that with the larger cup, I had more gaping (space between my chest and the bra) that could be seen through a shirt.
The pretty ones