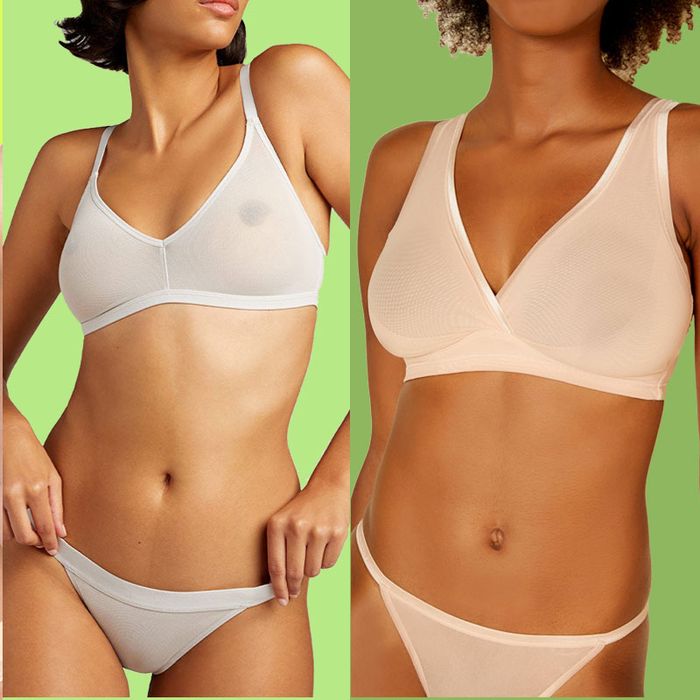 Photo-Illustration: The Strategist; Photos: Retailers
At the very beginning of the pandemic, working in my pajamas every day felt fun and free. But as we quickly went from WFH for what we'd thought would be two weeks to indefinitely, I couldn't stand it anymore — I began to revert to work clothes to feel "normal" again, but the one thing I couldn't fathom putting on once again unless I absolutely had to was a real bra.
I'm not one to go braless. I'm a 32DD, so I've never been fond of feeling loosey-goosey, and something about working sans bra felt weird. But regardless of how comfortable my bras were — and I did invest a good amount in undergarments — at the end of the day, I still couldn't wait to take them off. So in March 2020, after looking for a more comfortable alternative, I found Lively's Busty Bralette, which I started wearing exclusively as it's one of the only bralettes that fit me well. But after hearing consistently positive comments about none other than Kim Kardashian's Skims line from friends (and the internet), I decided to branch out with her Summer Mesh Bralette. Unexpectedly, Kim K. kick-started a newfound love for mesh lingerie.
At that point last summer, temperatures had skyrocketed so high that I loathed wearing anything close-fitting. But Kim's mesh felt breezier than anything I'd ever worn before — it felt like I wasn't wearing anything at all. The flexible fabric stretched and molded to my body without cutting into my underarms or ribcage, but at the same time I felt supported. Sure, the fabric is sheer, but under a shirt you would never know. And even though it's not intended as activewear, for low-impact movement like yoga I found it supportive and breathable enough to (slowly) go from down dog to high lunges to warrior pose. It washed beautifully and never stretched out after months of constant wear, unlike many of my traditional bras.
I wanted another, but I also had a desire to cheat on Kim. I began to research other mesh options from Instagram-famous brands like CUUP and Parade to higher-end brands like Negative Underwear to relatively under-the-radar companies like Underbares. My underwear drawer barely closed thanks to my new purchases. I kept one or two of my better regular bras, but I impulsively decided the rest had to go to make room for the far superior undergarments made from my new favorite material.
It's now been four months since the Great Underwear Purge, and I have yet to look back. Even in colder weather, I still prefer the mesh bras because they don't add another bulky layer or make me feel constricted. Since they've delightfully proven to be all-season bras, I can't imagine spending my money on anything else. And because I've dedicated so much time and money to finding the ideal mesh bras, below I've shared the best ones I've tried so far.
Best overall mesh bra
During the Strategist two-day sale last year, I bought a bra from the brand's Essaouira collection (we've written about it before along with the sieve collection) which is a stretch eyeletlike lace but more supportive and far less scratchy. And while I love it dearly (it's one of the only bras I kept), it's not technically mesh, so I reached out to the brand to try their actual mesh bra. The sieve non-wire bra offers DDD/G sizing, which I opted for to have a little extra room. It felt tight to start, but after two or so wears it gave a little for an extremely comfortable fit. I felt supported but not flattened thanks to the power mesh that stretches just enough to provide full coverage. And while I do genuinely recommend each bra mentioned on this list, if you're going to invest in just one, make it this. It comes in nine colors, including skin-tone options for those not looking for anything too adventurous, and lots of sizes, especially for those with a fuller cup. It's a touch pricier than the others on this list but worth it.
Best colored mesh bras