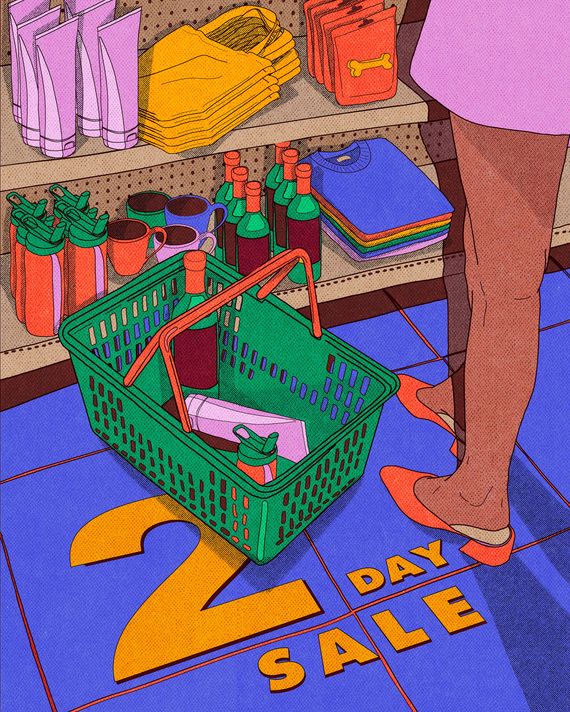 Illustration: by María Jesús Contreras
Note: If you're reading this, it's too late. Our third Two-Day Sale has ended, and all of the deals have expired. But our dedication to finding and sharing the best sales on the internet hasn't stopped. Sign up for our newsletter to get the best deals sent to your inbox, and make sure you never miss another Two-Day Sale again.
Whether it's Cyber Monday, Amazon Prime Day, or just a regular Friday, we pride ourselves on our ability to sniff out the best deals from the depths of the internet's sale bins. But for the third year in a row, we've done some deal-making of our own. Welcome to the second day of the Strategist's Two-Day (Actually Good) Sale.
We've put together over 50 deals exclusively for readers of the Strategist on some of our most-stood-behind products. And true to the event's name, they're available at some of the best prices we've ever seen — in some cases, the best prices they've ever been. We're taking up to 70 percent off cult beauty products, highly giftable fitness gear (which would make excellent Mother's Day gifts), furniture and décor for every room, and a few reader favorites from last year's event.
All of the sale's deals are now live, and you can continue shopping them until 11:59 p.m. ET tonight, Wednesday, April 27. But if you missed a deal or just want to stay on top of our future sales coverage, sign up for our newsletter here so you won't miss a thing.
Quick-Drying Japanese Bath Towels for Musty Bathrooms
Our Favorite Cannabis Infuser — at Its Lowest Price Ever
A Three-Pack of Brightly Colored Cutting Boards Made From Recycled Kitchen Plastic
The Nail Polish That Lasts So Long "It's Kind of Freaky"
Beloved by several New York staffers, Olive & June's nail polish is nontoxic, quick to dry, and ridiculously long-lasting. That's because it's formulated with a higher concentration of resin, making it more durable and chip-resistant than most polishes on the market. "My nails were shiny, bright, and chip-free for over seven days," wrote the Cut's former senior writer Kathleen Hou after testing it back in 2019. "The manicure lasted so long that I found myself wishing the polish would let go of its Tracy Flick–like determination and quit already." Olive & June hardly ever offers sales (its last was in November, in fact), but today only, Strategist readers can take 30 percent off select nail-polish and press-on kits with code STRATEGIST30. That includes the Mani System, the Pedi system, the Complete System, the Press-On Mani System, and the travel-friendly Mani Weekender. Shipping is free on orders over $45.
An Ergonomic WFH Upgrade That's 15 Percent Off
A Versatile Standing Desk for Working From Home
A Nonalcoholic Spirit for Mixing Up Mood-Lifting Mocktails
Cozy, Organic Kids' Pajamas in Every Color of the Rainbow
Primary is beloved by many a parent for its bright and colorful kids' clothing that is good-looking and durable enough to enter the hand-me-down trade yet more reasonably priced than that of many higher-end brands. Among said parents is Strat senior editor Jen Trolio, a mother of two daughters whose favorite colors change by the day; their tastes are especially well served by Primary's many designs, which conveniently come in a literal rainbow of solid colors, as well as stripes and gender-neutral prints. (It doesn't hurt that the brand's customer service is also top-notch.) Primary is currently offering 25 percent off all its soft and cozy organic-cotton pajamas, but with code STRATEGIST20, you can get an additional 20 percent off during the Spring PJ Sale, plus free shipping on orders of $35 or more — an even better deal than the "Friends & Family" sitewide sale the brand offered earlier this year.
A Trusty Tote Bag With Generous Proportions
A Best-selling Houseplant That Thrives in Direct Light
"There's no denying its charm," former Strategist writer David Notis wrote of the famed fiddle-leaf fig back in 2018. "Something about its spindly trunk and oversize leaves gives it an organic, almost Jurassic look you don't see in other houseplants." We've since seen the fiddle leaf pop up just about everywhere, from boutiques to house tours to Instagram feeds. Its appeal, however, is not just in its appearance: It's (relatively) low-maintenance, requiring bright-to-indirect light and watering only once per week. Fiddle-leaf figs are best-sellers at the Sill — our go-to brand for mail-ordering plants — and for that very reason they hardly ever go on sale. Today, however, the Sill is offering Strategist readers 30 percent off the Small Fiddle Leaf Fig (in both the Hyde and Grant terra-cotta planters) with code STRAT30 — the cheapest it has been all year.
A Surprisingly Versatile (and Frequently Sold Out) Unitard
The Best Subscription-Free Video Doorbell
Peace of Mind for Any Impending Apocalypses
A Collection of Sichuan Pantry Staples to Add a Bit of Spice
An Alarm Clock That Dupes the Sunrise
Handmade Ceramics Stylish Enough for Michelin-Starred Restaurants
The Year's Best Deal on an Actually Stylish Machine-Washable Rug
Supersoft Boxer Briefs at Their Lowest Price This Year
Made from ultra-comfortable and lightweight micromodal fabric, Tommy John's underwear is one of our picks for the very best boxer briefs. The non-pilling blend wicks moisture away from the skin better than pure cotton, which makes it especially great for the warmer weather ahead. The briefs also have a unique horizontal fly that is meant to feel more supportive and secure, and with code STRAT25, you can get Tommy John's Second Skin Boxer Briefs for 25 percent off in whichever style suits your undercarriage best.
Our Best-in-Class Mattress, the Best Deal This Year
Status-y Ankle Weights for At-home Workouts
A Trio of Robust Olive Oil, Orange-Scented Champagne Vinegar, and Floral Honey
A Smart Garden for Fresh Herbs Year-Round
A Flexible (and Well-Designed) Vibrator
A Matcha Powder That's Perfect for Lattes (and Cheaper Than Ever Before)
Natural Bug Spray That Doubles As Cologne
Sexy Granny Panties — at Their Lowest Price This Year
Super-Satisfying Tiny Magnetic Balls for Nervous Hands
Ultra-High, Ultra-Flattering Denim at Every Size
An Instantly Identifiable Dress for Runs (and Running Errands)
Buttery-Smooth Brooklinen Sheets — at Their Lowest Price This Year
Jet-Setter-Approved Dagne Dover Bags
Dagne Dover has a loyal fan base, counting longtime commuters and working moms as devotees. Its Ace fanny pack is a favorite of Builder's; she likes that the bag "feels a little less sporty, so it's a nice going-out option." Meanwhile, the Landon Carryall is an airport staple for Paper fashion editor Mario Abad for its aesthetics and surprising amount of interior space. The bag brand doesn't usually go on sale, which makes this deal even sweeter: 15 percent off sitewide with the code STRATEGIST15. It's the best deal — and the only sitewide sale — that Dagne Dover has offered this year.
Use One Code for Two Discounts at a Coffee-Snob-Approved Company
We've written about Fellow a lot before. That's because their coffee accessories are as appealing to our own writers and editors as they are to expert brewers and drinkers — beautifully designed and hyper-thoughtful, but also quite user-friendly. Use code STRAT22 you to get 20 percent off their wood-handled kettles, the most discounted the particularly beloved item has been all year. That same code will also get you 30 percent off their French press, the lowest price that's ever been.
A High-Smelling Candle Set at a Low Price
Lisa Says Gah Chunky Clogs at Almost Half Off
A Trio of Very Good Sex Toys
With the code STRATEGIST, Fun Factory is offering 25 percent off three of its sex toys, all of which have been highly recommended to us in the past. If you're looking for a thrusting toy that focuses on G-spot stimulation, look no further than the Stronic G, which has seven speeds and three rhythm settings. The Bi Stronic combines the thrusting power of the Stronic G with a "rabbit style" vibrator for extra external, clitoral stimulation. And the Manta is an innovative stroker that one expert says is "unlike any other sex toy on the market."
The Sunscreen Celebs and Skin-Care Experts Use Daily
A Cat-Approved Cactus Scratching Post
Expertly Curated (and Rarely-on-Sale) Studs Earring Sets
With designs that range from simple and classic (gold hoops) to funky and modern (cowboy boots), Studs has become a perennial Strategist favorite for its statusy earrings that won't break the bank. Most of the brand's earrings are available as singles so that you can create a custom look, but if you need a little help mixing and matching, Studs also offers Earscape sets: curated bundles (at a discount) for effortless ear-styling. Studs is offering an extra 10 percent off Earscapes with the code STRATSTUDS10; the sets are usually excluded from regular sitewide promotions, so this Strategist-reader-only sale is extra-special.
A Triple-Duty Caraa Bag That's 20 Percent Off
A Dermatologist-Favorite Facial Device That Sculpts Cheeks and Chins
A Wine Club That Will Have You Feeling Like You're Drinking at Your Favorite Restaurant
Our friends at Eater know a lot about restaurants, which is why we trust them to curate a particularly fun and interesting wine subscription service informed by their knowledge of the industry. Here's how it works: They ask trusted sommeliers at their favorite spots to pick the bottles they're most excited about, then send those selections straight to your door each month. There are different numbers of bottles and frequencies to choose from: With the code STRAT30, you'll get 30 percent off your first monthly subscription. Or you can use the code GIFT20 to get 20 percent off the first month of a six-month gift subscription (either two or four bottles). You can't use the codes on top of each other, but you can buy one for yourself and one for a friend (or a mom, if you're still in need of a Mother's Day gift).
A Vitamin C Serum from a Beauty Writer-Approved Company
A CBD Balm That Actually Works (at Its Cheapest Price Ever)
Customized Meals for Your Dog — at Its Lowest Price This Year
A Shampoo Replacement That Softens Hair and Simplifies Your Shower