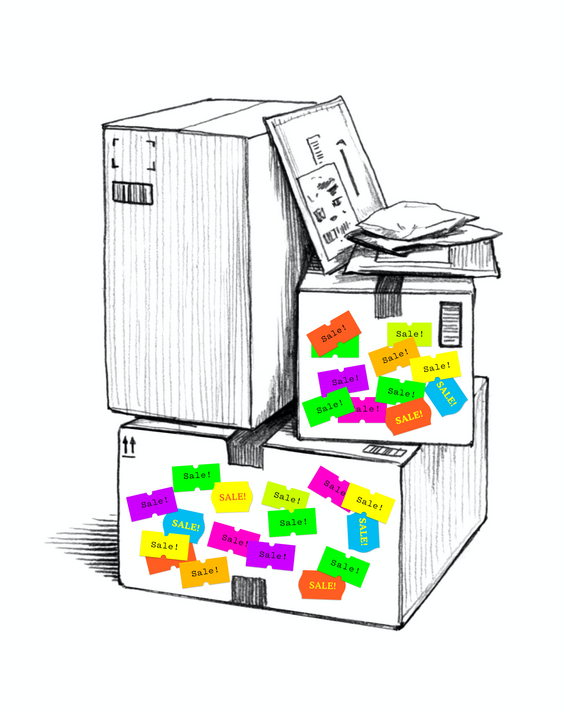 Illustration: by Joe McKendry
Note: If you're reading this, it's too late. Our second Two-Day Sale has ended, and all of the deals have expired. But our dedication to finding and sharing the best sales on the internet hasn't stopped. Sign up for our newsletter to get the best deals sent to your inbox, and make sure you never miss another Two-Day Sale again.
Whether it's Cyber Monday, Amazon Prime Day, or just a regular Friday, we pride ourselves on our ability to sniff out the best deals from the depths of the internet's sales bins. But for the second year in a row, we've done some deal-making of our own. It's the return of the Strategist Two-Day (Actually Good) Sale. We've put together over 40 deals, exclusively for readers of the Strategist, on some of our most stood-behind products. And true to the event's name, they'll be available at some of the best prices we've ever seen — and in some cases, the best price they've ever been. We're taking up to 70 percent off some rarely-on-sale kitchenware, beauty products from some of our favorite Black-owned brands, highly giftable gadgets (that would make excellent Mother's Day gifts), and even some reader favorites from last year's Two-Day Sale.
All of the deals from the sale are now live, and most will remain live through the weekend. But we can't guarantee everything will still be in-stock at the listed prices, so now is your last chance to shop the entire sale. If you want to keep up-to-date with all of our sales coverage, sign up for our newsletter, so you never miss a deal again.
A Buttne-Banishing Booty Scrub
Summer is nigh, so this booty scrub is well timed. Writer Erika Harwood penned an ode to the physical exfoliant in 2019, which she credits with giving her silky soft skin and a clear butt and fading her stretch marks. The finely milled scrub is made from walnut shells (for exfoliation) and mixed with moisturizing ingredients like shea butter and safflower oil, both of which moisturize and smooth skin. It's currently 25 percent off and ships free when you use the code STRAT25 — the cheapest it's ever been.
An Electric Scooter That's the Cheapest Ever
When we consulted six experts to determine the best electric scooters, the Levy Electric Scooter was our top choice for commuters. It has a ten-mile range, a three-hour charge time, and it weighs a manageable 27 pounds — so you'll easily be able to carry it up or down any subway stairs. And today through April 25, it's 10 percent off with free shipping when you use code STRAT10.
A Less Fussy Way to Track Newborns' Biometrics (and Sleep)
Bassinets are not the only baby gear to become artificially intelligent: Baby monitors have also evolved from the walkie-talkie-style devices of yore into "smart" gadgets that can tell you when a baby is sleeping via audio or video and report biometrics like sleep and breathing patterns. Some of these devices require "wearables," such as socks, you must put on a babe to capture all that data. But the Miku, from our list of expert-recommended baby monitors, can do it all from its camera, making it a less-complicated option for new parents who probably have enough to learn as it is. In addition to tracking sleep and biometrics, the monitor can detect a nursery's temperature and humidity and has a two-way microphone and speakers that can play a number of pre-set soothing sounds and lullabies. It is also programmed to play music and provides daily and nightly sleep analytic summaries. Another bonus is that, unlike other brands, Miku doesn't charge a subscription fee to access the data its monitor collects. Using the code STRAT28, readers can get it for 28 percent off — and save more than $100 — which is the biggest discount ever for this monitor.
A Choker for Everyday Wear (That's on Sale for the First Time)
When some of our writers and editors tested out fine jewelry last year, they were looking for pieces that were high quality, comfortable, practical, and of course, stylish. And Stone and Strand's sparkle choker necklace is just that. It gives off the "slightest sparkle (almost as if it's studded with eensy-weensy diamonds)," making it "basic but special-feeling enough to wear every day," according to New York deputy editor Alexis Swerdloff. Now, this choker is on-sale for the first time ever. Take 20 percent off using code STRAT20.
The Food Your Dog Would Ask For If It Could Talk
Zay Satchu, co-founder and chief veterinary officer at Bond Vet, recommends human-grade dog food for any owner who prioritizes a pet's health and wellness. He calls the Farmer's Dog "a great choice" and notes that the company worked with board-certified veterinary nutritionists to formulate recipes that are complete and balanced according to AAFCO standards. Several Strategist dog parents have tested the Farmer's Dog with their own pets and had to ration the stuff to make it last. For our sale, new customers can get their dog's subscription started with a 70 percent discount, which applies to the first two-week-trial box. Successive monthly boxes will be regular price. Note: No code is needed; the discount will be automatically applied at checkout when you use the below link to purchase.
A Natural Spray for Sanitizing Food and Surfaces at Home
More and more people seem to be looking for ways to replace chemical-based cleaners and the plastic packaging they often come in. Perhaps, like us, you've seen celebrities (Shannen Doherty) and influencers (Melissa Wood-Tepperberg) touting O3 Waterworks' Sanitizer Bottle as a way to do that by simply adding water to the vessel but wondered if it is true. The answer, according to one scientist we spoke to, is yes. Once filled with water, every squirt of this reusable bottle releases what's called aqueous ozone, which that scientist explains is a "strong oxidizing agent that reacts with organisms and basically destroys them by damaging their internal structures and cell walls." (Aqueous ozone, another expert told us, has been used to sanitize drinking water for more than 100 years; is approved by the USDA and FDA for washing fruits, vegetables, and even raw meat; and is used as a commercial and industrial cleaning agent in places like hospitals and hotels.) The code STRAT25 will get you 25 percent off the bottle, which, we will remind you, is totally reusable — and on sale for the lowest price so far this year.
A Year's Worth of Award-Winning Journalism for the Lowest Price Ever
If you read about the bucatini shortage over at Grub Street or the rise of Zizmorcore as documented by our friends at the Cut, you're familiar with the type of award-winning journalism you'll find at New York Magazine in print and online. Also home to Vulture, Intelligencer, Curbed, and, of course, the Strategist, New York is where you'll find all the stories everyone is talking about — but only if you subscribe. An annual print and digital subscription (which includes access to all of New York's websites and invitations to subscriber-only events) normally costs $70, but right now you can sign up at 50 percent off, or just $35 for the whole year. Or go digital only for just $3 per month or $20 per year — nearly a 65 percent discount.
An Ergonomic (Doctor-Approved) Office Chair That Also Looks Cool
If there's one thing we've learned about shopping for ergonomic office chairs, it's that they often sacrifice looks in favor of better-for-your-body design elements, resulting in a slew of utilitarian (a.k.a. all-black) lookalikes. The Autonomous ErgoChair 2 stands out from this pack: Its seat comes in several bright colorways, including lime green and baby blue, that you can better match to your office décor. And it's plenty ergonomic: The chair has an adjustable headrest and armrests, a flexible mesh back with full-body support, and a tilt-tension mechanism that allows you to stretch your back and shoulders, according to the doctor who recommended it to us. Using the code STRAT15, you can get an additional $15 off the already-discounted chair for a total of $105 off — the best deal its maker has offered all year.
A Lightweight Portable Speaker With Party Mode
Most Bluetooth speakers let you play your music or podcasts nearly anywhere, but only speakers from JBL have something called Party Mode, which allows you to synchronize as many as 100 speakers to play the same music in multiple rooms or over large areas. Even if you have only one, the lightweight JBL Charge 4 provides loud, crisp sound in a sleek and small form. It has a 20-hour battery life and can survive dunks in a pool. And for our 2-day sale, the price is down to $120 for the blue speaker, or more than 25 percent off.
Our Best-Selling (and Very Favorite) Weighted Blanket
When senior writer Karen Iorio Adelson tested weighted blankets, she found this one from Baloo to be among the best. "Besides feeling calmed and relaxed underneath it, I never needed to adjust it during the night, and it has a surprisingly thin profile for a heavy blanket," she writes. "It's filled with tiny glass beads that stay concentrated in their quilted pockets so the weight never feels unevenly distributed. In comparison to other bead-filled blankets that are noisy when their beads shift around inside, it's totally quiet and the beads are barely noticeable." Iorio Adelson notes that this blanket is great if you sleep hot, as the breathable cotton fabric makes it a little cooler. It's also aesthetically pleasing, which isn't always the case with weighted blankets. Right now, all sizes of the weighted blanket – a 12-pound "throw" and 15-, 20-, and 25-pounders — are nearly 25 percent off, making them the cheapest they've been all year, no code required.
A (Theoretically) Never-Ending Supply of Restaurant-Quality Wine