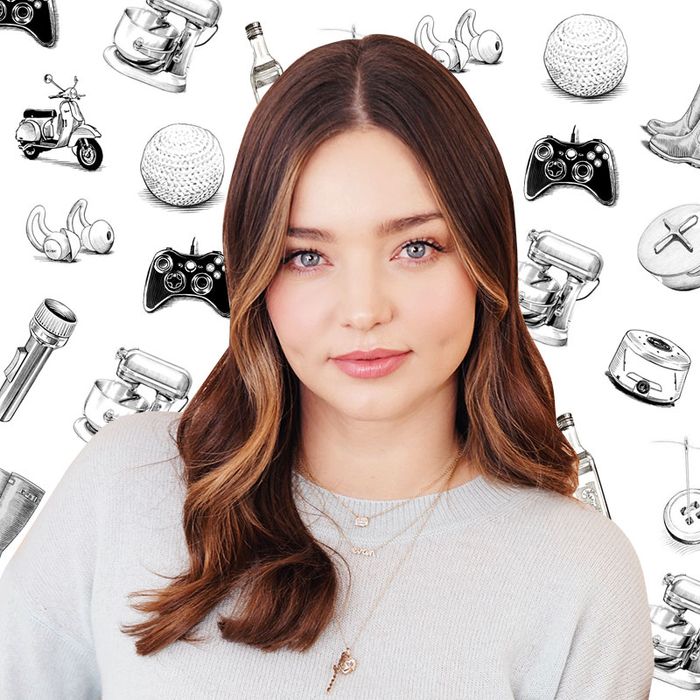 Photo: Courtesy of KORA Organics
If you're like us, you've probably wondered what famous people add to their carts. Not the JAR brooch and Louis XV chair but the hairspray and the electric toothbrush. We asked model Miranda Kerr — founder of beauty brand Kora Organics, which just launched its turmeric glow moisturizer — about the book, air fryer, and concealer she can't live without.
I wear this every single night. It became a habit from all my years of traveling. Before I had my first child, Flynn, I was working six days a week in two different countries. I was flying more than a pilot. I had to sleep in different time zones all the time, so having an eye mask just really helped. I didn't realize, until someone told me, that it's important for your eyelashes to move when you're sleeping: That's why I like this one, which cups my eyes. My eyelashes can still flutter because it doesn't push down on them. And it still blocks out all the light. When I put this on, everyone knows it's time to say good night.
I've been dry-body brushing since I was around 18 years old. I do it every single day. This one just stimulates everything the right amount. Some are too soft and others are too hard. I love the way this brush feels. I even get an emotional benefit from dry-body brushing. As I'm brushing my body, I think about things that kind of weigh on me — like if someone annoys me or if I'm feeling frustrated — and just literally brush them away.
I keep dozens of rose quartz crystals around my house. I have about ten on my desk right now, in all different sizes. I find them very soothing and calming to have around. I hold them when I meditate and I can feel the energy.