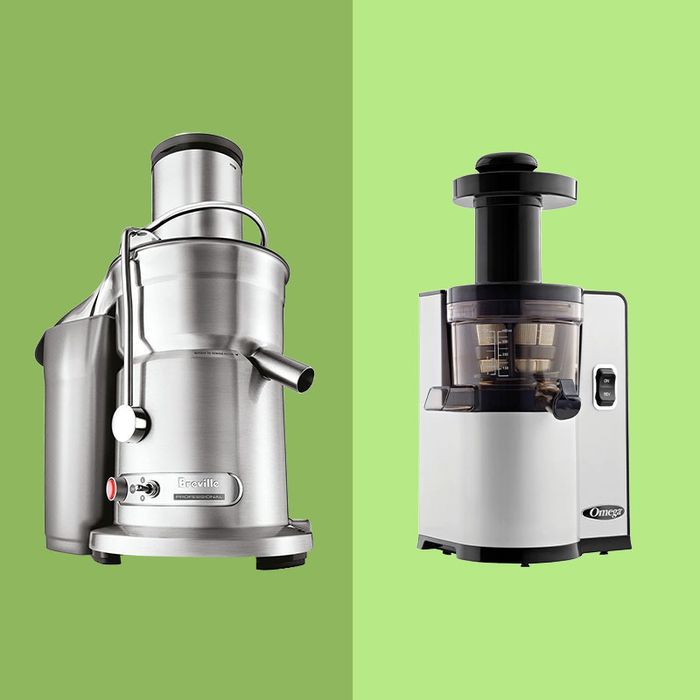 Photo-Illustration: Courtesy Retailer
Not all juicers squeeze their liquid out in the same way. And they definitely aren't just blenders. It can be tricky to know which machine will get you the greatest yield from your fresh produce (and won't make a ton of noise), especially if you're a beginner. The best juicer for you, or as a gift for a loved one, will depend on the ingredients you'll be using, how much time you're willing to spend on the process, and more. To find the best options on the market, we spoke to five juicing experts — from chefs to cookbook authors to recipe developers — about their favorite machines.
There are a few different types of juicer, but the two most common are centrifugal and masticating. Centrifugals use a spinning blade, which quickly shreds your produce into pulp, before pushing the separated juice through a mesh screen. They're easy to use, work quickly, and can handle several pieces of fruit at once, meaning you can load one up, flick it on, and leave it to do its thing. However, they're not great for juicing delicate ingredients (like leafy kale or raspberries) as their blade works so rapidly that it can just reduce finer fruit and veg to mush. Masticating juicers — also known as cold press juicers — work slower but produce a higher yield of juice as a result. They push fruit against an auger (a thick, sharp, swirly corkscrew) before straining it to produce a juice that's much less foamy. But these juicers can only handle one piece of fruit at a time, and each piece of fruit needs to be loaded individually, making juicing a much longer, more labor-intensive task. Fewer masticated options cost less than $250, though.
You can store the juice in some machines after shredding then pour it out and enjoy. With other, usually less expensive models, you've got to pour your juice instantly through the spout into a waiting glass or jug. I've indicated which category each machine falls into below and, if it does have storage capacity, exactly how much it is.
Masticating machines work at lower RPMs (revolutions per minute), usually below 100. The fruit or vegetables are being pressed slowly against the auger in the machine to shred more efficiently. Centrifugal machines, on the other hand, work using centrifugal force generated by the rapidly spinning blade. These machines work at RPMs in the thousands, some across a range of speed settings. The higher the speed setting, the higher the centrifugal force pushing produce onto the sharp blade.
Best juicer overall
Juicer mechanism: Masticating | Pour or store: Store, 450 ml | Speed: 43 RPM
You usually need to load pieces of fruit individually into a masticating juicer like this one, but the J2 Cold Press Juicer is a bit of a unicorn: It's hands-free. "It's the easiest juicer to use," says Cherie Calbom, author of Juicing for Life. "Just put the cut-up produce in the upper chamber and turn it on." Chantel Jiroch, who shares her juicing recipes with more than 266,000 followers on TikTok, loves that hands-free feature. Jiroch prefers to use a masticating machine as it yields more from the fruit by taking its time and grinding slower. It's actually so effective that Calbom says any pulp it expels is bone dry with the machine thoroughly extracting every drop. And while Calbom compares the sound of other juicers to a rocket taking flight, she says she can keep the J2 whirring away as she hosts cooking shows from her kitchen. "My husband often used to ask me to turn the juicer off for a minute or two because he wanted to hear something on TV," she says. "That never happens now."
Best less expensive masticating juicer
Juicer mechanism: Masticating | Pour or store: Pour | Speed: 80 RPM
For almost half the price, you can get this more classic masticating model. It slowly grinds away at produce — and works so slowly and precisely that it can extract juice from even the most delicate of produce, like wheatgrass. You do need to feed in each individual piece of produce by hand, and its small opening means you probably need to dice ingredients up into small chunks before you can load them in. Reviewers on Amazon have raved about the product, using it to make cold-press juices, sorbets, nut butter, and even baby food from regular meals. As it's a masticating machine, it doesn't make a violent whirring noise and operates at more of a low hum. Overall, it's a powerful machine and a great option for a beginner juicer who wants a cold-pressed finished product.
Best centrifugal juicer
Juicer mechanism: Centrifugal | Pour or store: Store, 1,000 ml | Speed: 6,500–13,000 RPM
Pat Crocker, author of The Juicing Bible, says her Breville Juice Fountain Multi-speed has had a permanent place on her kitchen counter for 23 years — and still juices as well as the day she got it. "It's easy to use, easy to clean, the stainless steel is as pristine as the day I removed it from the box," she says, adding that the blade has "never needed sharpening." Its wide tube spares you from lots of chopping and cubing, and its centrifugal speed quickly whips apart the juice and pulp "of whole apples, beets, and carrots without breaking a sweat." Breville have discontinued Crocker's exact model, replacing it with this one. The Elite has fewer speed settings than the Multi-speed (a choice of two as opposed to four) but still has a huge, 1.1-quart storage capacity and a slightly more powerful motor than the discontinued model.
Best less expensive centrifugal juicer
Juicer mechanism: Centrifugal | Pour or store: Pour straight to glass | Speed: RPM not listed
In the past, we've written about this inexpensive centrifugal machine, which is a huge hit with beginner juicers. Featuring an extra-wide spout, there's no need to finely dice produce before loading, cutting down on prep time. It features an extra-large pulp tray, so you can get through half a dozen pieces of produce before having to empty it out. As there's only one speed setting, there's no way to customize the power of the machine, meaning leafy vegetables and softer berries will be reduced to pulp. However, from citrus fruits and denser produce, the machine will produce a fine, tasty juice.
Best easy-to-clean juicer
Juicer mechanism: Masticating | Pour or store: Store, 450 ml | Speed: 43 RPM
Culinary director Lili Dagan loathes most juicers because they have so many hard-to-clean fiddly parts. She found her exception in the Omega Vertical Juicer, which only has four main components to wipe down between uses. "It's compact, intuitive, and not offensive-looking," she says. As it's a masticating juicer, it gets the best out of produce, and its storage chamber and non-drip tap should mean there'll be no spillages.
Best less expensive easy-to-clean juicer
Juicer mechanism: Masticating | Pour or store: Store, 1,000 ml | Speed: 60 RPM
Registered dietitian Jesse Feder has used this Cuisinart juicer for more than two years. "It's super-easy to assemble and clean. I was surprised at how quiet it was compared to my old juicers," he says. Typically, Feder makes about eight batches of juice per week and squeezes the good stuff out of tough vegetables like carrots, or leafy greens like spinach, with no issues at all. He says this juicer leaves you with a really dry pulp, "which means it really does well at extracting all the juices out of the product." No wonder Feder says it's the best one he has owned: "I really enjoy making juices with this product every Sunday for the week ahead."
Best industrial juicer
Juicer mechanism: Centrifugal | Pour or store: Store, 2 liters | Speed: 3,000 RPM
Blend Smoothie Bar uses this Caedo machine in all five of its locations and has done so since opening in 2014. For the sake of customers' ears, it was important to the brand to stock a juicer that didn't sound too loud, and Emily Dolan from Blend says that this machine is actually really quiet — a rarity for industrial-strength juicers. It has two huge shoots, three inches and two inches wide, and can handle up to 22 pounds of produce every single day. "We love these juicers," Dolan says. "They are quiet and they do the job right. We can juice everything from cucumber to spinach — all in one machine."
Some more juicers we've written about
The Strategist is designed to surface the most useful, expert recommendations for things to buy across the vast e-commerce landscape. Some of our latest conquests include the best dining-room décor, coffee makers, knife sets, Japanese coffee brewer, charcoal water filter, and drinking glasses. We update links when possible, but note that deals can expire and all prices are subject to change.
Every editorial product is independently selected. If you buy something through our links, New York may earn an affiliate commission.