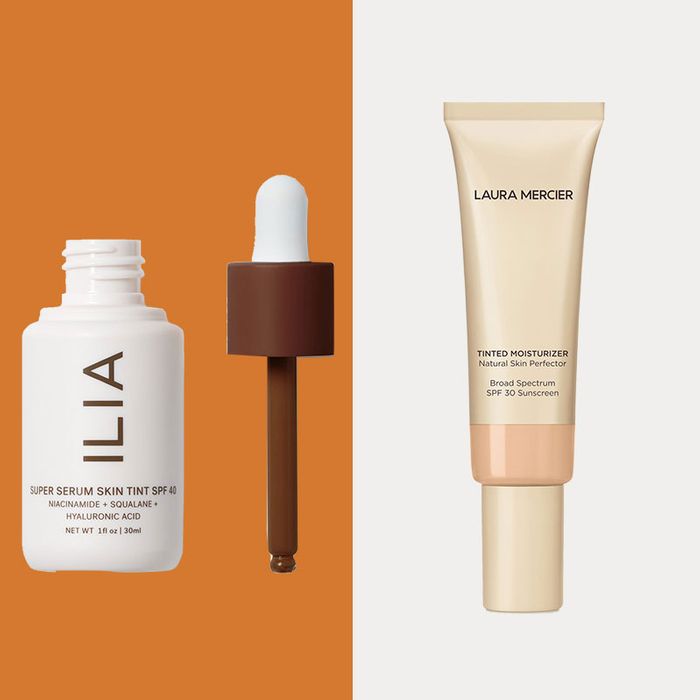 Photo-Illustration: retailers
It's getting to be that time of year where it's too hot to do or wear anything, especially makeup. Unfortunately, sometimes the occasion still calls for it. As uncomfortably hot as summer can get, it's still a big entertainment season, and you might want to put on a little something for that summer wedding, garden party, or date night. Foundation might be too heavy when it's a real scorcher, but that's where tinted moisturizer comes into play. Makeup artist Jonet Williamson agrees: "They're lightweight, hydrating, and usually come with a bit of sun protection." While foundation offers more coverage, tinted moisturizers are a great option for someone who "wants to look polished but not made up, or just wants to even out their skin tones," says makeup artist AJ Crimson. Most have a dewy finish, so you'll get that summertime fine glow we're all after year-round, but if that's not your thing, there are oil-free formulas for a more matte look. Below, Williamson, Crimson, and five other makeup artists give us their 11 picks for the best tinted moisturizers on the market.
Best overall tinted moisturizer
This is a celeb-favorite, makeup-artist-approved, consumer-loved tinted moisturizer. Rio wrote about it back in 2019; it tops the Strategist UK's list of the best recommended tinted moisturizers; and two of the experts we spoke to raved about it. "Laura Mercier is usually what most people think of when it comes to tinted moisturizer," says Crimson. "It's a classic and I almost feel like LM invented the tinted moisturizer." He likes it because it's creamy but still lightweight and thinks it looks great on both men and women. Makeup artist Jamie Greenberg is also a fan of this OG product and says it's super-hydrating, which was one of the standout qualities Rio noted as well. "A dime-size amount of this product (rubbed all over my skin after my morning skin-care routine) gives the perfect amount of daytime coverage — it takes the edge off of any dark marks, redness, and under-eye bags, and makes my skin look like it has nothing on it at all," she wrote. "It's also intensely hydrating — it's the only makeup I've ever felt comfortable putting over eczema flare-ups; it doesn't stick or cling to any dry patches (my guess is that this has something to do with those hydrating oils)." She's talking about the macadamia and kukui seed oils — which allegedly have skin-replenishing and hydrating properties — that it contains. The latest version is formulated with SPF 30.
Our experts also say Laura Mercier works with all skin types and tones. It comes in 20 different shades, as well as an oil-free version, which I'm a fan of. "Oil-free is great for people that have oily skin," says Greenberg. "Usually you can find a tinted moisturizer that's perfect for your skin type: If you're looking for a more blurred, matte skin look — oil-free is the way to go. But if you prefer a more 'dewy' look (great for people with drier skin), Laura Mercier's original formula is perfect." Just note that the oil-free formula has a slightly lower SPF of 20.
Best tinted moisturizer and serum
Three of the experts we spoke with name-dropped Ilia's Super Serum Skin Tint. Just like the name suggests, it's a tinted moisturizer with a lot of skin-care benefits. "It's a combination of skin care, SPF, and coverage that makes Ilia a triple threat and also first of a kind for its formula," says artist Jaleesa Jaikaran. It's infused with plant-based squalane, niacinamide, hyaluronic acid, and mineral SPF 40 — the highest sun protection on this list. The point of tinted moisturizer is that it's lightweight, but Jaikaran says this ones "feels super thin and light —essentially a veil of coverage." Makeup artist Rose Siard loves the way it blurs imperfections: "It's less pigmented and melts into the skin seamlessly," she says. It comes in 30 different shades, which Williamson says "are flexible and take a minute to adjust after applying." She recommends going one shade lighter than you normally would.
Best tinted moisturizers with vitamin C
While it's not exactly a serum like the above, this tinted moisturizer does have the added benefit of vitamin C, which makeup artist Lisa Aharon loves for brightening, anti-aging, and a luminous finish. "It's super-sheer, so it's truly great for anyone who loves that no-makeup makeup look." It also contains mineral sunscreen and other glow-enhancing ingredients like black currant seed oil and peony root extract. The formula also lends itself to a pretty wet-looking finish (hence the name Dew Skin), which Greenberg appreciates. "I love for my skin to look plump and hydrated," she says. Aharon recommends applying this one with your fingers, as a blender or sponge will soak up too much of the formula.
This is another classic tinted moisturizer, but it's now available in more shades to support more skin tones and skin types. Jaikaran likes how lightweight the formula is and how well it blends. Lori Taylor Davis, Smashbox's global pro lead artist, is obviously a fan of its Halo Healthy Glow Tinted Moisturizer, but thinks this one from Nars is another solid option. "It has a sheer-to-medium-sheer coverage and high SPF and is extremely radiant," Davis says. This oil-free formula is packed with vitamin C to help with brightness and even out the skin tone. And while the SPF 30 is definitely a plus, sometimes sunscreen can affect the formula's finish, but Jaikaran assures that there's no issue here.
Best oil-free tinted moisturizer for dry skin
"I absolutely love the whipped-cream texture of this formula," says Williamson. "It goes on like butter and melts into the skin, giving light to medium coverage." She says it works great on all skin types, but those with dry skin might see an extra boost from the hyaluronic acid in the formula. And while it's oil-free, it will still leave you with a healthy-looking glow. Williamson recommends that those with oily skin set their T-zone with translucent powder just to avoid any extra dewiness.
Best tinted moisturizers for medium coverage
On the other hand, Williamson says those with dry skin might want to prep with a face oil under this one. Fenty's Skin Tint has more of a semi-matte finish and the formula is buildable to provide medium coverage, so if you are looking for something lightweight but with more of a foundation look, this might be for you. But don't worry about it melting off. "It's humidity- and sweat-resistant, making it a great option for hot summer days," says Williamson. This item is pretty popular, with many colors sold out already, but you can always sign up for restock notifications.
Chantecaille's Just Skin Tinted Moisturizer doesn't have as many shade options as Fenty, but it's another solid choice for a medium-coverage moisturizer. "The coverage varies more than your average tinted moisturizer — it's slightly buildable and leaves you with smooth, radiant skin and just enough sun protection for everyday," says Aharon. It has antioxidants like edelweiss, honeysuckle, and green tea, as well as hyaluronate for moisture. And while it is the most expensive tinted moisturizer on this list, the folks over at Strat UK say it's worth it if you have sensitive skin, because it's free of parabens, fragrances, and other chemicals. Makeup artist Gina Blondell also told our colleagues across the pond that "its smooth, velvetlike finish is infused with lots of dreamy natural ingredients like honeysuckle, thyme, and butterfly bush extract to give anti-pollution benefits," which is why she recommends it to anyone living in a city or anyone with normal to oily complexions. "It leaves the skin without any residue and evens out the tone of skin whilst covering any light blemishes."
Best tinted moisturizer (that's actually a foundation)
Crimson told us about this foundation from Black-owned cosmetic company the Lip Bar. And yes, while it is technically a foundation, he swears it "acts in the same manner a tinted moisturizer would." He thinks a tinted moisturizer should "leave a glowing look as if you just hydrated your skin," and this certainly will. It's infused with hyaluronic acid and Irish moss extract so your skin will be nice and hydrated with a dewy glow — which, by the way, Crimson is a fan of. "With a tinted moisturizer, you shouldn't worry too much about avoiding sheen on the skin," he says. "You want a healthy glow, and just use powder where needed." The foundation comes with a built-in brush that makes it "hard to use too much," and the formula is buildable, so you can add as little or as much coverage as you like.