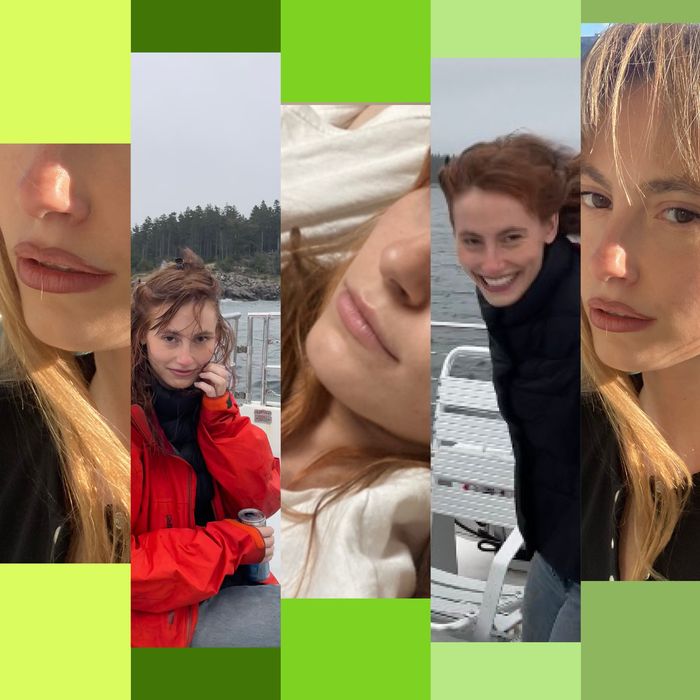 Photo-Illustration: The Strategist; Photos: Annie Hamilton
A week before my 30th birthday, I got an email asking if I'd like to try a topical product called Lip Filler from a somewhat new skin-care company called Ourself, which is selling an "in-home alternative to lasers and needles." I didn't really want to, despite Lip Filler's patent-pending, lip-plumping promises, and having gone on the record as a "thin-lipped woman."
It's true: I have thin lips. My bottom lip would be okay if it were a top lip, but my top lip is totally hopeless. So every day, I apply two shades of lip liner (Light Brown from the Sephora Collection goes directly on my lips, and Cappuccino by Rimmel lines the perimeter) and I transform my face. I like how gaudy it looks. I like the look of face paint — not injections. I do worry that everyone is getting prettier around me while I turn to tar, but still, I'm firm about no needles before the age of 47.
Ourself's Lip Filler requires zero injections, though. It's pricey, and its branding is vague in a fancy way. Its website says it will help you "reclaim lip volume." But reclaim from where? And what the hay is lip plumper, really? If it actually makes your lips fuller, rounder, and rosier, and not just for an hour but for the long haul, will people stop getting hyaluronic acid injected into their mouths? Maybe Ourself is delivering at-home plastic surgery. I wonder if that's even legal. I also wonder if the man I love will want to make me his primary partner if my lips suddenly become medium size. So I say yes, I'll try it.
Day 1
I'm on my way upstate to take the first vacation I've had in over a year with a guy I want to be mine forever. We are in an open relationship. Or we are just casually seeing each other. Or I am seeing no one else while he is seeing a couple of other women whom he very honestly has told me he doesn't just feel casual about. I can't believe how radical and daring and sexy and severe he is. And I'm a competitive person.
I get on the Metro-North and unpackage the Lip Filler, wondering how I'm going to describe it, and am struck by … absolutely nothing. It is a silver tube. It doesn't look like a lip gloss or a Magic Wand or even a nice kitchen appliance. I read the instructions, which say to put the stuff on twice a day, once in the morning and once at night, and to administer five applications at both times. It's already 4 p.m. — not a recommended time — but I figure I should start.
I take off the lip liner I already have on. I open the Ourself tube and discover a rigid plastic applicator (which — sorry — looks like the head of a penis), rather than a cute little brushy wand. There's a button on the side to release these vague juices. I was hoping I would be greeted with a more mature cousin to my beloved middle-school pal Lip Venom, but this doesn't look like a lip gloss that will deliver bee-stung lips. I apply it ten times for good measure, and every time I do, I count down from 60 seconds before I put on the next slick of the whitish serum. (They say it should sink in first before you apply the next round.) It's kind of tedious, but it also helps pass the time on the train. The Lip Filler stings progressively more and more each time I apply it, which I don't like. I finish my rounds. I take out my phone and open the camera to see if anything has happened to me — and my lips do look bigger. My top lip can probably be seen from far away. I can't believe it.
Day 2
I wake up, and since I'm on vacation, and since I can't kiss my lover with lip liner on anyway, I apply the plumper seven times and wait for it to work as it did the night before. It does not. My lips look more or less the same; yesterday's plump is now gone. Eventually, I apply some lip liner after lunch.
I should probably mention that as I am testing out the Ourself Lip Filler, I am simultaneously quitting cigarettes. I'm on day three. Day two of the plump, day three of the patch. I have not gone to the bathroom since I quit smoking, and I wonder if maybe the Lip Filler has contributed to this as well, so I look up the side effects of hyaluronic acid. Constipation is not one of them.
When it's time for bed, I hide the tube of Lip Filler in the crevice between the bed and the night table after brushing my teeth so I can apply it in the dark after we kiss goodnight. I apply it silently, making sure to smack quietly, and pretend the shiver I feel in my heart is a symptom of Ourself's groundbreaking lip-plumping delivery technology.
Day 3
One aspect of the new Lip Filler morning routine that I don't like is not knowing when to have my coffee because it's hard to tell when the stuff sinks in. It doesn't ever seem to fully absorb into my skin. It just kinda stays on top in a filmy, plasticky way. Once I've applied it, I wonder about applying my lip liner, but I figure it would be weird to put it on in the woods on a romantic vacation, so I skip it and hope Ourself starts to work again. I don't feel healthy, and I have been stealing glances at both my stomach and my lips in car mirrors when I can get away with it. Neither looks too good.
I take a suppository and have my lover drop me off at a porta-potty on the side of the road because I don't want to be in the same house as him while I try to defecate. I happen to have my tube of Ourself Lip Filler on me, so I apply it while I'm in the porta to help pass the time. Later that night, I forget to apply Ourself before bed and wake up from a nightmare about money. I grab the Lip Filler from the crevice by the bed and put an abnormally large amount onto my fingers and smear it onto my lips. It's on my nose and my chin — until this point, I've done a very good job at evenly distributing it directly within the lines of my mouth — but I don't care.
Day 5
I was supposed to have big lips and a small stomach and the best sex of my life on my romantic birthday vacation with the sexiest man I've ever met. Instead, it's 10 a.m. and I'm giving myself an enema. I apply the Ourself and almost don't rub it in because I wonder if the shiny, gel-like liquid on my lips will somehow get my lover to focus on what's important in life. At the last minute, I do rub it in, as it might be better to perform elegance. We go on a hike, and on the way back home, we stop at a gas station. When I sneak a peek in the gas-station bathroom mirror, I must admit: My lips look great. They're a little swollen, they're a bit rosier. They just look a little bit livelier than usual. Subtle enough that I won't, like, be called out for having a new body part on Twitter. I had been worried I was applying the Lip Filler wrong, but gas-station mirrors never lie. I apply some more for good measure, even though it's not technically "p.m." yet.
Day 7
A day ago, I set an alarm on my phone for every two hours so I can apply the Lip Filler as much as humanly possible without my lips actually falling off. (The stuff really does sting.) I am desperate for constant kisses. I can't figure out if I can kiss with Ourself on, and there aren't a lot of online reviews, so I assume the stuff has to sink in. I figure this obstacle is a blessed barrier that enables me to play hard to get. My lover isn't trying to kiss me anyway. Is it possible Ourself is making me horny? Thinking about my potentially new, improved face is at least a personal turn-on. I want it to work, so I try to kiss him with other parts of my body. (I ram into him in the kitchen with my hips.)
I tell him my "manager" keeps texting me every time my alarm goes off, even though we both know that's not true.
We take the train back into the city, and I wonder if Ourself had actually puffed up my lips for more than just 30 minutes post-application, I would be happier. My lips are the same drab, muted-pink color they were a week ago. No rosiness. Honestly, they look deflated. They look like the lips of a reject.
I get back to my apartment filled to the brim with peptides, hyaluronic acid, and a week's worth of Metamucil. I call my pediatrician. I'm 30 years old, so she doesn't let me come visit her at the office anymore but sometimes she takes my calls. I tell her about my constipation and the Lip Plumper I overapplied and the love of my life who has three other girlfriends, and she tells me to listen to her. "Smoke a cigarette, it'll make you go to the bathroom," she says. "That lip stuff has nothing to do with it, but it probably won't give you new lips, either. And Annie? Now, I'm not the right kind of doctor for this, but you cannot love someone who will not love you back."
The Strategist is designed to surface the most useful, expert recommendations for things to buy across the vast e-commerce landscape. Some of our latest conquests include the best acne treatments, rolling luggage, pillows for side sleepers, natural anxiety remedies, and bath towels. We update links when possible, but note that deals can expire and all prices are subject to change.