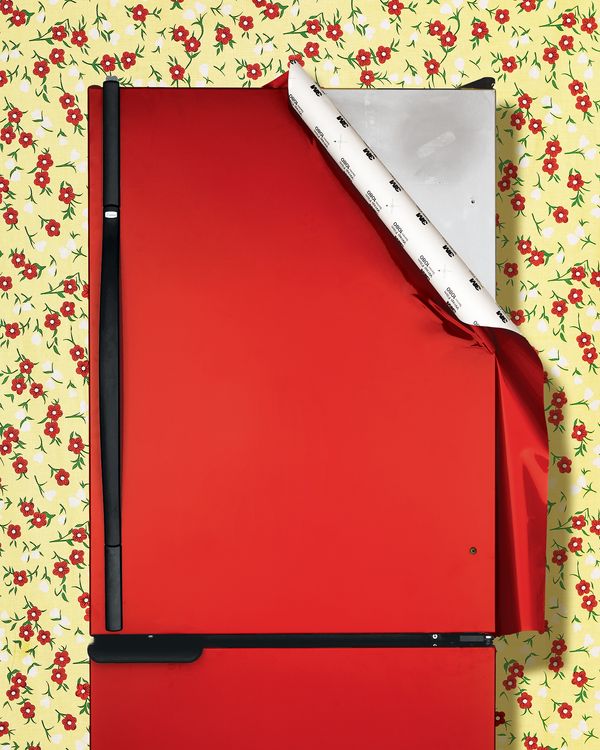 At some point during a home renovation, designer Leanne Ford decided the olive-green color of the oven she had ordered no longer fit the overall aesthetic. Her first though was to paint it. Her brother Steve Ford had another idea: Wrap it like a car in 3M vinyl. With a custom-color sheet (you can order rolls online), a utility knife, and a felt squeegee (to smooth out any bubbles), she quickly transformed the oven color into a warm terracotta. A few months later, using the same technique, the siblings covered the front panel of a run-of-the-mill stainless-steel dishwasher with a muted pistachio. (We tried it ourselves — this bright-red refrigerator was once a stained white.) There are many such ways to improve a kitchen without taking it down to the studs, which is convenient, as contractors are next to impossible to come by at the moment. And by talking to designers, food-world people, and others with great taste, we've unearthed more than a dozen of them — from workbenches turned islands to Julia Child–inspired pot storage.
Paint your floors in classic checkerboard
You don't need tile to get a classic checkerboard floor. First, decide on the size of your squares. I went with ten-by-ten-inch. Then choose two tones of paint. I did two tones of green from PPG Paints — Rattan Palm and Heavy Hammock. You can also just choose to use one color and have the other "color" be the natural one of the floor you are working with. Draw the pattern on your floor with a measuring tape and a level (24-inch
Aluminum I-Beam Level, $13) as guides. Then paint it on and seal it with an oil-based polyurethane, which you can get at Home Depot. —Leanne Ford, designer
We love using old materials in new ways, so we've gotten very into linoleum. It's super-affordable, readily available, and often made from recycled materials. We installed it recently over concrete at Reparations Club, a bookstore in L.A. We bought composition tiles from Forbo, duct-taped them together, and made them into a linoleum mat. You only need a pair of scissors and a bunch of rolls of tape. —Katy Burgess, co-founder of Wall for Apricots
Hide the unsightly stuff in a stealth stairwell pantry
As soon as my food creator business took off in 2020, I knew that my pantry would not suffice. I decided to turn this empty stairwell into the pantry of my dreams. Again, IKEA to the rescue with these two bookshelves I placed side by side. One is for food and the other is lifestyle-focused, with cloth napkins, my puzzle collection, endless bottles of nail polish, and all the stuff I don't want anyone to see. It's basically a vertical kitchen junk drawer. You could also put one in your kitchen if you do happen to have the room. — Dan Pelosi, food and lifestyle creator 
Store your pots on a pegboard like Julia Child
I visited Julia Child's kitchen while visiting France a number of years ago, and her wall-mounted pegboard with hanging pots, pans, and utensils always stuck with me as an open storage solution I want for my future house. She painted large sections in a variety of colors, and her husband did drawings wherever the objects were supposed to go, so all who cooked there would remember how to put things back correctly. It creates an amazing exposed assemblage that becomes very collage-like. I am hoping to paint mine either a strong sunshine yellow, like the main wall in my LikeMindedObjects shop, or just keep it glossy white, like the material comes. —Elise McMahon, sustainable furniture designer 
Then put all your lids in one place
I save a lot of room in my cabinets with this pot lid organizer and everything now has a designated place, making it a whole lot easier to find what I need. — Melanie Masarin, founder of Ghia
Replace your upper cabinets with a floating shelf
Getting rid of your upper cabinets is much easier than it sounds. Grab a drill and you can have the whole thing done in 30 minutes. To make a floating shelf, find brackets from Crate & Barrel, Home Depot, or Anthropologie. I typically like to use salvaged wood to add lots of character to the space, but if you're opting to paint the surface of your shelf, a piece of pine from Home Depot or Lowe's will do the trick. Make sure the wood is at least 12 inches wide so that your plates will fit. —L.F. 
Or if you keep them, update your harsh under-cabinet LEDs
Under-cabinet lighting is more common now, but older versions didn't always give off the most pleasant light. Make sure you get ones with a dimmable, multi-setting option that creates a warm glow. You can still go bright when you're chopping vegetables. —Kim Vargo, DIY blogger and co-founder of Yellow Brick Home
Keep your coffee maker on a rolling shelf
A lot of our clients come to us looking for a solution for their morning coffee routine that allows them to put their coffee maker away. This is pretty easy — just have an electrician install an outlet in the cabinet. It makes the space feel bigger and less cluttered. Installing rollers is also pretty easy; you just drill them directly into the cabinet shelves. I have them in all of my cabinets at home. I like being able to roll out the shelf to see everything inside of it without bending down to look. —Tyler Thomas, co-founder of Venn Studio
Remove your under-cabinet doors (at least under the sink) and replace them with a curtain for an open-storage, English farmhouse look. You can just use a really nice fabric and a simple rod. For fabric, buy three yards of something you like from a fabric store (I like B&J or Mood Fabrics in NYC), then get small adjustable tension rods at Home Depot or on Amazon. If you don't know how to sew, you can just buy rings with a little clip to hold the fabric onto the rod; then all you have to do is carefully cut your fabric. —Ben Kicic, designer
Craft your own Swedish roller shades
Our rental kitchen had cheap vinyl mini-blinds in the very large, very sunny window. After nearly a year of searching for affordable solutions, I came into a used sewing machine through my neighborhood Buy Nothing group and made my own roller shades — Swedish style — using beautiful Kala Cotton Madder Gingham from Handa Textiles. I secured my fabric to a wooden batten that hangs from the window frame with a set of cup-and-eye hooks. A wooden dowel fitted into a pocket at the base of the shade adds weight and makes for easy rolling (you just string two lengths of cotton-twill tape from the back of the shade to the front and loop it through metal rings to form a pulley system). —Erin Boyle, lifestyle blogger and author
Reclaim a workbench for your kitchen island
After spending some time surfing the website of Antiquities Warehouse in Arizona — a gold mine — I got the inspiration to go for a French-antique style in my kitchen. I found an old bench on Craigslist that I thought would complete the look, the only problem was that it was too short. I ended up finding another guy on Craigslist who sells antique wood that matched the piece from this workbench. Since extending the legs, I've been really
proud of my setup. —Lulu LaFortune, designer
Use a magazine rack to store your cutting boards
I work as a cook at LaLou in Prospect Heights and recently had the idea to use a Kartell magazine rack to hold my cutting boards. It makes for easy access and keeps flavors away from one another. —Emma Leigh Macdonald, editor
Swap in '80s German handles
Colorful cabinet pulls like these fun vintage HEWI handles can give a small kitchen a lot of personality. I like scouring Etsy to find them: the shop Franzs Favorites sells a bunch of the 1980s German-made handles. Knobco has lots of handmade checkerboard knobs. Over on eBay, seller manonlabrocanteuse has these great mid-century chrome pulls in an organic shape. —M.M.
Cover your countertops in concrete
If you have laminate counters, you can apply a thin layer of concrete over them. It's durable and looks expensive. Coarsely sand your counters to roughen them up a bit, then do a thin spread of Ardex Feather Finish Gray Mix. Sand it, apply another coat, and sand again. Then use a food-safe sealer like the one from Cheng ($32). Done. —B.K.
Or fake Carrara marble ones instead
I I had these super-porous, dingy countertops. This Giani Carrara Kit is easy. You paint primer, then the veining — the messier you are, the more realistic it looks. Then you do a resin-epoxy layer on top, and it dries in two days. No one can believe it's not real marble." —Hannah Richtman, founder of the Break
Wrap your appliances in vinyl
If you're not into the color of your dishwasher, refrigerator, or oven, you can easily switch it up. Pick up some 3M vehicle wrap from your local auto-body shop or order rolls online in your preferred color. Start by removing the handles from your appliance. Line up the vinyl with the appliance's edge and use a utility knife to trim it down to size. Then go over the surface with a felt squeegee to remove any air bubbles. Make sure the edges are clean, then put your handles back on. —Steve Ford and Leanne Ford
Invest in a better utensil organizer
This chic utensil organizer is so versatile for my diverse cutlery collection. There's a spot for the typical fork, knife, and spoon, but it also accommodates chopsticks, tasting spoons, miniature tools, and my handy gadgets. —Tara Thomas, chef
Or just hang them on the wall
We had an empty wall in our kitchen where many folks suggested open shelving, but that felt a little builder-grade. Instead, we use a pot rack to hang little knickknacks like handheld brooms and ginkgo-leaf salad servers. It's a nice way to warm up a white kitchen and feels a little more unique than open shelving. Cabinet space is also precious in our home. With our air fryer, juicer, and rice cooker taking up so much room inside the cupboards, under-shelf hooks give us a spot for our prettiest mugs to hang out in the open. —Diana Ryu, founder of Namu Home Goods
The Strategist is designed to surface the most useful, expert recommendations for things to buy across the vast e-commerce landscape. Some of our latest conquests include the best acne treatments, rolling luggage, pillows for side sleepers, natural anxiety remedies, and bath towels. We update links when possible, but note that deals can expire and all prices are subject to change.