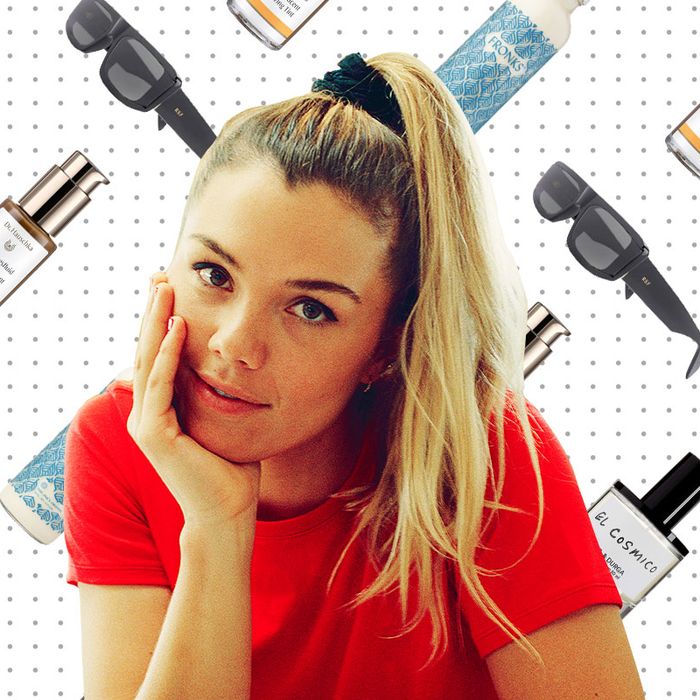 If you're like us, you've probably wondered what famous people add to their carts. Not the JAR brooch and Louis XV chair, but the hand sanitizer and the electric toothbrush. We asked Ty Haney, the founder and CEO of Outdoor Voices, about the nut milk, bronzer, and candles she can't live without.
My fiancé, Mark, introduced me to this bronzer. l discovered it when he was getting ready for his shows — he wears it every time he plays and while on tour. Now we both wear it daily. I like to keep my makeup routine simple, and the bronzing tint is really all I wear. The key is to mix it with a little Embryolisse moisturizer — it gives my skin an extra boost. It adds color in a natural way and just brings me to life in one step.
I wear this every day. It smells delicious, and definitely evokes West Texas for me. More specifically, it reminds me of the Hotel San Jose and visiting Austin for the first time. When I'm on the road, I'll take a bottle with me — a single spritz just brings me back home.
If you've ever been into one of our shops, this is what it smells like. We burn this candle throughout all of our stores — even at OV HQ. It has a very earthy scent, and makes you just want to go outside and get into nature. I love that we have this signature scent that lets you know you're at OV, whether you're at our Nashville shop or our Soho store.
I'm outdoors a lot so sunglasses are really important to me — especially when I'm under that Texas sun. For a while, I almost exclusively wore Retrosuperfuture. I like their classic yet slightly quirky designs. I've started wearing Celine sunglasses as well, lately, also for their slightly zany look.
I call myself the Energizer Bunny, and if there is a battery pack that embodies this vibe, it's the Anker battery pack: It's been super reliable when it comes to keeping my phone juiced up. I'm constantly on the road with my fiancé, Mark, or outdoors "doing things," so I always need a battery pack on me.
This is always with me on my morning dog walk, to the office, and everywhere in between. I never walk out the door without it. I'm constantly running around and it always keep things hot — or cold.
My friend Jordan Fronk started making this organic nut milk right here in Austin. It's made with almonds, cashews, dates, and sea salt. It's delicious. And it comes in different flavors, like original and cocoa. We get a delivery to OV HQ every Monday — the team is already waiting around the fridges for it around 3:30 in the afternoon when the shipment generally comes in. A glass of nut milk with a PB&J is my go-to snack.
The Cactus Store is a neat shop that sells cacti and cacti paraphernalia like pots, tools, and good books on succulents. I've always been a T-shirt gal — it's my top of choice — and Cactus Store makes great ones with quirky, succulent-related designs and slogans. The cactus is an important plant in Texas, so I'm happy to be repping them on my shirt.