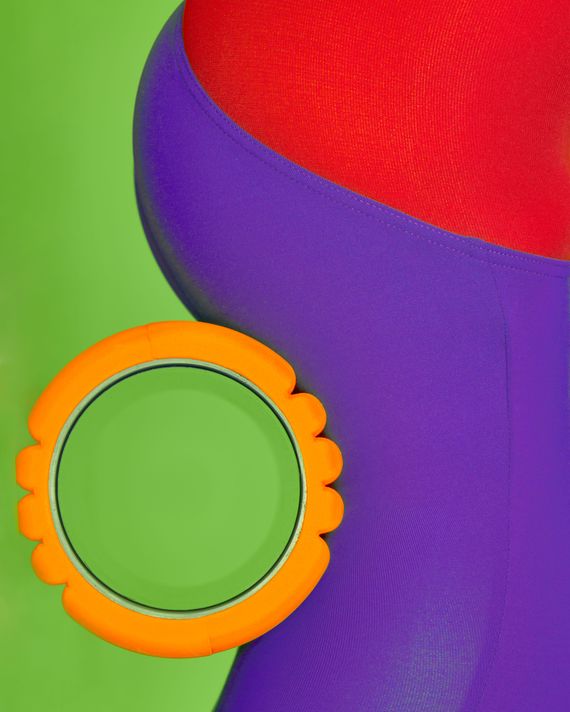 If you do it right, and with the right equipment, foam rolling is a deep-tissue massage you can give yourself at home every single day, for free, just by rolling around on the floor. Here's how it works: You roll a cylinder of firm foam against sore muscles and fascia (the thin layer of tissue that surrounds muscles) to loosen areas that feel tight, prevent injuries, and make you feel good both before and after working out. (It's also nice when you just need a good stretch while watching TV.) Fitness people love them. "They help improve the health of tissues — improving oxygen and blood flow through our fascia — help relieve muscles and joint pain, and increase mobility," says Alice Toyonaga, who co-founded the Los Angeles–based studio Modo Yoga. "What else can you want?"
Perhaps the better question is, which one should you get? The trainers, athletes, and other experts we spoke with say that depends on what experience you're looking for. Any foam roller should be able to release trigger points by loosening up these tight spots in the muscle fibers, but some will feel firmer than others (a plus if you like a deeper massage), and some have added texture to get deeper into your muscles. Below, we've listed the best of the best that should satisfy a variety of preferences.
If you want to target bigger muscle groups, like rolling out the length of your spine or both legs at once, go with a longer foam roller (two to three feet should cover it depending on your height). Shorter foam rollers (around one foot or less) are great for working on smaller areas or one arm or leg at a time. Consider your storage space, too, as larger foam rollers will obviously take up more space, and smaller ones will be easier to travel with.
Traditional foam rollers are smooth for consistent pressure across the area you're massaging. Others have bumps and ridges that get deeper into your muscles and feel more intense. These textures are often designed to mimic the feel of a masseuse's hands and fingers. "The more spikes and grooves that you see, the more the muscles are stimulated," says Keren Day, a chiropractor and co-founder of Racked Stretch stretching studio. "This may sound great, but can be painful at first and may lead to injury, so definitely ease your way in with flatter, more basic tools."
A foam roller's density determines how intense the massage feels. Higher-density foam rollers will apply firmer pressure while lower-density rollers will feel more gentle. This is typically a matter of personal preference and how firm of a massage you can tolerate. If you're unsure, start with something less dense and work up to a higher-density roller. Below, we've listed each roller's density as light, medium, or high.
These days you can find foam rollers that do everything from heat up and vibrate to fold down flat for easy storage. We've noted which foam rollers below have any additional features that make them more functional.
Best overall foam roller
Length: 13 inches | Texture: Bumpy | Density: High | Special features: Rigid hollow core for durability
A favorite of everyone from marathon runners to American Ballet Theater dancers, the TriggerPoint gets high marks for its bumps and ridges that simulate a hands-on massage, and the firm core that helps it keep its shape even after years of use. "It's just the right density to be effective without bruising," says Radan Sturm, founder of the strength-training studio Liftonic. "A lot of rollers are too hard and will bruise rather than release. It's the perfect size that allows you to target all major parts of the body." Flexibility experts say rolling on the TriggerPoint not only eases sore muscles after a workout, it can loosen up your body before a stretching session. Alain Saint-Dic, former head of training and development at the stretching and recovery studio Stretch Relief, likes how the TriggerPoint allows for deep pressure, and Kika Wise, founder of Kika Stretch Studios, says that compared to a roller with a smooth surface, the TriggerPoint will get into the tissue a little bit better, allowing for a more intense experience. Former Strategist writer Karen Iorio Adelson is an avid runner, and the TriggerPoint is also her foam roller of choice, for many of the reasons the experts above cite. "It's definitely an intense massage that relaxes my tightest muscles," says Adelson, who likes to vary the intensity by resting more or less of her body weight on it. This length is ideal for targeting the muscles of one leg at a time, but it's also available in a twice-as-long, 26-inch size if you want a longer roller.
Best high-density foam roller
Length: 12 inches, 18 inches, 24 inches, and 36 inches | Texture: Smooth | Density: High
The deep, focused pressure of the TriggerPoint isn't for everyone. If you're prone to bruising or are new to rolling, you might want a simpler — but still effective — option, like this one from AmazonBasics. The high-density foam means you'll still feel a lot of pressure, but it'll be evenly distributed throughout the roller's surface area. "I prefer the smooth rollers over textured, to evenly massage out muscles," says Julie Cobble, a master instructor at Physique 57 barre studio, who says this model works great. This foam roller comes in four sizes, up to 36 inches — the length of the standard foam rollers found in most gyms.
Best deep-tissue foam roller
Length: 13 inches and 26 inches | Texture: Very bumpy | Density: High
I reach for this foam roller when I want an intense massage. Like its name suggests, the Carbon has spiky, firm nodules that dig into the muscle and work deep layers of muscle tissue. While softer foam rollers on this list are good for full-body rolling, I use the Carbon to target smaller, particularly tight areas, like my calves. This is the firmest foam roller on this list (in fact, there's not much foam in it — its hollow construction is more like a compact version of the Chirp Wheel below), which is why it's the model we'd recommend if you want a less forgiving, more strenuous foam-rolling experience.
Best medium-density foam roller
Length: 36 inches | Texture: Smooth | Density: Medium
There are times when you'll want a slightly softer foam roller, such as when you're using one for more therapeutic massage. Vanessa Chu, co-founder and COO of the stretching studio Stretch*d, says the OPTP LoRox has a just-right density for warming up and relaxing muscles before stretching. And Jan Lefkowitz, a chiropractor at Body in Balance Chiropractic, recommends laying it down underneath your back to improve your posture. "Think of what your middle and upper back look like when you slouch," he says. "You are essentially doing the opposite with this stretch." (It also comes in a smaller, travel-friendly 12-inch size.)
Best (less-expensive) medium-density foam roller
Length: 18 inches and 36 inches | Texture: Smooth | Density: Medium
Fashion stylist Beverly Nguyen swears by this foam roller from Gaiam, which she calls an extension of herself. After a particularly brutal period of travel during an awards-season run, her Pilates instructor suggested she try foam rolling, which she now does all the time. "I run outside and it's pretty hard on my body, so I need it for my calves, lower back, and neck," she says.
Best vibrating foam roller
Length: 13 inches | Texture: Bumpy | Density: High | Special features: 3-speed vibration
If you want something that provides an even deeper release than your standard high-density rollers, check out the extra-firm, vibrating Vyper, which has three speed settings for mixing up the intensity of your massage. Though it's a high-density roller, it has a soft, almost fabric-like texture that feels forgiving on the skin and doesn't grip or snag your clothes when you're rolling on it. Both in his practice and in his own personal use, Lefkowitz "has found that vibrational technology does some pretty amazing things in terms of decreasing pain and muscle recovery." He told us the Vyper can bring powerful relief to the IT band area (the outsides of your thighs), as well as the quads and glutes. Celebrity personal trainer Danny Musico says, "It gets deeper into muscles than any other foam roller I've used," and Barry's Bootcamp CEO Joey Gonzalez once called it "the Tesla of foam rollers."
I prefer using the Vyper for rolling out my back. The vibration feels surprisingly intense, even on its lowest setting. Sometimes it's hard to get the foam roller to stay still (if I'm just rolling out my calf, for example, the Vyper will jostle around when it's vibrating), so I find it best for rolling out big muscle groups where you can lean into the floor and apply pressure to the Vyper. Overall, I've found the vibration feature effective; my muscles feel looser and rejuvenated after using it.
Best foam roller for travel
Length: 14.5 inches | Texture: Nubby | Density: High | Special features: Collapses flat
This collapsible foam roller comes recommended by both Chu and celebrity personal trainer Gunnar Peterson, who loves it because "it's portable and amazing to travel with." Chu adds that it's "the perfect density (not too hard, not too soft) to work out tight hip flexors and glutes from travel." When folded, the Brazyn Morph is only two inches high, so it's easy to pack in a carry-on. It comes in two styles: The Alpha, pictured here, is made from high-density foam and features a nubby surface for intense release. Its cousin the Bravo is a medium-density foam roller with a smooth surface for a more mild experience.
Best water-bottle foam roller
Length: 11 inches | Texture: Bumpy | Density: High | Special features: Doubles as a water bottle
This stainless-steel water bottle wrapped in bumpy EVA foam is a simple, effective foam roller that I bring when I know I'll need both items. I've taken the 40-ounce version to track practices to roll out my legs before and after workouts. Because it doesn't have as large a surface area as other rollers on this list, I've found the Mobot is best for targeted foam rolling, like massaging one leg at a time. I was worried that the foam wrap would slip and come apart from the bottle after heavy sessions of rolling, but the bottle has held up and hasn't shown signs of wear. In terms of size, the 40-ounce version is harder to fit in the mesh sleeves of backpacks, but the brand makes smaller, more portable 27- and 18-ounce versions. When it's full, the water inside doesn't impact my rolling sessions at all. One thing to look out for: I have noticed that the bottom of the bottle can "sweat" when it's filled with ice and that condensation can sometimes get on your rolling surface.
Best full-body foam roller
Length: 18 inches | Texture: Bumpy | Density: High | Special features: Center groove for spine and neck
As a runner, I've used this roller from Roll Recovery as my main training companion. I like this model for its deep center groove, which allows me to roll out my back without putting pressure directly on my spine. When doing IT band stretches, the two ridges on either side of the groove are great because they're not aggressive or bumpy enough to be painful, but they're not completely smooth, either. The result is an ideal amount of pressure for bigger muscles on my body, like my quads and back. Rolling out with the R4 has become part of my daily routine, and it's definitely helped prevent running-related injuries.
Best roller for back stretches
Photo: Chirp
Sizes: Available in 6-, 10-, and 12-inch diameters | Texture: Rubber texture | Firmness: Medium
Comedian Gina Yashere, the co-creator and co-star of the sitcom Bob Hearts Abishola, told us that the Chirp Wheel gave her the height and surface area she needed to stretch out her back. "From the moment I rolled out on one — and heard my back crack like a sheet of bubble wrap — I was hooked," she writes. The Chirp Wheel's design fits perfectly between her shoulder blades: "Using it is more or less like using a foam roller," she says. "Lie on the (surprisingly comfortable) padding that surrounds the wheel and then line up your spine with the groove in that padding, which circumnavigates the wheel (the brand calls this groove a spinal canal). The pressure is concentrated on whatever area of your spine is in the groove and the few inches of muscle on either side of it."
Strategist senior editor Winnie Yang also approves of the Chirp Wheel. "It does work much better for stretching out your back than a regular foam roller," she says, but cautions that "the narrower rolling surface the wheels have can require a little more attention to position them properly and to maintain your balance, but the shape also makes these easier to store."
Chirp offers models in different diameters: The 12-inch diameter offers low pressure, while the six-inch wheel provides deep pressure to knotty muscles.
Best foam roller for legs
Length: 18 inches | Texture: Bumpy | Density: Light
Actress Kaley Cuoco credits this soft foam roller with changing her life a few years ago. Its big divots are great at targeting Cuoco's leg muscles — which get sore from riding horses and working out — more so than a softer, flatter model that wouldn't apply as much targeted pressure. The Rollga also comes in three other versions: the soft-density model, the medium-firm model, and the Pro model.
Some more massage tools we've written about
• Vanessa Chu, Stretch*d co-founder and COO
• Julie Cobble, Physique 57 master instructor
• Kaley Cuoco, actress
• Christina Nassaney, athletic trainer at NJ Spine and Wellness
• Keren Day, chiropractor and co-founder of Racked Stretch
• Joey Gonzalez, Barry's Bootcamp CEO
• Jan Lefkowitz, chiropractor at Body in Balance Chiropractic
• Danny Musico, personal trainer
• Beverly Nguyen, fashion stylist
• Gunnar Peterson, personal trainer
• Alain Saint-Dic, former head of training and development at Stretch Relief
• Radan Sturm, Liftonic founder
• Alice Toyonaga, Modo Yoga co-founder
• Kika Wise, Kika Stretch Studios founder
• Winnie Yang, Strategist senior editor
• Gina Yashere, comedian, co-creator, and co-star of the sitcom Bob Hearts Abishola and Strategist contributor
Additional reporting by Karen Iorio Adelson and Lauren Levy.
The Strategist is designed to surface the most useful, expert recommendations for things to buy across the vast e-commerce landscape. Some of our latest conquests include the best women's jeans, rolling luggage, bed sheets, coffee makers, and bath towels. We update links when possible, but note that deals can expire and all prices are subject to change.

Every editorial product is independently selected. If you buy something through our links, New York may earn an affiliate commission.