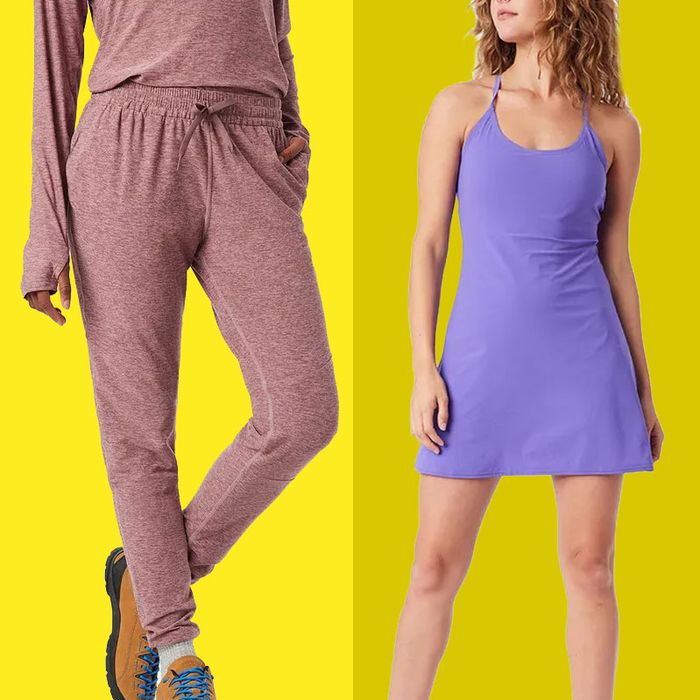 Photo-Illustration: The Strategist; Photos: Retailers
Anyone who has shopped at a retailer with few physical storefronts to browse from knows it can be hard to figure out where to start. There are dozens upon dozens of options that seem as worthy as the next, but the reality is products from any given brand are not all created equal. When you shop as regularly as we do, you learn that many brands just do some things better than they do other things. Outdoor Voices is one of those brands. Its inventory of elevated athleisure needs to be carefully sorted through to find gems like the best workout leggings, comfiest sweatpants, and most tactile sneakers. To help make things easier, we've rounded up all the Outdoor Voices stuff our writers and editors — as well as fitness editors, cookware CEOs, and even the company's founder — have recommended on the Strategist.
For everyone
These Outdoor Voices sweatpants have been recommended by Great Jones founder (and former Grub Street senior editor) Sierra Tishgart, skin-care founder Linda Rodin, and several members of our own staff. The "sleek and tailored and not bulky" sweats are so comfortable that Tishgart broke her "no lounge pants during work hours" policy. "They're the kind of pants you feel so good in that you want to actually go outside into the real world, just so you can strut," she says. Three years after her initial review, Tishgart told us that the pants have "remained as soft as the day I purchased them." Strategist editor and Outdoor Voices aficionado Maxine Builder is another superfan of the All Day line, calling these pants her "favorite loungewear" to wear "for any activity, indoors or out." They also make for an excellent gift: Former senior editor Anthony Rotunno bought the sweats in navy for his mom, who asked Santa for athleisure one year.
Outdoor Voices also makes tops out of the same supersoft material as the All Day sweatpants, in case you, like Builder, are a "sucker for a matching set."
Builder will swap out the All Day hoodie for the long-sleeved shirt "depending on the weather." It's also a favorite long-sleeve of MichaelAnn Cohlmia, co-founder of CBD brand WeedSport. "I always grab it no matter what I am doing: traveling, hiking, or playing tennis on a winter day in L.A." And just like the sweatpants, this supersoft shirt can go through the wringer. Cohlmia has "washed it many times, and it always comes out perfect — no shrinking or warping, and it's forever soft." The tee's looser cut is flattering (if a bit clingy at times), and she loves "the thumb holes that are like hammocks for your thumbs," keeping the sleeves secure.
If you want to stock up on the full set, Outdoor Voices also makes a short-sleeved version of the tee above, which cookbook author and food writer Priya Krishna calls a "worthwhile wardrobe splurge." Like Cohlmia, Krishna likes that the tee is versatile enough to take you from the gym to the office. She describes the fit as "loose yet flattering, and exceedingly comfortable but also cute with a long skirt at a holiday party."
For women
Builder liked these Warmup leggings, so much she bought them twice in one month. "To be honest, I've found them a little hot for hot yoga, but they're excellent to wear when I'm doing other things," she says.