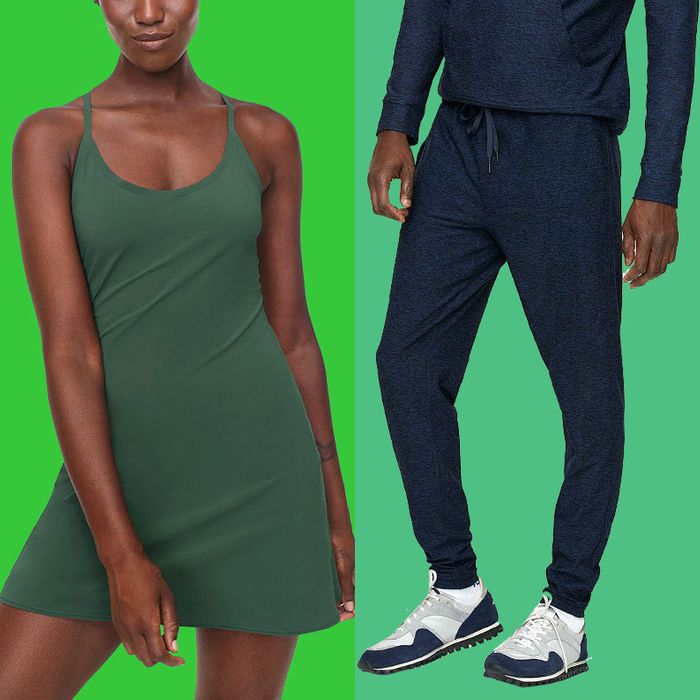 Photo-Illustration: retailers
Anyone who has shopped at a retailer with few physical storefronts to browse from knows it can be hard to figure out where to start. There are dozens upon dozens of options that all seem as worthy as the next, but the reality is that products from any given brand are not all created equal. When you shop as regularly as we do, you learn that many brands just do some things better than they do other things. Outdoor Voices is one of those brands. Its inventory of elevated athleisure needs to be carefully sorted through to find gems like the best workout leggings, comfiest sweatpants, and very tactile sneakers. To help make things easier, we've rounded up all the Outdoor Voices stuff our writers and editors — as well as food writers, fitness editors, cookware CEOs, and even the company's founder — have recommended on the Strategist.
For everyone
These Outdoor Voices sweatpants have been recommended by Great Jones founder (and former Grub Street senior editor) Sierra Tishgart, skin-care founder Linda Rodin, and several members of our own staff. The "sleek and tailored and not bulky" sweats are so comfortable that Tishgart broke her "no lounge pants during work hours" policy. "They're the kind of pants you feel so good in that you want to actually go outside into the real world, just so you can strut," she says. Three years after her initial review, Tishgart told us that the pants have "remained as soft as the day I purchased them." Strategist editor and Outdoor Voices aficionado Maxine Builder is another superfan of the All Day line, calling these pants her "favorite loungewear" to wear "for any activity, indoors or out." They also make for an excellent gift: Our senior editor Anthony Rotunno bought the sweats in navy for his mom, who asked Santa for athleisure one year.
Outdoor Voices also makes tops out of the same supersoft material as the All Day sweatpants, in case you, like Builder, are a "sucker for a matching set."
Builder will swap out the All Day hoodie for the long-sleeved shirt "depending on the weather." It's also a favorite long-sleeve of MichaelAnn Cohlmia, co-founder of CBD brand WeedSport. "I always grab it no matter what I am doing: traveling, hiking, or playing tennis on a winter day in L.A." And just like the sweatpants, this supersoft shirt can go through the wringer. Cohlmia has "washed it many times, and it always comes out perfect — no shrinking or warping, and it's forever soft." The tee's looser cut is flattering (if a bit clingy at times), and she loves "the thumb holes that are like hammocks for your thumbs," keeping the sleeves secure.
If you want to stock up on the full set, Outdoor Voices also makes a short-sleeved version of the tee above, which cookbook author and food writer Priya Krishna calls a "worthwhile wardrobe splurge." Like Cohlmia, Krishna likes that the tee is versatile enough to take you from the gym to the office. She describes the fit as "loose yet flattering, and exceedingly comfortable but also cute with a long skirt at a holiday party."
Outdoor Voices has also become known for its collaborations with expert-approved running-shoe brand Hoka One One, in which they update existing Hoka models with colorways that make the shoes more fashionable to wear off the track. Well+Good beauty and fitness editor Rachel Lapidos owns the "grandpa style" Outdoor Voices Hoka Clifton 7 — which we called the "fugly status gym sneaker" — and likes how the "cloudlike style" allows her to dress to match the "orthopedic-inspired" fashion trend. But they're not just fashionable: Though Ali Feller, marathoner and host of the Ali on the Run Show podcast, doesn't own the Outdoor Voices version of the Hoka Clifton 7, she says she's been "running in Hoka Clifton since 2015 and [has] not done a single run in a different shoe since then," crediting the shoe for preventing injuries.
For women
The versatile OV Athena Crop Top was one of the brand's first products to hit the market and has since become a favorite sports bra. SLT and Stretch*d founder and CEO Amanda Freeman says the high neckline and compression material make it a great option for larger busts and that it does double duty as a crop top. Strategist contributor (and self-described "athleisure queen") Alexandra Ilyashov agrees that the bra is "cute enough, when it is warmer, to wear as a top." And former Strategist intern Zoë Sessums wrote that layering the Athena under dresses, tanks, and tube tops "makes anything I wear just slightly more interesting." One spring, Builder even picked up the Athena (in charcoal) so she could be "that girl who goes to hot yoga wearing a full OV kit with OV Tevas."
If you, too, want a full kit, pair the Athena crop top with these Warmup leggings, which Builder liked so much she bought them twice in one month. "To be honest, I've found them a little hot for hot yoga, but the kit is excellent to wear when I'm doing other things," she says.
One hack Strategist writer Jenna Milliner-Waddell discovered during quarantine is to start the day dressed in workout attire; that way, "there's no excuse not to work out after work." And one of her favorite pieces for working (and working out) from home is the Move Free Crop Top. This is made of a lighter-weight TechSweat material, which Milliner-Waddell says "has a second-skin feel, so it's like I got dressed without any of the restrictions."
Milliner-Waddell pairs her Move Free Crop Top with these high-waisted leggings, and unlike the Warmup leggings, they're actually lightweight enough for hardcore workouts. Hannah Jean Hildreth, an instructor at 305 Fitness, wears the ultrastretchy, sweat-wicking leggings to yoga and says they let her "move freely and look svelte as heck." (She also likes that the leggings' waistline "reminds me to engage my core, but they're not so tight that they're uncomfortable.")