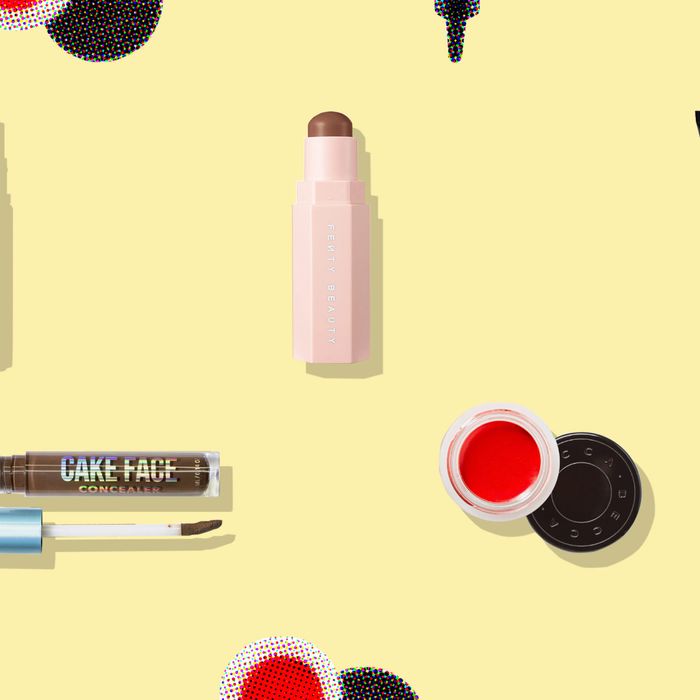 If you're a human, there's a good chance that at one time or another dark circles have appeared under your eyes. Conventional makeup wisdom has it that you should use an under-eye concealer that's a shade or two lighter than the rest of your skin, to cover and brighten those purplish-gray rings. But on black skin, this logic doesn't apply: Lighter shades of concealer will just look ashy. "On dark skin, under-eye darkness reads blueish," says Nick Barose, a makeup artist whose clients include Gugu Mbatha-Raw and Lupita Nyong'o. "So it's about color-correcting, too, not just coverage."
First, for brown skin, Barose recommends an orange-tone concealer to do the correcting on bluish circles. This leans on basic color theory: Shades opposite of each other on the color wheel — such as blue and orange — tend to cancel one another out. Then, for concealing, Barose says to choose a color close to your skin tone, and that liquids blend in best. (If you already have a good liquid foundation, that works as well.) Lastly, "never apply concealer with your finger because it makes the color blotchy," Barose says. "Opt for a concealer brush and small BeautyBlender." Everything you'll need, below.
Under-eye color correctors for most black skin tones range from peach to red. The redder it is, the better it can correct on dark complexions. This Becca shade, called Backlight, looks saturated, but the balmy texture actually goes on translucent. Its red tint is just the right tone to cancel darkness in dark skin. The formula also has very subtle particles that brighten up the area by reflecting light.
(Becca's Peach color is also great for lighter, golden black complexions.)
Around three years ago, it seemed, color correctors went from little-known pro tools to every woman's secret weapon. I hopped on the bandwagon, and started with the Shara corrector in Apricot after I'd heard about the brand from a friend who really liked its primer. The color corrector has a salmonish hue that corrects perfectly for my medium-brown skin. And because it's very lightweight, it sinks right in.
These correctors have two colors, for correcting and then concealing. The redder tone is great for under-eye circles and hyperpigmentation.
One of Nick Barose's favorite color correctors for black skin has a creamy texture and delivers medium coverage. It doesn't have any shimmer, so you can use it all over, like on hyperpigmentation left behind from pimples and darkness around the mouth (plus, shimmer draws too much attention when concealing blemishes). The red-orange coloring is midrange hue and covers a lot of different brown complexions.