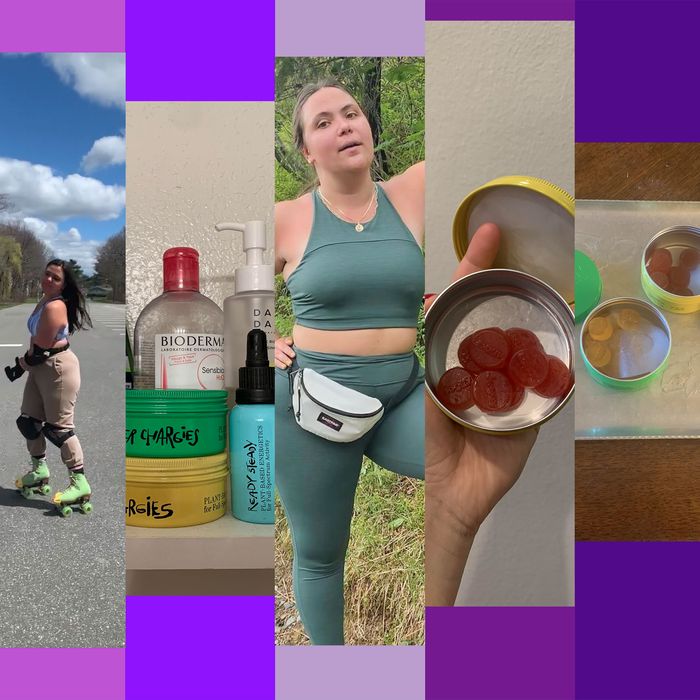 Photo: Dominique Pariso/The Strategist
Cannabidiol, a nonintoxicating cannabinoid better known as CBD, has become a buzzword ingredient in everything from beauty products to seltzer, and in the past several years, I've written about the best CBD bath products, the best CBD gummies, the best tinctures, topicals, and pre-rolls, and even the best CBD for dogs. This is still a fairly small percentage of the CBD products I could've written about, having now been sent dozens of mailers from brands with all manner of promises including reducing my stress, improving my sleep, and easing my period pain.
In April 2022, Outdoor Voices founder Ty Haney launched another such brand called Joggy, a line of CBD products or, as the website says, "plant-based energetics for full-spectrum activity." (This year, she also launched some kind of online platform where people can give brands user feedback and get NFTs in return, but that's for another time.) Basically, the formulas have been designed to be used before and after exercise. "Doing things" but with a cannabinoid kick.
My experience dabbling in CBD products has been a bit all over the map, and I've typically encountered CBD in products meant to relax and unwind. Using CBD as an aid in activity makes Joggy, as far as I know, a first in its category (or at least an early entrant). I wasn't sure how well this would work for me, but at least I could be confident it wasn't complete snake oil because Joggy does have an easy-to-access certificate of analysis (also known as a COA). That's basically an independent lab test that proves that what's in the bottle actually matches what the brand has put on the label. Many CBD brands offer one, and if they don't, you probably should not trust the product. But even with that extra step of verification, results were not guaranteed as I set out to test the entire line — which includes two tinctures, two types of gummies, and one balm — over seven days in November.
Day 1
Runner's High is supposed to be taken pre-activity to help provide more energy and occasion a lightly euphoric sensation. In addition to CBD, this tincture also has THCV, a cannabinoid that's supposed to create an energizing effect, and alpha pinene, a terpene that allegedly helps you focus. The three ingredients together are supposed to create that "runner's high" effect. On an Instagram Story, I saw Haney describe it as providing a "slightly elevated flow state."
I dosed one dropperful of the tincture under my tongue, laced up my roller skates, and went outside. Runner's High is "unflavored," but since the brand hasn't added anything to cover up the taste of the active ingredients, it's a little unpleasant. (You could add it to a smoothie or coffee to mask the bitterness.) I was feeling a little tired, and it had been a while since I went on a long skate, so I was hoping the tincture would give me a much-needed boost. Generally, tinctures are supposed to kick in pretty quickly, and Joggy claims its water-based lipid encapsulation is supposed to absorb even faster than other oil-based tinctures. Unfortunately, I didn't really notice any changes to my mood or energy level at all.
While skating, I took a hard fall on concrete. I wear safety pads, but my upper arm and shoulder took the brunt of it, so I reached for Joy Stick — the Joggy body balm that contains CBD, magnolia, bergamot, and arnica — to gently rub on the area. It's a solid stick that's housed in a very handsome refillable silver tube and has a slightly dank minty scent. While I don't love smelling as if I just smoked a spliff and popped some breath mints, I did notice an immediate cooling, tingly sensation that reminded me of my grandmother's Tiger Balm.
Before bed, I took one of the Re-Chargies gummies, which can be used post-workout or before bed to relax. They are flavored with hibiscus, which was a welcome change after the slightly gross flavor of Runner's High.
Since Joggy's whole premise is to aid with activity, I was a bit surprised it had a relaxing CBD product, though I suppose it makes sense for those who feel wired after exercise. Post-exertion, I tend to fall into the "too exhausted to move" camp, but I'll never say no to a product that promises to improve sleep. All of the CBD I've tried in the past has been geared toward aiding sleep and relaxation anyway, so I'm interested to see how Joggy stacks up.
Day 2
I wake up and am impressed to find I slept really well, and my arm didn't bruise as I expected it to. I can't say what ingredient did it on the bruise front: In addition to CBD, Joy Stick contains old-school arnica, which I think helped a lot. But with a fall like that, I'd normally expect a gnarly bruise that would be quite sore, and I was impressed that Joy Stick seemed not to only relieve the pain but also to help with the bruising. As for my well-rested morning, I've taken plenty of melatonin in the past, and after Re-Chargies, I definitely woke up feeling less groggy.
I decide to take advantage of the weirdly warm fall weather and go for another skate. I take another dropperful of Runner's High. As I glide down the bike path, I wonder if the CBD is the reason behind my good mood. Or is it just the regular endorphins I almost always get when I skate? Or is it the sunshine? Or is it the changing fall leaves? After about an hour of skating, I was hoping Runner's High would give me more of a noticeable energy boost — which I definitely don't feel — and I regret not just drinking a cup of coffee.
I take two Re-Chargies before bed instead of just one. Dosing CBD can be tricky — too little and you won't feel anything, too much and you risk overdoing it and ending up feeling drowsy or sluggish — and everyone's body responds to it differently, so sometimes you need to experiment a bit to find the right amount. While Joggy suggests one 25-milligram gummy to start, I find that, for most CBD brands, 50 milligrams is my sweet spot, and after my success on the first night, I go with two on my second go.
Day 3
I wake up feeling really refreshed. I fell asleep much faster than usual and slept very soundly.
Joggy's other tincture, Ready Steady, is supposed to help ease stress and produce a calming effect, and it's recommended for slower, more mindful activities like yoga or hiking. Ready Steady does not contain the THCV or Alpha Pinene that Runner's High does, so the CBD is doing all the heavy lifting.
It's minty and goes down a lot easier than Runner's High. I haven't done yoga in a long time, so I queue up a video. I do feel relaxed afterward, but I'm not sure if it's from the CBD or my body remembering that yoga does actually work when I bother to do it.
In the afternoon, during my usual 3 p.m. slump, I take some Runner's High instead of having a second cup of coffee. I feel really tired as I try to answer emails, and I wish I had just had coffee.
Before bed, I take two Re-Chargies, and it's off to dreamland.
Day 5
Busy with work and feeling a little stressed, so I take some Ready Steady tincture to take the edge off. I can't say I notice any major changes, but the rest of the work day goes by smoothly — so it is possible I have Ready Steady to thank for that.
I was too swamped today to exercise, but I did have a dinner to attend after work, and by evening I'm feeling exhausted, so I take two of the Super Chargies — the gummy equivalent of Runner's High in that its supposed to provide an energizing effect — to see if it gives me a boost.
Gummies typically take longer to kick in, compared with tinctures, because they have to be digested first. They also tend to last for a longer duration, though the effects can be more mellow. It really comes down to personal preference and scheduling. Since I'll be at the dinner for longer than a workout typically takes, I opt for the gummies in hopes they kick in once I get there and last through the evening. I do think I feel a bit more awake, though the effects feel a bit mild. I also am not sure if that's because Super Chargies, in addition to CBD and THCV, have an ingredient called AmaTea, a nootropic derived from guayusa-leaf extract that's basically caffeine.
Back home from my dinner, I take two more Re-Chargies before bed. I've been sleeping so well and so deeply that I've started keeping the tin on my nightstand next to all my other before-bed essentials such as my lip balm, moisturizer, and retainer.
Day 6
I wake up, and I'm a little tired from the festivities the night before, so I take some Runner's High in the morning before doing a quick Pilates workout, since I find Pilates to be a more high-intensity activity when compared with yoga. I don't consider myself to be particularly sensitive to bitter flavors, but it's genuinely getting a little hard to choke this stuff down, and I'm looking forward to removing it from my routine after today. While I hadn't noticed many effects before, I have heard that CBD works best when taken regularly, so I want to see if I noticed anything new over time. Still nothing.
I take two more Re-Chargies before bed. Since there are only 20 gummies per tin, I'm going through my supply quickly. I will miss my Joggy-induced sleep once I run out. I woke up less during the night than I usually do, felt more awake in the morning, and didn't get any weird CBD-induced dreams, which has happened to me in the past.
Day 7
I decided to end my week how I started it: with a dropperful of Runner's High. I was hoping that, this time, I would finally feel that magical surge of endorphins and energy, but I ended up yawning through most of my workout.
I've tried a lot of CBD brands in the past — gummies, flower, tinctures — and have had a wide range of effects. What I've learned is that the results are highly personal to your particular body. In the past, many tinctures I've tried have disappointed me (possibly because I'm used to the immediate quick-hit of CBD pre-rolls), so the fact that Runner's High still isn't doing things for me shouldn't have been a surprise.
What was a surprise was the Joy Stick. By the end of the week, my arm felt so good I actually forgot I took a spill at all. And while my seven days were technically up, I still dutifully took my Re-Chargies before bed, and I will continue to do so until I run out of them. Somehow my favorite product from a line designed for activity is something that makea me fall asleep. But these days, getting a good night's sleep is sometimes harder than mustering up the energy to get a workout in, so I'll count it as a win.
The Strategist is designed to surface the most useful, expert recommendations for things to buy across the vast e-commerce landscape. Some of our latest conquests include the best acne treatments, rolling luggage, pillows for side sleepers, natural anxiety remedies, and bath towels. We update links when possible, but note that deals can expire and all prices are subject to change.