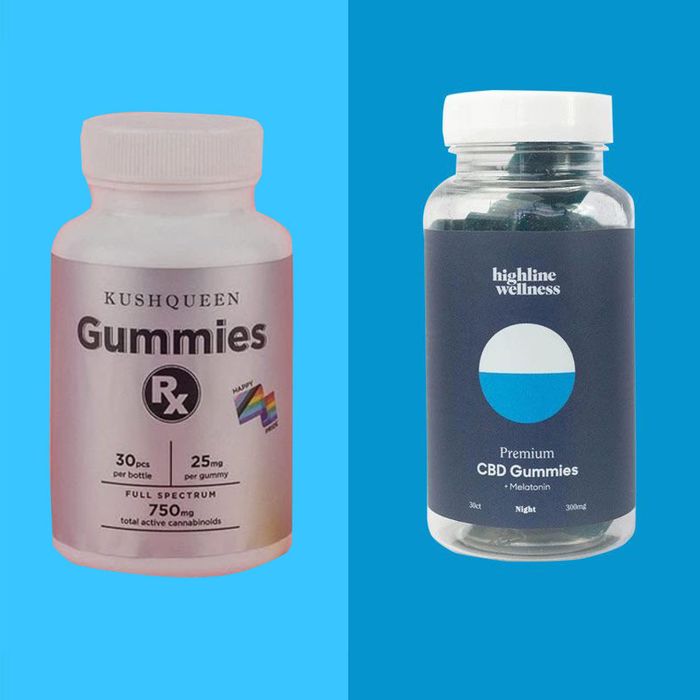 Nowadays, as we've pointed out, you can get CBD in pretty much any form, from ingestible tinctures to topical skin creams. (As we have heard from Dr. Peter Grinspoon, a cannabis specialist who works as a physician at Massachusetts General Hospital and as an instructor in medicine at Harvard Medical School, the efficacy of CBD is still being studied in tests with human subjects, but "there is emerging research that suggests CBD can be helpful in managing anxiety, insomnia, chronic pain, and even addiction.") Edibles are of course one form of CBD, but if that word conjures images of pot brownies gone horribly wrong, then you'll be pleasantly surprised to hear how the people we talked to describe them. According to Kate Miller, the owner of cannabis retailer Miss Grass, edibles actually have the "most mellow and predictable effect of all" CBD products, making them a "great starting point for beginner users." Entrepreneur Verena von Pfetten, whose Gossamer brand sells CBD products, explains that because edibles are processed through your liver, some of their active cannabinoids get lost in the process. Which is why the right dosage makes all the difference: "When people try a 10 mg CBD edible and say they didn't feel anything, it's because they'd have to eat two or three to have the same effect as they would ingesting 10 mgs of a tincture," according to von Pfetten. While you can find them with lower amounts of CBD, von Pfetten says that because of how you lose some of the active cannabinoids in processing them, she suggests "generally looking for edibles that have at least 10 mg of CBD." Miller adds that those new to edibles should start with a lower-dose option and work their way up as they experiment with their tolerance. "Keep in mind that edibles typically take between 45–90 minutes to kick in," she says, "and the effects can last for up to 5 to 6 hours."
Edibles can take almost as many forms as CBD itself, from chocolates to baked goods to gummies. Because von Pfetten says that CBD has a cumulative effect and works better the more regularly you take it, gummies stand out as the easiest to incorporate into a routine, because many folks may already be taking vitamins in gummy form. To find the best (most effective) CBD gummies, we asked Miller, von Pfetten, and 13 more people — including CBD brand owners, tasteful stoners, and Strategist staffers — about their favorites. To make it easier for you to find the right CBD gummies, we've broken down their 15 recommendations by amount of CBD per serving, leading each category with any products we heard about more than once. And to ease your mind, know that all of the products on this list have been independently lab tested for purity and potency. (We checked.) One more important note before we get to the gummies: In talking to experts in the cannabis and CBD space, we've heard a lot about how it is important to be educated consumers and understand the effects that the larger war on drugs has historically had on Black, Brown, and other nonwhite communities. Our experts noted that we should, at the very least, consume cannabis and hemp products consciously and, whenever possible, directly support Black, Brown, or other nonwhite businesses, several of which appear on the list below.
Best gummies with ten milligrams of CBD
Four people told us about these "magical" gummy grapes from Rose Los Angeles, which Maggie Connors, the founder and CEO of the cannabis brand Besito, describes as "Turkish candy meets sophisticated gummy." Rose Los Angeles partners with chefs in its namesake city to create the flavors for its edibles; the Magical Grapes were developed in partnership with chef Virgilio Martínez Véliz and have notes of Japanese grape, muddled ginger, and crushed pink peppercorn, according to the brand. Dorian Morris, the founder of CBD beauty and wellness brand Undefined Beauty, calls them "delicious yet powerful," while Frigg founder Kimberly Dillon, who also sells CBD products and runs the cannabis-strategy studio Plant & Prosper, has just one word for them: "divine." The grapes have yet another fan in von Pfetten, who calls Rose Los Angeles's gummies "the best CBD edibles on the market" because of how they are produced. The brand, she explains, uses whole-flower rosin, "which isn't extracted so much as pressed from the plant, preserving the cannabinoids and terpenes in as close to a form as they are found" and resulting in gummies with a stronger effective dose. If your mouth is watering, Dillon notes you may want to act fast because Rose Los Angeles produces its gummies in "Über-small batches — there are maybe 1,200 units at a time, then they're gone."
"These Martha Stewart gummies contain CBD from reputable cannabis company Canopy Growth," Sameen Ahmad, the vice-president of events at High Times magazine, explains of the edibles' namesake ingredient. She promises they do not have "any hemp-y aftertaste" and that all of the sampler's 15 flavors — which include blood orange, kumquat, and rhubarb — "are delicious," with a texture "rivaling that of authentic Parisian confections." As for their potency, Ahmad says the gummies make for a "great daytime treat that leaves you feeling relaxed yet focused and energized."
Whether they contain CBD or not, many gummies are made with gelatin, an ingredient that rules them out for people following a vegan diet. Ahmad recommends these to anyone looking for a vegan-friendly option — or just an after-dinner treat "to get you in the perfect zen state" before bed — telling us that the gummies contain "high-quality" CBD. In addition to dragon fruit (which the brand says tastes like a combination of kiwi and pear), you can get JustCBD's vegan gummies in four other flavors: mixed tropical fruit, mixed berry, mixed fruit, and strawberry Champagne.
Cat Major, the owner of the New Orleans–based CBD brand Blissful Stoner Body Essentials, says these gummies from Black-owned company Holmes Organics "are perfect for popping right before bed to ease your mind and usher you into a state of relaxation." Cannabis writer Brittany Parker also told us about them, saying they deliver "a nice, relaxing body high" that enhances the effects of the other CBD products she uses.
According to Strategist writer Hilary Reid, these gummies are also helpful for falling (and staying) asleep. After finding other CBD products not particularly effective, she says this formula — which includes melatonin in addition to CBD — stood out as one to try when the brand offered to send her some samples. "I'm glad I did," she says after using the gummies. "I take one about 30 minutes before I want to sleep and then read for a bit. I can usually get through a chapter before I find myself dozing and sleeping well through the night." (Those seeking something sans melatonin should know that Highline Wellness also makes ten-milligram gummies formulated without it.)
For another CBD gummy that will (help) put you to sleep, Morris recommends these from the women-founded company Winged, calling them "hands down, one of my favorites." Like the gummies above, these include melatonin in addition to L-theanine, resulting in a product that "relaxes your mind for a restful sleep," she says.
Best gummies with 15 or 20 milligrams of CBD
For a slightly higher dose of CBD, you can try these 15-milligram chewy pastilles from oHHo, which makes von Pfetten's favorite smokable CBD pre-rolls. Created in collaboration with pastry chef Nicole Del Pino, the CBDots are infused with flavors of red apple and rose petal. House of Puff founder Kristina Lopez Adduci started using them postpartum and says they've been really helpful at soothing her aches and pains. "Since having my twins, I suffer from hip pain, and oHHo's gummies have been a game changer for me," she says. Adduci adds that these are one of three CBD gummies she takes regularly, explaining the difference between each product's dosage this way: "The CBDots, at 15 milligrams, are the perfect dose for soothing my aches and pains while still managing to get work done. The other products, at 20 and 25 milligrams, tend to make me more relaxed and sleepy."
Lord Jones, the maker of some of our favorite CBD lotions and bath salts, also sells equally effective gummies, according to two folks we talked to. Each gummy contains 20 mg of CBD and Boronia Fallshaw, who founded her own brand of CBD products called Mello, says her "only wish is that they sold more in one pack, as I eat them way too quickly." These gummies have a second fan in Carolyn Gray, the founder of Brooklyn-based CBD brand Noirebud, who told us they are also popular among many of her customers, too.
In addition to oHHo's 15-milligram CBDots, Adduci takes these 20-milligram gummies from Flora. The slightly stronger dosage "feels like a warm hug from a cloud," she says, and the gummies come in a handful of fruity flavors, including strawberry lemonade, tangerine, peach pear, and cherry lime.
Best gummies with 25 milligrams of CBD
Lizzie Post, a co-president at the Emily Post Institute and the author of Higher Etiquette: A Guide to the World of Cannabis, From Dispensaries to Dinner Parties, says WYLD makes some of her all-time-favorite CBD gummies, because the flavors are "incredible with no bitterness at all." While Post says she thinks CBD is something you can take whenever you want, she's personally "a fan of taking these both before and after working out." You can buy packs of individual flavors, but she suggests starting with this variety pack that includes four of the brand's five kinds of gummies: raspberry, blackberry, huckleberry, and lemon. (Its fifth flavor, elderberry, is only sold on its own.) Each gummy contains 25 milligrams of CBD, but they're available in both 250- and 500-milligram packs; the former includes ten gummies, and the latter includes 20. If you try and really like these, the brand also offers a subscription plan that can have gummies delivered to your door in one-, two-, or three-month increments.
The Black-woman-owned K'dara, according to Major, makes "amazingly delicious gummies." She told us she endorses all five of its gummy edibles for taste ("delectable") and efficacy, but the brand's peach rings have another fan in Adduci, who says they appeal to her "inner child." Because these don't look any different from non-CBD-infused peach rings, Major adds that these are "perfect for microdosing discreetly on the go."
Strategist writer Chloe Anello, like other folks we talked to, prefers to take CBD gummies before bed. Her favorites include melatonin but have a higher dosage of CBD than others we've mentioned. They "knock me out at night," she says, adding that the gummies "taste really good, too."
As Lex Corwin, founder of the cannabis company Stone Road, reminds us, "It's important to support companies that are giving back." Corwin says Kush Queen — the maker of these Pride Gummies he uses "to help me unwind after a long day" — does that by "donating a portion of its proceeds to Asylum Connect," an organization that helps folks escaping persecution for their gender identity or sexual orientation seek asylum in the U.S.
Strategist contributing editor Jessica Silvester — another self-described CBD skeptic turned enthusiast — likes to supplement her favorite Charlotte's Web CBD tincture with these gummies from Five. She found them so effective that she introduced the gummies to her dad, who is now "sleeping better than he has in decades," she says. At their least powerful, the gummies contain 25 milligrams of CBD. But for something stronger, you can get them with 25 milligrams of CBD and melatonin or with 50 milligrams of CBD.
"When I say these have the best candy flavors, I mean it," says Dillon. "They taste like Jolly Ranchers," she says of the brand's 16 (!) sweet-and-sour flavors.
The Strategist is designed to surface the most useful, expert recommendations for things to buy across the vast e-commerce landscape. Some of our latest conquests include the best acne treatments, rolling luggage, pillows for side sleepers, natural anxiety remedies, and bath towels. We update links when possible, but note that deals can expire and all prices are subject to change.