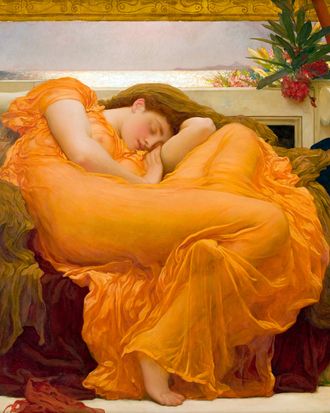 Maybe she took melatonin.
Photo: Fine Art/Corbis via Getty Images
Sleep remedies, like sleep itself, are a bit mysterious. There are lots of reasons people can't sleep (full-blown insomnia, a natural tendency toward night owl-ishness, anxiety), but few concrete solutions. Google the problem, as one might desperately do at 2 a.m., and the WebMD-like sites that populate your results offer only vague endorsements or warnings.
Putting prescription medications like Ambien and Lunesta aside, because that's another conversation entirely, we decided to ask two doctors and a holistic nutritionist about natural sleep remedies that they've seen work. Here's what they recommend, and, crucially, how they recommend it.
Melatonin
Probably the most popular over-the-counter sleep aid, melatonin is a naturally occurring hormone in our bodies that signals when it's time to relax and go to sleep. In supplement form, it can come in a capsule, liquid, or gummy. Melatonin gets thrown around a lot as something to take before bed or on a long flight, but it's specifically useful for people who are natural night owls, says Dr. Shelby Harris, a clinical psychologist who specializes in behavioral sleep medicine. "For those Circadian rhythm patients — let's take a delayed sleep person, a night owl — it helps to prime the system," she says. But: "it takes a few weeks to work; it's meant to slowly drift your sleep schedule earlier." Harris recommends patients take a tiny dosage of 0.3 milligrams ("Most people are buying 5, 10, 20 milligrams," she says, adding that more isn't better) about five hours before they'd like to be asleep. That's enough time for the body to produce an earlier-than-usual hormonal signal, so that someone might drift off at 11 p.m. instead of 3 a.m.
That's corroborated by Dr. Daniel Barone, a neurologist and sleep medicine expert at Weill Cornell Medicine and New York Presbyterian. Barone's book, Let's Talk About Sleep: A Guide to Understanding and Improving Your Slumber, includes a chapter on natural sleep remedies, one of which is melatonin. He adds that it can also be used a bit differently for people with "garden variety anxiety." "Melatonin is kind of my go-to," he says. "The reason I start with it is because the brain does make melatonin. So you're just supplementing that to give it a push." For those patients, he suggests 1 to 3 milligrams, taken half an hour before bedtime.
Supplements like melatonin aren't regulated by the FDA, but Both Harris and Barone say that patients should at least buy from brands with certification from the United States Pharmacopeia. Barone often recommends Twin Labs' product, seen here in 3 milligram dosages.
He also trusts and recommends the brand Solgar. For people interested in taking the 0.3 milligrams Harris recommends, buying in liquid form would be smart — it's hard to find capsules with that small a dose.
There's also a delayed release version of melatonin, for people who fall asleep easily but toss and turn in the night. Not insomniacs (as doctors, both Barone and Harris made it clear that insomnia should be addressed with a professional), just poor sleepers.
Valerian
This section will be short: Harris said she's had patients try valerian (derived from the root of the valerian flower) but hasn't heard of or treated a single case in which it was successful. Barone said more or less the same thing. "They say it's to help relax the central nervous system, which, what does that even mean?" he said.
Magnesium
For a more holistic set of recommendations, we decided to include input from a holistic nutritionist as well. Daphne Javitch, who practices in New York and runs the moment-of-zen Instagram account @doingwell, says that besides exercise, diet, routine, and making sure your room is cold and dark, there's magnesium. The mineral is available in a plethora of healthy foods (dark leafy greens, whole grains) but most Americans have some kind of deficiency. Which isn't ideal for getting rest, because magnesium helps to keep stress levels down in the body — something Harris confirmed, saying that while not a full-on recommend sleep aid, "magnesium has more of a calming effect overall. I have some patients who swear by it."
You can take it in capsule form, and Pure is a reliable brand. One of the perks of taking a magnesium supplement is that while no doctor or nutritionist will tell you that it puts you to sleep, it can help lead to a deeper sleep.
Javitch recommends this supplement that comes in drink form: "It's an anti-stress, calming concoction, basically, and it also helps with constipation and things like that. It kind of gives you that feeling of preparing for sleep rather than knocking you out." Similarly to how Harris recommends using melatonin, Javitch suggests leaning on supplements in times of transition, with the idea of letting your body establish a natural rhythm.
"Putting some magnesium epsom salts in a bath is a really good thing," Javitch says. "It's super-detoxing and super relaxing — it gives that you feeling of being exhausted after you've gone for a long swim. It's a comfortable kind of exhaustion."
One last thought
"Another great natural sleep aid is an orgasm," Javitch says. "For both men and women, after you have that release you'll be more relaxed."
With that sound advice in mind, here's the Maude Vibe, which we deemed the best-in-show vibrator.
The Strategist is designed to surface the most useful, expert recommendations for things to buy across the vast e-commerce landscape. Some of our latest conquests include the best acne treatments, rolling luggage, pillows for side sleepers, natural anxiety remedies, and bath towels. We update links when possible, but note that deals can expire and all prices are subject to change.
Every editorial product is independently selected. If you buy something through our links, New York may earn an affiliate commission.