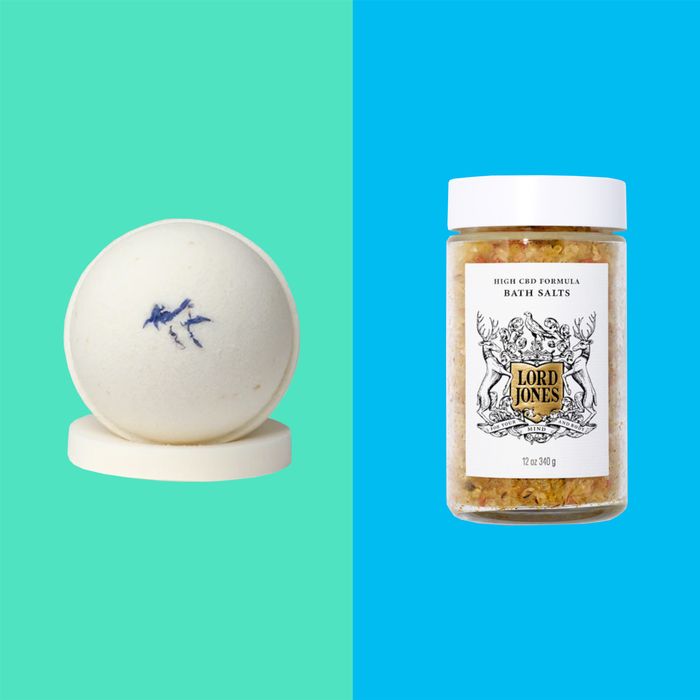 Photo-Illustration: The Strategist; Photos: Retailers
As we have heard in the past from medical professionals like Dr. Peter Grinspoon, a cannabis specialist who works as a physician at Massachusetts General Hospital and an instructor in medicine at Harvard Medical School, while the efficacy of CBD is still being studied in humans, "there is emerging research that suggests CBD can be helpful in managing anxiety, insomnia, chronic pain, and even addiction." According to the people we spoke to for this story, topical products like skincare items or bath bombs, salts, and serums infused with CBD can provide more immediate relief from sore muscles or menstrual cramps than their edible counterparts. "Topicals can manage muscle discomfort by penetrating the skin within minutes, and the effects can last for around two to five hours," explains Kate Miller, a co-founder of CBD brand Miss Grass. Broccoli magazine Floret Coalition board member Kassia Graham, the director of social media and national projects at Cannaclusive and the leadership-team head at Cannabis for Black Lives, adds that CBD-infused bath products differ from other CBD-infused skincare this way: "Bath bombs and salts are for full-body relaxation and pain management, while topicals like lotions, creams, and balms tend to be for more targeted relief." What's more, bath products containing CBD often have other soothing ingredients in their formulations that work with the cannabinoid to maximize the sense of relaxation they deliver.
Still, as when choosing any other type of CBD product, finding the right bath bomb, salt, or serum will in part come down to determining the dosage of CBD that works for you. With topicals, that can be trickier than it seems, according to professor Tamás Bíró, the chair of the Department of Immunology at Hungary's University of Debrecen and the director of applied research at Phytecs, a company researching and developing drugs affecting the endocannabinoid system, who previously told us "the problem is that there's no study that indicates the proper dose." This means it may take some experimenting; according to cool people in the CBD space, a good rule of thumb is to start with a lower dosage and work your way up. To find the best CBD-infused bath products, we asked Miller, Graham, and 12 other folks who use them about the ones they'd recommend. Their suggestions take various forms, from single-use bath bombs to bath salts and serums you can use more precisely. To help you shop, we've organized their recommendations by single-use bombs and multiuse salts and serums, noting how much CBD can be found in each. One more note: Cannabis and CBD experts stress the importance of being an educated consumer and understanding the effects that the larger war on drugs has historically had on Black, brown, and other nonwhite communities. Our experts noted that we should, at the minimum, consume cannabis and hemp products consciously and, whenever possible, directly support Black, brown, or other nonwhite businesses, several of which appear on the list below.
Best CBD bath bombs
Evan Kennedy, the co-founder of cannabis and CBD brand Alive & Kicking, told us about this bath bomb from CBD-skincare brand Prima, whose founder spoke to us for our larger guide to the best CBD products of all sorts. "It has a wonderful fragrance and a very calming mix" of CBD, Epsom salt, and meadowfoam-seed oil, he explains. "Many bath products can get overly perfumy, but this one is a great balance."
As Graham explains, "Hollingsworth Hemp is a family-owned business" that cultivates its own cannabinoids and produces both CBD and THC products. "Their bath bomb isn't about fizzy theatrics, it's about very necessary relaxation," she adds. Sold in a two-pack, each bomb contains 30 mg of CBD. After bathing with one, Graham says that her skin felt "incredibly soft" and her entire body was "relaxed."
Priscilla O. Agyeman, the founder of Saddie Baddies, a virtual community working to destigmatize mental health for women of color, recommends one of these bath bombs from Buena Botanicals for "the coziest self-care nights." Each contains 30 mg of CBD and is scented with notes of bergamot, lime, and ylang ylang to deliver what the brand calls a "citrusy and sweet" dose of aromatherapy.
Boronia Fallshaw, the founder of CBD brand Mello, shared a very specific way she likes to use these CBD bath bombs from Life Elements, which are available in 50-mg, 100-mg, and 200-mg doses. "I like to pair the 200-mg bath bomb with our CBD suppositories for the ultimate sexy-time bath," she says. "Orgasms underwater hit differently." (We'll take her word for it.) Formulated with oatmeal, goat's milk, honey, and witch hazel, these bombs keep her skin "feeling silky and luxurious." If you're not sure what dosage to choose, the brand suggests choosing based on a pain of scale of one through 10. For pain levels one through three, it recommends the 50-mg bath bomb; for levels four to six, the 100-mg bomb; and for levels seven to 10, the 200-mg option.
Half Baked Housewives founder Dori Wile, whose cannabis-advocacy organization empowers women over 40 to live their best lives with cannabis, told us that Windy Hill Hemp Co. took first place in the topicals division when she was one of the judges of High Times magazine's Hemp Cup. This bath bomb, according to her, is not only infused with 50 mg of "the highest-quality, solventless hemp from Windy Hill's family farm," but also leaves the skin feeling very hydrated after a soak.
In addition to bathing with Prima's bath bomb, Kennedy told us that he's "recently started jumping rope and taking a long soak" with one of these bath bombs afterwards, which "really helps my sore muscles." He told us that the bomb's 50 mg of CBD takes the form of super-small particles that fully emulsify in bath water, noting that of its four available varieties, the Refresh bomb formulated with citrus essential oils is a favorite because it is "refreshing and calming."
Strategist writer Liza Corsillo, already a fan of CBD bath salts (her favorites, from Lord Jones, appear further down on this list), recently tried out one of these CBD-infused bath bombs from actress Kristen Bell's CBD line, Happy Dance. (Bell, for what it's worth, has been a fan of CBD for some time; back in 2018, she told us she can't live without a CBD cream from Lord Jones.) Corsillo says it has a "very nice" ginger-and-grapefruit scent, noting that the whole bomb contains 60 mg of CBD, but is designed to be broken into four smaller squares that each have 15 mg, should you want something less potent.
When we asked activist Shannon Watts, the founder of Moms Demand Action, about the best things she bought herself in 2020, she directed us to this set of CbdMD bath bombs. With 100 mg of CBD each, dropping one in the bath before bed will "ensure a good night's sleep," according to her. The set's six different bath bombs are also infused with oils of frankincense, lavender, and eucalyptus.
Zach Lyons, Justin Matoesian, and Laurence Sisk, the founders of CBD brand TerraVita, are all "big fans of Green Roads' Relax CBD bath bomb." With 150 mg of CBD, they say it "helps to soothe sore muscles" and is also "perfect for when you need to chill out after a long day." They all agree that the "aromatic" eucalyptus and lavender is their favorite, but the bombs are available in four other scents — ylang ylang; lavender; peppermint and lemon; and orange, lavender, and lemon — with the same dosage of CBD.
Best CBD bath salts and serums


Unplugged's Queen Recovery Hemp Soak is formulated "to help relieve cramps, stress, and anxiety," explains Graham, who adds that she found it be "truly a delight" to use in the bath. The soak is scented with both woody and floral notes "that aren't cloying" at all, she promises. "When I finally left the tub I was blissed out — with soft and silky skin — and ready for bed." Each bag contains 100 mg of CBD, and the brand says one bag should get you through two to three baths.
Major describes Undefined Beauty as a "socially aware, Black-owned CBD brand" that makes these bath salts she calls "simply divine and perfect for gift-giving." Formulated with soothing arnica, detoxifying magnesium, and skin-softening colloidal oats, the Glow Detox salts come in two sizes: an 8-ounce supply that contains 100 mg of CBD and a smaller (cheaper) 3-ounce supply that contains around 38 mg.
Cat Major, the owner of the New Orleans–based CBD brand Blissful Stoner Body Essentials says these "simple, sweet" lavender bath salts are her favorite product from Baked Beauty Co., a small-batch, organic, woman-owned business. She calls them "the perfect treat after a hectic day." While each bag contains 200 mg of CBD, the brand does not suggest a dosage (but using a quarter of its contents will probably add some 50 mg of CBD to your bath).
Last March, just as lockdown began and her stress levels were at an all-time high, Corsillo was sent a jar of Lord Jones's CBD bath salts in the mail. "I was looking for any way to relax and soothe my tense back and shoulders, and these salts did the trick," she says. In addition to CBD, the bath salts contain flower petals, pink salt, and essential oils, a mixture that Corsillo says not only looks fantastic in her bathtub, but usually makes her "ready to fall into a deep sleep after soaking in a bath." While the jar is a bit pricey, it isn't meant to be used at once, and Corsillo says a little goes a long way. Each jar comes with a scooper, and each scoop of salts will contain roughly 20 mg of CBD.
In addition to all the salts, we also heard about this luxurious-sounding bath serum from Kimberly Dillon, the founder of wellness brand Frigg and cannabis-strategy studio Plant & Prosper. It isn't cheap, but she says it not only helps "when you are in a bit of pain, whether that's after the gym or during menstruation," but also "creates the most heavenly floral bath that I have ever experienced." A jar contains 250 ml of CBD, and the brand says that a five-to-seven-second pour of the product will deliver roughly 50 ml to a bath, which suggests a jar should last for about five soaks.
The Strategist is designed to surface the most useful, expert recommendations for things to buy across the vast e-commerce landscape. Some of our latest conquests include the best acne treatments, rolling luggage, pillows for side sleepers, natural anxiety remedies, and bath towels. We update links when possible, but note that deals can expire and all prices are subject to change.