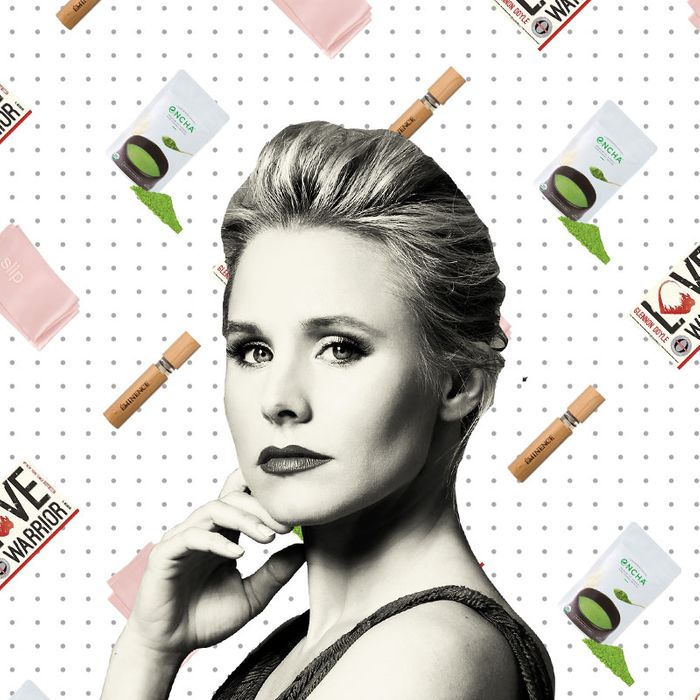 If you're like us, you've probably wondered what famous people add to their carts. Not the JAR brooch or the Louis XV chair, but the hand sanitizer and the electric toothbrush. We asked Kristen Bell of The Good Place about the silk pillowcase, green tea, and sparkling water she can't live without.
Every time I wear this, I get compliments on my lips. Every. Single. Time. It makes my lips visibly fuller, it brings out the natural color, it doesn't feel too sticky like similar products, and it tastes like a cinnamon stick. Éminence is passionate about using natural, organic, and biodynamic ingredients, too. It's a dream.
I'm not Kristen Bell until after I've had my matcha in the morning. It flips my "on" switch. I've tried a lot of brands, but Encha is the very best.
Glennon and Brené are my north stars. They both have the rare and enviable ability to speak concisely and vulnerably about hard topics. I love them because they focus on both logic and emotion — they realize that the road to improvement requires dissecting both. I've learned so much about empathy from their writing. I keep both of their books on my nightstand with pages marked and lines highlighted and I often find myself going back through to remind myself of some profound wisdom they have penned. I quote them non-stop. My friends are like, "Enough already!" But when you strike gold, it's hard to stay quiet about it.
When I first put the silk pillowcase on my pillow, I thought to myself, "Is this who I am now? I'm the girl who blindly follows the silk pillowcase fad?" [Editor's note: We've written about this silk pillowcase before.] But a follower I am. So, I put it on and didn't think twice about it again. But the other morning I woke up, walked into the kitchen, and my husband said, "Hon, what's up with your hair?" I looked in the mirror and half of my head was completely normal, soft, non-tangled hair, and the other side looked like I was attacked in my sleep. I realized in the middle of the night I had switched to my back and slept on another pillow. And the side that looked great could only have been credited to my silk pillowcase! It was an accidental side-by-side experiment and the silk pillowcase won by a factor of a million.
Adaptogens are a unique group of herbal ingredients that can be used to strengthen the body's response to stress/anxiety and combat fatigue in a way that's easy on your body. They improve your mood, your sex drive (yeah, baby), and boost energy. I tend to run pretty high on anxiety and I've found these adaptogens to be very helpful in regulating all my systems. I take Mucuna Pruriens and Ashwagandha every morning and I've experienced a notable reduction in stress and an increased level of clarity. There are many adaptogens and they all target specific needs — mind, skin, mood. I would highly recommend them to anyone looking for a boost.
This was a huge game changer. A few months ago, my back started hurting for some unbeknownst reason. It had been bothering me for about two weeks. My friend came over for dinner and I was complaining about my back and she ran to her purse and pulled out this CBD cream. I was very skeptical at first. I had already done some research on CBD, so I knew it was safe, but I thought, there's no way this is actually going to help. But I'm a very good co-dependent, so I put it on my back and honestly, 5 minutes after I did, I already felt 85 percent better. I am completely sold. Now, I'm giving it out left and right, practically to strangers on the street. Everyone deserves to feel 100 percent.