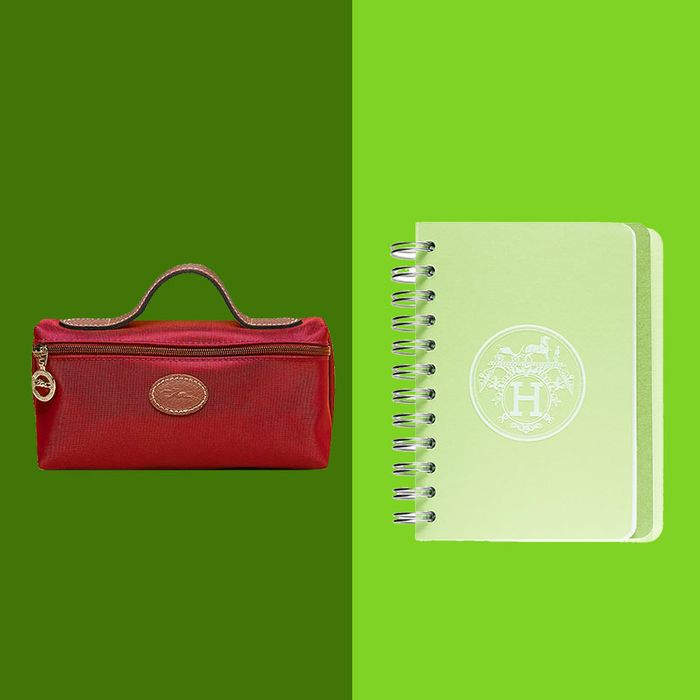 Photo-Illustration: From the retailers.
What do you get for the mom whose taste for the finer things means she's only ever filling her closets and shelves with designer goods? Oftentimes, for nearly impossible-to-please mothers, size doesn't matter — but a fancy brand name does. And the nice thing about many fancy brands is that unwrapping their less expensive stuff offers the same thrill as unwrapping any of their pricier things. Below, we've rounded up 30 of the most affordable gifts — that are still really thoughtful — from the nicest brands, any of which we think would impress the very picky mother (or mother figure) in your life.
This sweet little honey pot from Le Creuset comes with a silicone dipper and will remind Mom of her favorite busy bee (you) whenever she drizzles a bit of golden syrup over her breakfast.
For the mother who does her own nails, this long-lasting, understated mauve polish from Chanel would complement her spring outfits.
A petite pocket-size notebook with lined, gilt-edged pages and a lambskin cover from English stationer Smythson that Mom can keep with her at all times for whenever inspiration hits. The brand packages its stationery in smart blue boxes, so wrapping would be taken care of, too.
An azalea-print silk face mask from the ever-elegant Caroline Herrera for the stylish mother who's staying safe.
In this sample-size bottle, the culty cream said to be the secret behind "rich-person skin" is priced closer to a normal person's budget.
Mom will appreciate the bold color-blocking of these mid-calf, made-in-Italy socks from Marni.
Even for the hippest mom, lots of Acne stuff can be a bit too trendy. But there's something very timeless about this slim Italian-leather cardholder that can be easily slipped into a pocket or fanny pack.
She can use this very fancy bar of soap to bathe herself in the luxurious scent of Dior's J'adore fragrance, which is infused with notes of ylang-ylang essence, damask rose, and sambac-jasmine absolute.
Staub's larger Dutch ovens go for a couple hundred bucks, but this set of three mini-cocottes in a vibrant cherry red would be just as useful if she's cooking for one (or two).