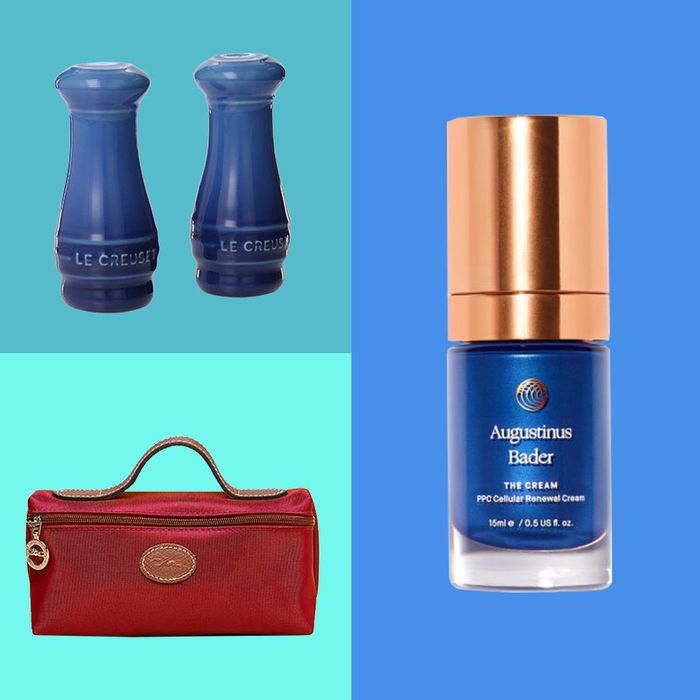 Photo-Illustration: From the retailers.
What do you get for the mom whose taste for the finer things means she's only ever filling her closets and shelves with designer goods? Oftentimes, for nearly impossible-to-please mothers, size doesn't matter — but a fancy brand name does. And the nice thing about many fancy brands is that unwrapping their less expensive stuff offers the same thrill as unwrapping any of their pricier things. Below, we've rounded up 33 of the most affordable gifts — that are still really thoughtful — from the nicest brands, any of which we think would impress the Very Picky Mother (or mother figure) in your life. To help you shop, we've made sure (to the best of our abilities) that everything here, at the time of publication, will ship and arrive in time for the big day. (But as the saying goes, sometimes the right gift is worth waiting for.)
For the trendsetting mom who skews downtown, here's a pair of socks from Sandy Liang with a fuzzy cuff that nods to the designer's far pricier fleeces. Mom can wear them with sneakers — or fleece-lined clogs like the ones Liang herself prefers.
Or, for the "cool mom" who skews Brooklyn, a pair of bold but not-too-bold earrings from Rachel Comey that she could wear with just about any outfit.
She can use this very fancy bar of soap to bathe herself in the luxurious scent of Chanel's iconic No. 5 fragrance.
A jungle-print face mask from Dolce & Gabbana, for the mom who never turns down an opportunity to make a fashion statement — even amid a pandemic.
Even for the hippest mom, lots of Acne stuff can be a bit too trendy. But there's something very timeless about this slim Italian-leather cardholder that can be easily slipped into a pocket or fanny pack.
Staub's larger Dutch ovens go for a couple hundred bucks, but this set of three mini-cocottes would be just as useful if she's cooking for one (or two).
If Mom's a bag lady who hasn't yet added a tiny one to her collection, this mini-purse from Danish label Ganni will catch as many eyes as three- (or four-) digit styles, while still being functional enough to hold all her essentials on afternoon walks.
In this sample-size bottle, the cult-y cream said to be the secret behind "rich-person skin" is priced closer to a normal person's budget.
This is technically a notebook insert meant to be slipped inside a leather notebook cover. But with a springy green cover stamped with the Hermès seal, we think it's impressive enough to use on its own. (Also impressive: finding something for under $50 from Hermès!) The notebook's pages are unlined, allowing for more free-form scribbling, and it comes in a few other colors beyond green, if that's not Mom's style.
Here's a delightfully retro "bag" from Comme Des Garçons that Mom could use as a lunch box for her leftovers or as an unconventional (hard-sided) purse.
These Gucci incense sticks are scented with tomato leaf, basil, and lemongrass leaf, an aroma that interior designer Rayman Boozer calls "sensual and invigorating." We think any overworked mother might agree.
Mom could use this tiny, most delicate Astier de Villatte vessel to burn that Gucci (or any other) incense, or as a special place to keep sentimental jewelry like her wedding ring.
You truly can't go wrong with anything that comes wrapped in a Tiffany-blue package, but we don't know any mom who would refuse this crystal catchall that can hold even more of her baubles.
These gorgeous rose-scented wax tablets from centuries-old Italian apothecary Santa Maria Novella are decorated with dried rosebuds and would smell amazing hanging in a closet (or anywhere else, for that matter).
Le Creuset cookware, like Staub, can also set you back hundreds of dollars, but these splendid salt-and-pepper shakers won't. A bonus: They'll look adorable when Mom leaves them out on her kitchen counter.