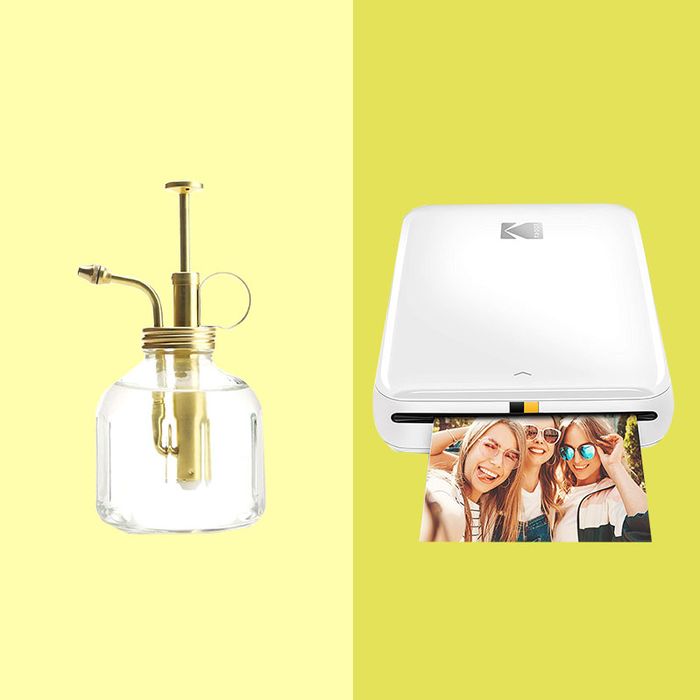 Photo-Illustration: courtesy of retailers
Most of us fall back on the classics when it comes time to buy Mother's Day gifts: flowers, fancy tea, a card, or a framed piece of kid art. But if you really want to show out this year, you might want to dig a little deeper. That's why we created this helpful list of Mother's Day gifts for every kind of mom, from artsy moms to fitness moms to moms who love to cook. Heck, we've even found something for the mom who (maybe) loves her dog more than her kids. And since the big day is right around the corner, at the time of publication we made sure all the gifts below will arrive at your door before May 9.
For the mom who still prints out photos
"I love sending my family prints of things I've taken photos of," says writer, artist, and mom Leanne Shapton. If your mom, like Shapton, would rather look at her pictures the old-fashioned way, this compact printer will let her easily print them from her iPhone.
For the mom with sore feet
Give the gift of on-demand (and heated!) foot massage and you'll forever be on her good side.
For the mom with a sore back
Actress Kat Dennings told us that this acupressure mat, which she describes as "basically a bed of nails," is the best thing she's tried to soothe her back pain. After laying on it "you kind of go numb; then, when you sit up, the blood rushes to your back. I think there's something to that because it really helps a lot with my back pain," she explains.
For the mom who wants an out-of-stock AirWrap
This viral hair gadget combines a hair dryer and a round brush into one simple, easy-to-use tool (and costs a fraction of the price).
For the mom who never misses a root touch-up
This magic hair mask will keep her hair healthy no matter how many times she goes platinum.
For the mom who never misses a Botox touch-up
Photo: Retailer
A luxe at-home microcurrent device she can use in between appointments.