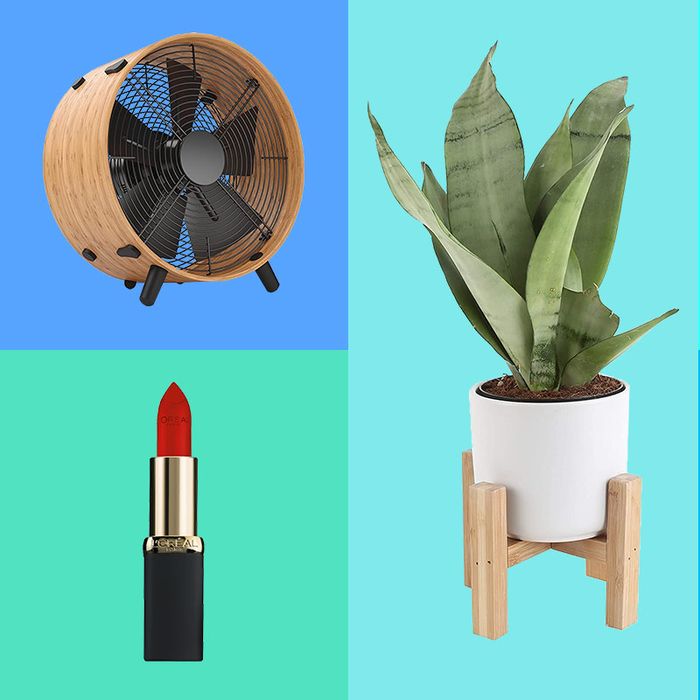 Photo: courtesy of retailers
Most of us fall back on the classics when it comes time to buy Mother's Day gifts: flowers, fancy tea, a card, or a framed piece of kid art. But if you're missing your mom now more than ever (apparently absence and a worldwide pandemic make the heart grow even fonder), you might want to dig a little deeper. That's why we created this helpful list of gifts for every kind of mom from artsy moms to fitness moms to moms who love to bake bread. Heck we've even picked out something for your favorite dog mom.
Yes, it's already Mother's Day and everything here will take at least a few days to ship. But don't worry, you can still browse below if you feel like sending a belated gift. And in the meantime it's not too late to give your mom a call or even plan a virtual brunch together. While all of the things on this list are available on Amazon, we've found many of them elsewhere, too, for those who like to shop around.
For the mom who prefers plants
Cut flowers eventually wilt and die, but a potted plant will endure much, much longer and add some greenery to her living room. This snake plant is easy to care for and comes with its own attractive stand.
For the mom who talks to her houseplants
To help keep her potted plants happy and make her watering routine feel luxe, send her this handsome mister that she can display on a windowsill or a bookcase.
For the mom who hates the taste of tap water
These activated charcoal sticks filter tap water and give it a more pleasant taste.
For the mom with a cool kitchen
This Scandinavian pot makes the act of cooking soup (or anything really) much more stylish.
For the mom in need of inspiration
This veggie-heavy cookbook will give her lots of ideas for new things to cook.
For the new mom with sore nipples
For the outdoorsy mom with bunions
Get her a pair of the Tevas that made our list of most comfortable shoes for walking and standing.
For the mom who can't reach her top shelf
Photo: retailer
This handy folding stool makes everything from reaching high cabinets to changing light bulbs a snap.
For the mom you're trying to ween off potpourri
Introduce her to the joys of French incense papers, which she can either fold, accordion-style, and light in this burner, or stow in her underwear drawer.
For the mom who prefers printed flowers
A Pop Art bouquet that'll give her something to do in quarantine.
For the mom who needs some WFH inspiration
The sequel to Mason Currey's popular Daily Rituals: Artists at Work, this new edition focuses entirely on creative women and how they get it done.
For the mom who takes her eggs soft-boiled
For the mom who could use an escape
This novel, recommended by Laura Zigman, author of Separation Anxiety, as a good book to read to escape from the present moment also offers moms a nice break from staring at screens. "It's tender and funny and exactly what we need right now," says Zigman.
For the mom who wishes she could travel right now
This travel-themed set of pocket notebooks are the perfect place for mom to sketch, take notes, and makes aspirational lists of all the places she's planning to go as soon as we're allowed to travel again.
For the mom who prefers printed photos
Printing out pictures you text her has never been easier than with this compact color printer that happens to be a favorite of writer, artist, and mom Leanne Shapton.
For the mom who screams for ice cream
If she's already bored of making bread in isolation, or it's too hot to bake where she lives, give your frozen-dessert-loving mom this magical ice-cream maker.
For the mom who likes fancy candles
No mom is immune to the fancy flame of a Diptyque candle.
For the mom who journals
This stylish fountain pen will make even her pettiest thoughts look like poetry.
For the mom who overheats
Could it be? Really? It is! It's a fan that isn't hideous.
For the mom who overheats and can't sleep
This cooling weighted blanket comes recommended by Joe Auer, founder of sleep-product-review site Mattress Clarity, who said "It conforms well to the curves of your body, so you really feel like you are getting hugged."
For the mom whose baby is a dog
A gift for her pup is a gift she will cherish and this doughnut-shaped dog bed will look nice in her home as well.
For the dog mom who's battling pet hair