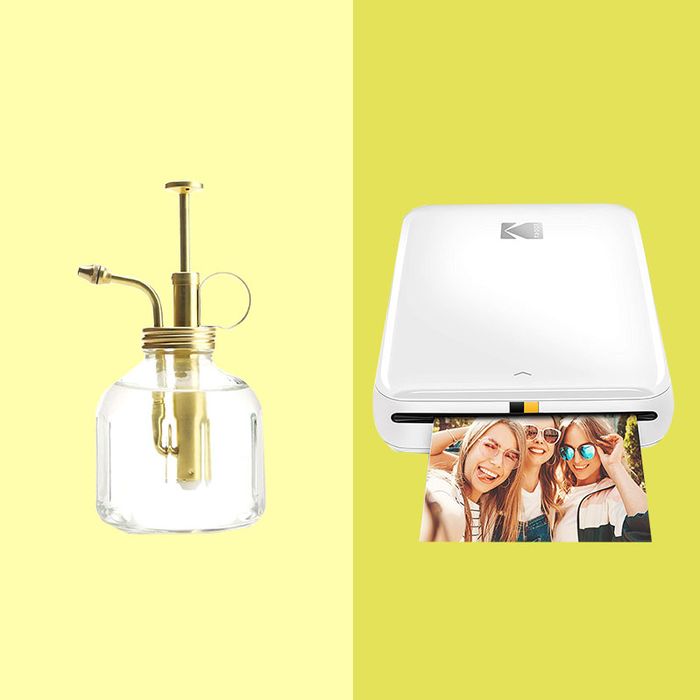 Photo-Illustration: courtesy of retailers
Most of us fall back on the classics when it comes time to buy Mother's Day gifts: flowers, fancy tea, a card, or a framed piece of kid art. But if you're missing your mom now more than ever (apparently absence and a year-long pandemic make the heart grow even fonder), you might want to dig a little deeper. That's why we created this helpful list of Mother's Day gifts for every kind of mom, from artsy moms to fitness moms to moms who love to bake bread. Heck, we've even found something for the mom who (maybe) loves her dog more than her kids. Many of the things on this list are available at Amazon, but we've found a lot of them elsewhere, too, for those who like to shop around. With the big day — May 9 — getting closer and closer, we also made sure that, at the time of publication, all the gifts below will ship and arrive in time for Mother's Day.
For the mom who (really) just wants a card
This 3-D one doubles as those flowers she says not to buy, except it won't wilt.
For the mom with a sweet tooth
Sure, you could always pick her up a box of chocolates. Or you could bring Mom a box of sweet Medjool dates from Joolies, which New York Magazine features editor Katy Schneider, a self-described "date fiend," has been eating like candy since discovering them in quarantine. For the price, Mom will get two boxes. So if you're lucky, she might share.
For the (gluten-free) mom with a sweet tooth for baked goods
Strategist junior writer Leah Muncy picked up these cookies while testing out a gluten-free diet and promises "they taste like the real deal." She finished a whole box in one week, so this three-pack should tide Mom over for a little while.
For the mom who loves Le Creuset
For the mom who plans movie nights
According to author Jenny Han, "This is the secret to movie-theater popcorn at home." All Mom needs to do is add a three-quarter teaspoon of the flavored salt to her popcorn of choice. "You'll swear that you're at the movies," Han promises.
For the mom who plans road trips
Strategist contributor and veteran road tripper Ashlea Halpern swears by compression cubes to save space and keep everything neatly organized in the car. "I store toiletries with the potential to leak in one cube; underwear, socks, bras, and swimsuits in another; rolled T-shirts and leggings in a third; and hiking boots in a fourth, just so I never track dirt into my suitcase or car," she says.
For the mom who plans hiking trips
If she's been hitting the trail without one, Mom will surely appreciate having a LifeStraw in her kit, especially on longer treks. The lightweight doodad filters waterborne bacteria, parasites, dirt, and other contaminants from any water source, making it a must for outdoor adventures.
For the mom who wears a (very old) bonnet
Perhaps it's time for an upgrade? Strategist beauty writer Tembe Denton-Hurst swears by sleeping in this "unassuming, comfy," charmeuse satin–lined Slap Cap from Grace Eleyae, which she says is stylish enough to wear on Zoom calls, too. "Being a Grace Eleyae fan is sort of like being part of a stylish bonnet-wearing sisterhood, and I always know I'm in good company whenever I see its familiar black tab: the woman at Dig Inn who wears hers in place of a hair net, my sister's mother, Viola Davis on set," says Denton-Hurst.
For the mom who's on TikTok
This hair gadget has gone viral on the app for good reason: It combines a hair dryer and a round brush into one simple, easy-to-use tool.
For the mom who always buys fresh flowers
Cut flowers are nice, but eventually, they wilt and die. A potted plant, on the other hand, should endure much, much longer and still add some greenery to her living room. This easy-to-care-for snake plant comes with the planter, making its price seem an even better deal.
For the mom who talks to her houseplants
If she's already got a collection of houseplants, this handsome mister will help her keep them happy and make her watering routine feel luxe. When she's not using it, mom can display on a windowsill or a bookcase.
For the mom who likes plants, but can't keep them alive
A Pop Art bouquet that, when complete, will last forever (with some puzzle glue).
For the mom who has an apple a day
Some pastry chef–recommended honey to add a touch of sweetness to her daily snack.
For the mom who prefers (crushed) grapes
Or wine, in other words. This sommelier-approved stopper can preserve already opened bottles, meaning Mom can have just a glass (or two) of her favorite wine without sacrificing the quality of whatever she doesn't finish. "The Vacu Vin system has been around forever for a reason," explains one expert, who says it takes "the wine-killing oxygen out of a bottle and helps keep still wines fresh for days."