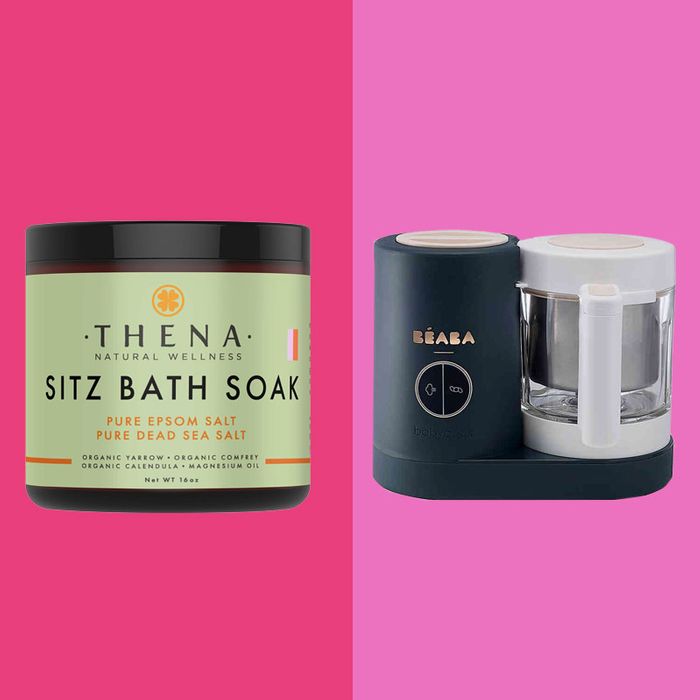 Photo-Illustration: Courtesy of the retailer
One thing the new mom on our list could definitely use: a break. But because you can't wrap that up and put a bow on it, we've rounded up a slew of gift ideas that are sure to delight any new mom — whether this is their first Mother's Day or they're on baby No. 3 — including a digital camera for all the new memories they'll want to capture and a seaweed scrub that will make them feel like they're at the spa. While everything on this list is available on Amazon, we found a few items elsewhere, for those who like to shop around. (And if you're shopping for more than one mother, we've got tons more gift ideas here.) If you're reading this, Mother's Day is this Sunday, May 9, and most things on this list won't arrive in time, but these gifts are so good, mom won't mind waiting a couple extra days for them. If you're shopping last minute and run into this predicament, you can always print the order confirmation and stick it in a Mother's Day card so they know it's on the way.
For the new mom who isn't drinking yet
This is a nonalcoholic spirit, but they'll still be able to make an appealing drink with it that will be a welcome change from all the cups of coffee they're likely downing.
For the new mom who's a germaphobe
Writer Randy Miller says this is the hand sanitizer he gives to new parents. They need an endless supply for after diaper changes and for everyone asking to hold the new baby.
For the new mom who is getting a lot of screen time
If they're spending all their free time browsing mommy blogs or reading parenting books on the iPad, these top-rated, blue-light-blocking glasses should reduce some of the strain on their eyes.
For the new #cannamom
If mom likes to smoke, we hear they'll get a lot out of this multi-tool that is part screwdriver, part ruler, and part pipe.
For the new mom with no time to cook for themselves
In the middle of feeding baby, they also have to feed themselves. With an Instant Pot, they'll be able to cook in bulk — fast.
For the new mom who can't be bothered with getting dressed
A flowy linen dress like this shouldn't irritate or intensify any postpartum scarring and pain, plus it'll be easy to throw on so they can spend more time coordinating cute baby outfits.
For the new mom who can't wait to work out again
It might be a few months before they can use it, but avid runners (and moms) have logged thousands of miles with this jogging stroller.
For the new mom who needs to know everything about their baby
This is not only a video baby monitor, but it also tracks the baby's heart rate and oxygen level.
For the new mom who only needs to know some things
This one only has an audio monitor and doesn't track oxygen or heart rate, but it does have a night-light and sound machine to help soothe the baby. It's also portable, so they can take it with them on the go.
For the new mom who can't stop taking pictures of their newborn
This digital camera is water-, shock-, freeze-, and dustproof (also babyproof) and will be perfect for all their monthly photo shoots.
For the new mom who still carries a photo wallet
If they'd rather have their pictures the old-school way, Mom can easily print wallet-size photos from a smartphone with this mini-printer.
For the new mom who needs a boost
Regina King says these all-natural vitamins give her an energy boost.
For the new mom who only knows how to play peekaboo
This play gym will at least buy them some time while they think of a new game to play.
For the new mom who already has a Snoo