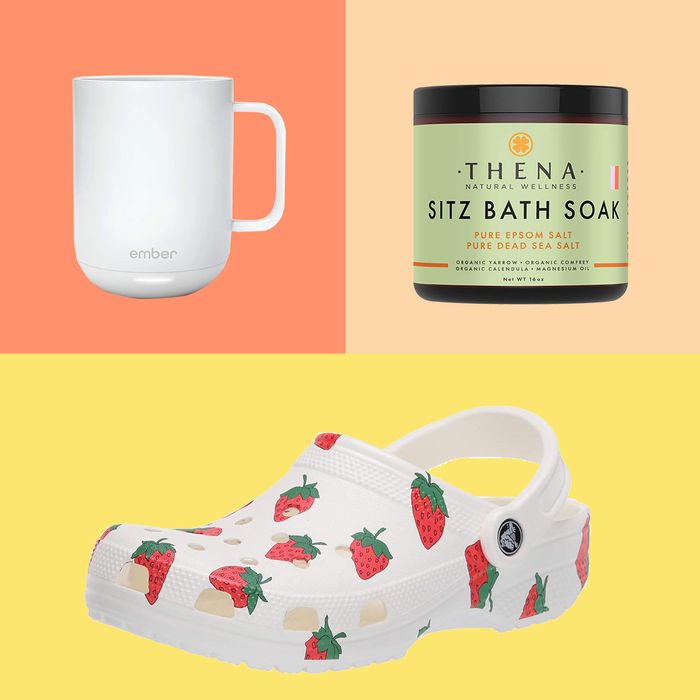 Photo-Illustration: Courtesy of the retailer
One thing the new mom who's celebrating her first Mother's Day could definitely use: A break, because chances are she's feeling grateful but also tired and more than a little bit harried. Beyond that, to make sure her special day feels extra special, a gift that shows just how much you appreciate her would go a long way. Below, we rounded up a slew of gift ideas that are sure to delight any new mom, from indulgent cashmere sweaters to comfy shoes to a bath soak that'll give her some time to herself. While all of the things on this list are available on Amazon, we've found a few of them elsewhere, too, for those who like to shop around. (And if you're shopping for more than one mother, we've got tons more gift ideas here.)
For the new mom whose neck and back are always achey
For the new mom whose feet are always achey
Some super-cute Crocs that are also super cushy. Plus, they're easy to clean: Neither spit-up, nor flung food, nor drool will stand a chance.
For the new mom whose feet are always cold
For the new mom who's always parched
In the earliest days, any short cut is appreciated, which is why this large-capacity Hydro Flask water bottle with a built-in straw would make a great gift for a thirsty mom who can't be bothered to twist something open every time she wants a sip.
For the new mom who's experimenting with pumping
Beloved by new moms, this manual silicone breast pump is a convenient alternative to an electric one. It suctions onto a breast and passively collects milk — hands-free.
For the new mom who experimented with pumping and considers it a necessary evil
Sure, you could get a solid electric pump for much less money, but these are wireless and discreet — you could theoretically wear them under your clothes and no one would bat an eye.
For the new mom who Zooms with her friends
Actress Abby Elliott compares this ice roller to "a cold face-lift" and promises it's "the best thing in the world" for de-puffing, making it ideal for a quick touch-up before her next Mommy Happy Hour on Zoom.
For the new mom who hates getting dressed
Made from 100 percent sustainable cashmere, this luxurious cardigan would help a harried mom feel instantly pulled-together.
For the new mom who's not getting enough sleep
For the new mom who's really not getting enough sleep
Some new, soft, and cozy pajamas may be just the ticket to help her get the shuteye she needs. We've never met an Eberjey set we didn't like, and this one is short-sleeved and cool enough for summer nights.
For the new mom who has given up on sleep
Nothing's more satisfying (or easier to use) than a twist-up makeup pen, and this one will help her mask any lingering under-eye circles (might we add that it has rave reviews on Amazon and is less than half the price of a Clé de Peau stick?).