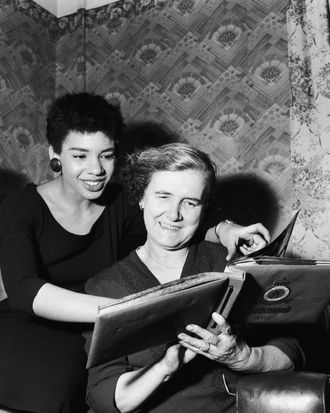 Photo: John Pratt/getty/Getty Images
Here at the Strategist, we know that finding the "best" product really depends on exactly whom you ask — which is why we've devoted this series to squeezing in as many informed, trustworthy opinions as possible. And we've come up with dozens of ways to do this, among them: surfacing reader reviews from across the internet, taking quick polls of our most insane friends and fellow shopping-obsessed Strategist editors, and partaking in some advanced internet snooping.
With that, we've rounded up the best photo albums out there. There's nothing wrong with storing your favorite snapshots on Instagram or in the cloud, but digitally browsing through your memories will never feel as special as taking a photo album off the shelf and physically flipping through the pages. Recently, I went on a hunt for a great photo album to hold my massive collection of museum postcards. I wanted an album that looked modern — nothing like the sticky-paged photo albums that gathered dust in my parents' house. My search both on the Strategist and beyond turned up some truly attractive photo albums for every kind of picture, from millennial-favorite Instax to treasured archival photos. These are the kind of albums that won't gather dust, because you'll find yourself flipping through them again and again.
People's Choice: The best photo album, according to Amazon reviewers
Amazon reviewers have spoken and their favorite photo album — or albums, really — is this line of fabric-covered selections from Pioneer. With 21 colorways and the option to buy by the bundle, these simple and attractive photo albums are a no-brainer. "I went to Costco and printed out about 1,000 pictures and bought several of these and was able to catalogue our entire last 10 years in just a few hours," writes one reviewer. "The plastic is durable and easy to get pictures in without bending/warping and the outside is a nice clean look that is uniform on the shelf." This is also the album I settled on for my postcards, though I opted for the 5x7 version.
Strategist Pick: The best photo album for major milestones
Last Christmas, Strategist writer Lauren Ro explained that for the holiday season, she would be giving her family photo books featuring her young son from Artifact Uprising, the go-to service for wedding albums and preserving other special occasions. "We've heard a lot of good things about the company's service and quality," writes Ro. "You can also choose whether you want 30, 40, or 50 archival pages in your book. The interface was relatively straightforward to use, with preset templates that you can swap out if desired."  With the holiday season now far behind us, I asked Ro for an update, and she confirms they were a hit.