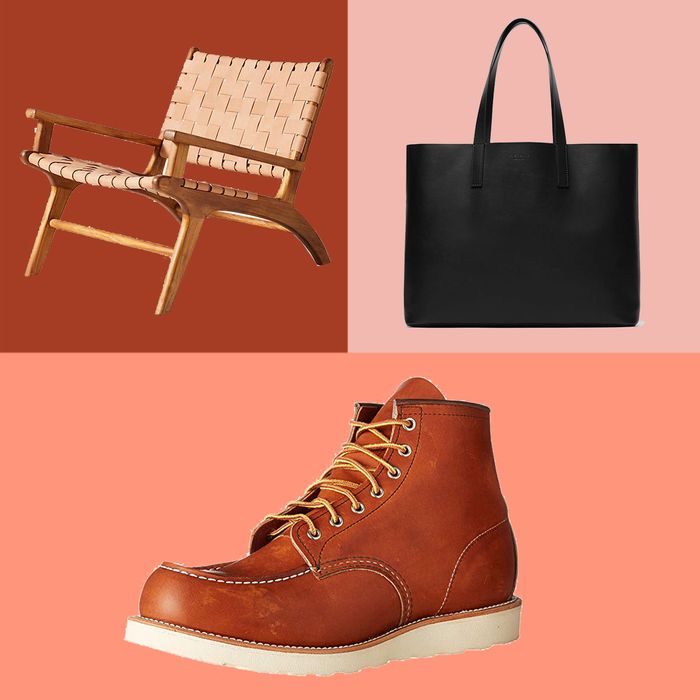 Photo: Courtesy of the retailers
By the time you reach your third wedding anniversary, you've likely survived a few Thanksgivings at the in-laws, perhaps an ill-fated beach vacation where it rained every day, and the occasional debate over what cleaning the kitchen actually entails. In other words, you've embraced your marriage's flexibility and durability — two qualities also found in leather, the traditional third anniversary gift.
To help you find the perfect present, we've combed through our archive to find the best leather gifts for all types of spouses, from hiking boots for outdoorsy wives to jackets for style-savvy husbands. If you haven't been married for three years yet, we also have guides for first and second anniversary gifts, as well as ones for fourth-, fifth-, sixth-, seventh-, eighth-, tenth-, 20th-, 25th-, and 50th-anniversary gifts if you're looking ahead.
For the frequent-flyer couple
Never lose your luggage again with these luxe croc-print tags recommended by writer Bridget Arsenault, who tells us, "The gold hardware makes them stand out from other all-black tags." They come in a set of two, so you can each use one.
For the frequent-flyer couple (with elaborate skin-care routines)
It's marketed as a men's Dopp kit, but we think this sleek leather toiletry bag (with a rubberized bottom for protection against wet countertops) would work equally well as a makeup case or shaving kit.
For the stylish couple