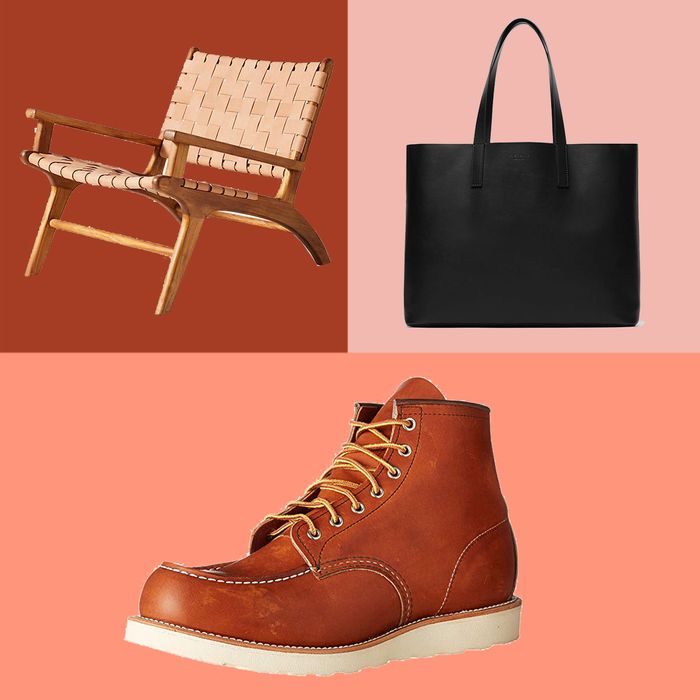 Photo: Courtesy of the retailers
By the time you reach your third wedding anniversary, you've likely survived a few Thanksgivings at the in-laws, perhaps an ill-fated beach vacation where it rained every day, and the occasional debate over what cleaning the kitchen actually entails. In other words, you've embraced your marriage's flexibility and durability — two qualities also found in leather, the traditional third anniversary gift.
To help you find the perfect present, we've combed through our archive to find the best leather gifts for all types of spouses, from hiking boots for outdoorsy wives to jackets for style-savvy husbands. If you haven't been married for three years yet, we also have guides for first and second anniversary gifts, as well as ones for four-year, five-year, six-year, seven-year, eight-year, ten-year, 20-year, 25-year, and 50-year gifts if you're looking ahead.
For the frequent-flyer couple
Never lose your luggage again with these luxe croc-print tags recommended by writer Bridget Arsenault, who tells us, "The gold hardware makes them stand out from other all-black tags." They come in a set of two, so you can each use one.
For the frequent-flyer couple (with elaborate skin-care routines)
It's marketed as a men's Dopp kit, but we think this sleek leather toiletry bag (with a rubberized bottom for protection against wet countertops) would work equally well as a makeup case or shaving kit.
For the stylish couple
While a good one won't come cheap, a classic leather jacket will instantly up the cool factor of any outfit. Former Strategist deputy editor Jason Chen says that after buying his Schott motorcycle jacket, "I was practically living in the thing." We also like the shearling-lined Arrivals jacket that's similar to (even more expensive) jackets from the likes of Helmut Lang and Acne.
For the couple with a summer house
Another pricey-but-worth-it gift, this classic duffel bag (a favorite of our columnist Chris Black) is rugged enough to handle being tossed in the trunk or on the luggage racks of the Long Island Railroad on the way to your summer rental. And it'll only look better with age.
For the couple with a home office
If one or both of you work from home, whether permanently or only during the pandemic, this ergonomic office chair ("it has provided continuous comfort for my back, and my productivity has increased since switching," according to one Amazon reviewer) will make your office hours more pleasant — and likely cut down on back massage requests.
For the couple who go on long walks together
A go-with-everything wardrobe essential, white leather sneakers are an ideal gift for your fashionable spouse. Blogger Soraya, of Soul of Soraya, loves this Frye style because of its "versatility and perfect fit," while Jake Woolf, a former GQ staffer, says the classic Stan Smiths are "pretty unimpeachable style-wise."
For the couple who go on long walks together (in the snow)