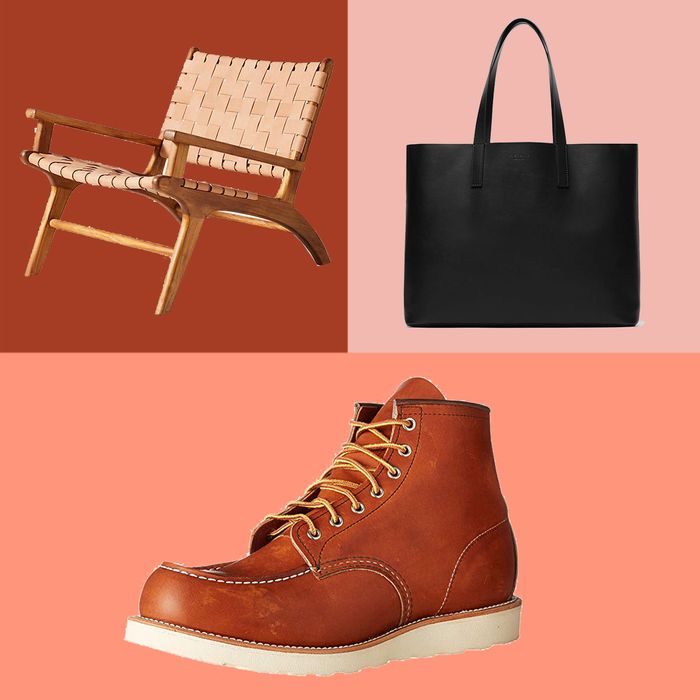 Photo: Courtesy of the retailers
By the time you reach your third wedding anniversary, you've likely survived a few Thanksgivings at the in-laws, perhaps an ill-fated beach vacation where it rained every day, and the occasional debate over what cleaning the kitchen actually entails. In other words, you've embraced your marriage's flexibility and durability — two qualities also found in leather, the traditional third anniversary gift.
To help you find the perfect present, we've combed through our archive to find the best leather gifts for all types of spouses, from hiking boots for outdoorsy wives to jackets for style-savvy husbands. If you haven't been married for three years yet, we also have guides for first and second anniversary gifts, as well as ones for four-year, five-year, six-year, seven-year, eight-year, ten-year, 20-year, 25-year, and 50-year gifts if you're looking ahead.
For the frequent-flyer couple
Never lose your luggage again with these luxe croc-print tags recommended by writer Bridget Arsenault, who tells us, "The gold hardware makes them stand out from other all-black tags." They come in a set of two, so you can each use one.
For the frequent-flyer couple (with elaborate skin-care routines)
It's marketed as a men's Dopp kit, but we think this sleek leather toiletry bag (with a rubberized bottom for protection against wet countertops) would work equally well as a makeup case or shaving kit.
For the stylish couple
While a good one won't come cheap, a classic leather jacket will instantly up the cool factor of any outfit. Former Strategist deputy editor Jason Chen says that after buying his Schott motorcycle jacket, "I was practically living in the thing." We also like the shearling-lined Arrivals jacket that's similar to (even more expensive) jackets from the likes of Helmut Lang and Acne.
For the couple with a summer house
Another pricey-but-worth-it gift, this classic duffel bag (a favorite of our columnist Chris Black) is rugged enough to handle being tossed in the trunk or on the luggage racks of the Long Island Railroad on the way to your summer rental. And it'll only look better with age.
For the couple with a home office
If one or both of you work from home, this ergonomic office chair ("it has provided continuous comfort for my back, and my productivity has increased since switching," according to one Amazon reviewer) will make your office hours more pleasant — and likely cut down on back massage requests.
For the couple who go on long walks together
A go-with-everything wardrobe essential, white leather sneakers are an ideal gift for your fashionable spouse. Blogger Soraya, of Soul of Soraya, loves this Frye style because of its "versatility and perfect fit," while Jake Woolf, partner at Shop Seam, says the classic Stan Smiths are "pretty unimpeachable style-wise."
For the couple who go on long walks together (in the snow)
Cold weather is no excuse to stop your romantic strolls. Take a cue from the Strategist team with these durable winter boots. Senior editor Anthony Rotunno calls the men's style his "blizzard Red Wings," and writer Liza Corsillo says the suede-and-leather Sorel boots are "what I wear when I want to stay dry and cozy but also look like an apres-ski influencer."
For the #cloglife couple
Writer Lauren Mechling coined the term cloggerati and maintains that the statusy No. 6 clogs are "the Manolo of the increasingly crowded klompen field." Guys can embrace the #cloglife, too, with this Yuketen pair (an elevated version of the more ubiquitous Birkenstock Boston style) recommended by Olie Arnold, style director at Mr Porter.
For the power couple
Give your spouse a gift that'll help them look more put-together in meetings. This leather work portfolio can hold a notebook and has a dedicated pen slot, plus pouches for small notepads and business cards.
For the couple with big plans
For plotting out work or personal goals, give your spouse a planner that's as nice-looking as it is functional. "The weekly agenda devotes a sizable square to each day, and there's a weekly to-do list on the opposite page," says writer Leah Bhabha, who has long been a fan of the Smythson Soho agenda.
For the couple trying to stay organized
If your days are organized but your apartment is not, give a leather catchall tray for corralling keys, sunglasses, and loose change. If your spouse is the type to dump the contents of their pockets as soon as they walk in the door, at least everything will look a little neater clustered inside.
For the couple with Scandi style
Modsy interior designer Joslynn Durant recommends this (surprisingly comfortable) armchair for fans of streamlined Scandinavian décor. "The woven leather straps make it more affordable than a solid leather chair but just as durable, so it works well for families with children and those who entertain often," she says.
For the couple with mid-century style
Among the handful of new start-ups offering flat-pack sofas, Article has garnered the most attention among interior designers. The leather Sven sofa, specifically, was recommended to us by 11 different experts when we went hunting for the best couches you can buy online. "It's got that iconic mid-century look that many clients are seeking," says designer Alexandra Kalita.
For the Eames-enthusiast couple
An authentic Eames lounger and ottoman will set you back a few thousand dollars, but this replica set is a convincing dupe. Besides providing a classic look, it's also a favorite among those with back issues. "It's got the leg support, head support, and cushion," says chiropractor Steven Shoshany. "That would be my ideal chair."
For the couple who just updated their phones
Protect your new investment with a Chris Black–recommended leather case. They come in a handful of colors so you and your spouse can get a matching (or coordinating) pair.
For the couple who take pride in their plants
In our era of "status plants," your choice of pots and planters say as much about your style sense as what you wear. Hanging planters are having a moment, and experts are fans of these low-maintenance straps that let you choose the right pot for your specific greenery.
For the couple whose dog has an Instagram account
Your beloved pup deserves the best, and this Italian leather leash (available in colors like blush and light gray, with rose-gold or matte-black hardware) will make a statement at the dog park.
For the couple whose cat has an Instagram account
For discerning cat parents, Tuft & Paw sources luxurious feline goods from around the world, like this leather-and-suede collar from London's Cheshire & Wain.
For the commuting couple
Here are two styles that tick all the boxes for the perfect work bag: They're roomy enough to hold a laptop and your gym clothes, professional enough for the office, and not too fancy for a post-work happy hour. The Everlane tote is a favorite of Biz Lindsay, the director of brand marketing and communications at direct-to-consumer razor brand Flamingo, while the messenger bag gets rave reviews from Amazon shoppers.
For the couple that hikes together