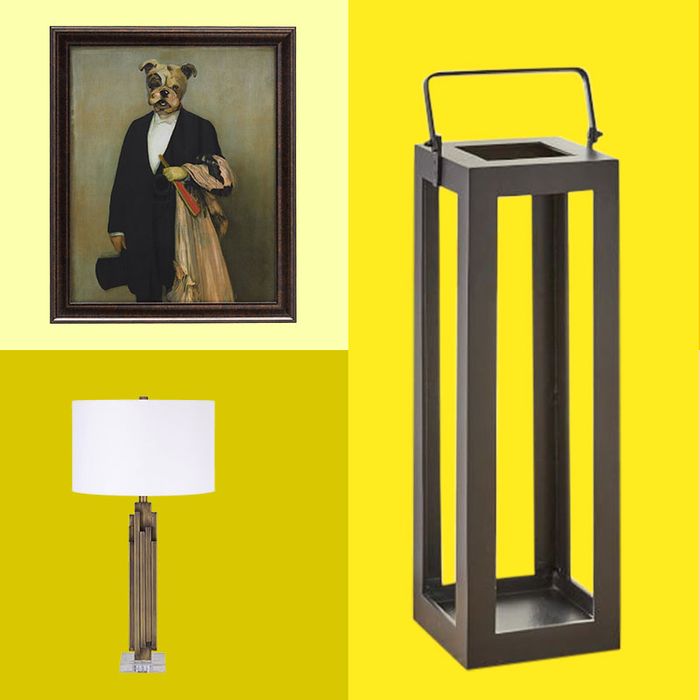 Photo-Illustration: Courtesy of the retailers
Bronze may go to the third-place finisher in the Olympics, but if you're familiar with traditional wedding-anniversary gifts (or if you're Googling them as they come up, as we do most years), you should know that on your eighth anniversary, the bronze goes to the person who's No. 1 one in your heart: your husband or wife. Gifts made from bronze symbolize durability, a fitting tribute to mark eight years of sleeping through each other's snoring, earnestly laughing at stories you've heard five times before, and, through it all, still being the only people you'd choose to spend a weekend on the couch with, watching Netflix.
Drawing partly from our extensive archive of expert-recommended and editor-beloved products, we've put together a list of bronze gifts, including a bookcase for literary couples, stackable side chairs for couples who entertain, and much more. If you haven't yet been married for eight years, we also have gift guides for milestones along the way, including first, second, third, fourth, fifth, sixth-, and seventh anniversaries. And if you're looking ahead, check out our list of 10th-, 20th-, 25th-, and 50th-anniversary gifts.
For the couple that collects coffee-table books
You'll have more than enough room to store your Phaidon collection on this two-level bronze coffee table. It's a cousin of the (now sold out) bronze Crate & Barrel coffee table that Seattle-based designer LeeAnn Baker says "reads much more expensive" than its price point.
For the couple in a book club together
If you own more novels than artist monographs, this bronze bookcase lets you show off your literary taste.
For the couple in a book club together (who already have a bookcase)
If you're set for shelving, gift these elegant marble bookends, which have a subtle, elevating ribbon of bronze along the edge.
For the couple that collects tchotchkes
A handsome catchall tray for displaying all the doodads and decorative objects you've acquired over the years. It also works for remote controls.
For the couple that gives flowers
If you're of the mind that no anniversary gift feels complete without flowers, present them in this bronze vase that would go well with everything from farm flowers to a bouquet of a dozen red roses.
For the couple that's redecorating
Switching up your window dressings can have a huge impact on the overall vibe of your space. Modsy designer Katherine Tlapa likes that this curtain rod uses unique mounting hardware to improve an otherwise simple style. If you're looking for curtains to pair with it, we've got plenty of designer-recommended picks here.
For the couple who likes to sit by the fire
If you happen to have a fireplace, give this sleek bronze log bolder which will keep your hearth looking modern and uncluttered.
For the couple with a sense of humor
For the couple that's always hot
If your apartment's radiator has a mind of its own, and you or your spouse is always tossing off the covers, try this inexpensive ceiling fan, which is the best-rated model on Amazon. One reviewer claims to have had a Hunter ceiling fan "running continuously for 38 years" (in case you're looking for something to power the next three decades of your marriage).
For the couple with a tiny bathroom
Even if you barely have room to stand in your shower, you don't have to sacrifice your elaborate hair-conditioning and body-washing routine. Just hang up this caddy to display your precious products.
For the couple that hosts dinner parties
These bronze versions of Anna Wintour's desk chair would look just as good around a dining table. They're also stackable for saving space.
For the couple who likes to have an aperitif
Now seems as good time as any to turn your living room into your favorite bar by serving some pre-dinner drinks with a side of cashews (or potato chips) in this lovely bronze nut dish.
For the couple with outdoor space
These modern bronze lanterns will warm up any outdoor space — and you could even fill them with citronella candles to keep the bugs at bay.
For the city-dwelling couple
A very cool bronze table lamp that's reminiscent of skyscrapers.
For the couple trying to tidy up