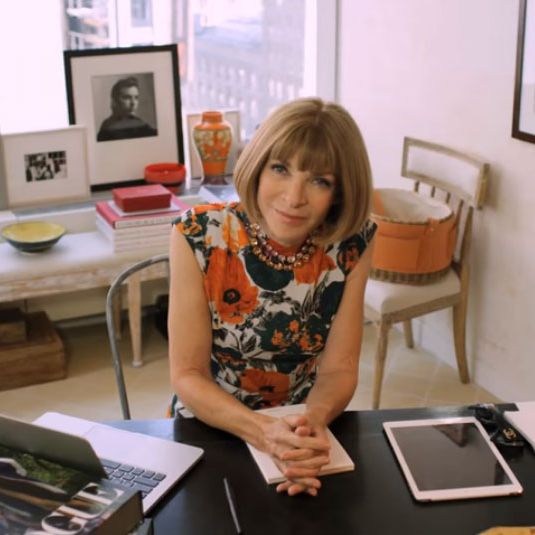 I first spotted Anna Wintour's office chair in her 73 Questions video. It begins with Wintour perched at her desk answering rapid-fire questions. She sits in a steel paint-splattered chair at around 5:05 that's surprisingly industrial, considering Wintour's country-cottage interiors aesthetic.
Even though I initially spied the chair in the video, most people first caught a glimpse of it in the 2009 behind-the-scenes-at-Vogue documentary The September Issue. Then, this past Sunday, the desk chair appeared again in the business section of the New York Times, as part of a photo series that peeks inside powerful people's offices (the photo is not online, annoyingly). The chair, originally designed by metalworker Xavier Pauchard for the French brand Tolix in 1934, has spawned countless knockoffs, and in recent years, it's become, as Vox calls it, "the metal chair that's in every restaurant." Even if you know it from your local California Pizza Kitchen, the chair is a classic, and you can buy it for $251 at Design Within Reach.
The Marais is widely known as the French bistro chair (authentic ones are still manufactured by hand in the same town in Burgundy where the company was founded), but if the Tolix original is too rich for your blood, we found some good look-alikes, too.
Some Marais look-alikes
We found this very similar look-alike for half the price of the Marais A Chair.
Buying the chairs two at a time is cost-effective, especially if you want to add them to your dining room or kitchen table.