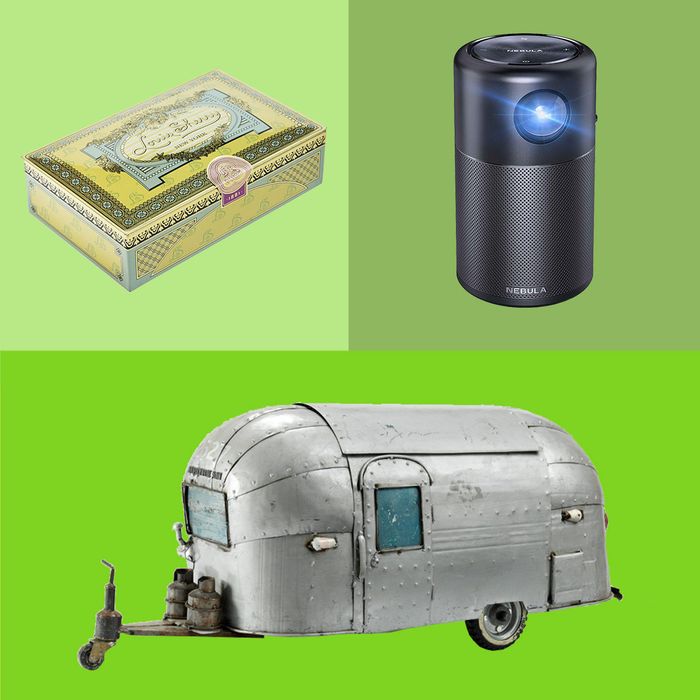 Photo-Illustration: Courtesy of the retailers
A decade of marriage is nothing to sneeze at. By now you can probably communicate wordlessly, and you've surely found even more things to love about each other since your wedding day. So to celebrate your anniversary, you'll want to choose a gift that shows how much you still appreciate your husband or wife.
But if you've been buying gifts in accordance with the traditional anniversary guidelines, you might be stumped by the prescribed ten-year options: tin or aluminum. Since we're not ones to shy away from a shopping puzzle here at the Strategist, we've taken it upon ourselves to find the best gifts for all types of couples (the lion's share culled from our archive of expert-approved products) made from these less-than-romantic materials. If you or the person you're shopping for hasn't been married for ten years yet, we also have guides for one-year, two-year, three-year, four-year, five-year, six-year, seven-year, and eight-year anniversary gifts for when they reach those milestones; and ones for 20-year, 25-year and 50-year anniversary gifts if you're looking ahead.
For the DIY couple
The smaller version of one our favorite ladders, this aluminum-and-resin step stool from Hasegawa is as functional (for, say, hanging frames) as it is design-y. And because of its compact size, you won't mind having it out, even when it's not in use. Or you can use it as a (very narrow) shelf, like this Strategist contributor does.
For the couple that likes to cook
Sure the exterior of this chef-recommended pan is stainless steel, but it's the inner aluminum core that ensures it heats up evenly. Tony Cacace, the executive chef of Oro Restaurant, tells us that "it will handle everything from oatmeal and black-rice porridge for breakfast to risotto for dinner and ice-cream bases for dessert."
For the (discerning) couple that likes to cook
Home cooks with a taste for the finer things will appreciate this tin of olive oil from Spain that has "hints of grassiness, almonds, and butter," according to James Beard Award–winning chef chef Jonathan Waxman.
For the couple that likes to cook outdoors
If you and your partner enjoy camping, this set of insulated aluminum cookware lets you enjoy some of your favorite meals from the comfort of your tent.
For the couple that likes to relax outdoors
Whether you like to relax on the patio, at the beach, or even further afield, you'll need somewhere to sit. This classic folding lawn chair has a lightweight aluminum frame that makes it easy to transport wherever your adventures lead you. It comes in a bunch of snazzy colorways, too.
For the couple that likes to bake
This elegant aluminum bundt pan will create impressive-looking cakes for special occasion baking, and it's pretty enough to keep on display.
For the couple that juices
Sure, you can get a more technologically advanced juicer. But none of those look quite as charming as this retro-style citrus juicer made from recycled aluminum cans. It would make getting that morning glass of OJ a much more fun, and elegant, ritual.
For the couple that prefers stiffer drinks
Add a dose of Swinging-Sixties style to cocktail hour with this polished aluminum bottle opener made from the authentic fuselage of a Pan American Boeing 707 plane.
For the couple that likes to snack
This tin full of peanuts comes from Virginia Diner, an establishment that's been selling peanuts since 1929 (and calls itself the "Peanut Capital of the World"). Lightly salted, they're the perfect snack to go with your brewski.
For the couple that likes to snack on sweets
After you finish these chocolate truffles (flavors include "Strawberry Romanoff" and "Sicilian Orange"), you'll want to keep the stately tin they come in on hand for storing trinkets.
For the couple that likes to snack on (spicy) sweets
We recommended this tin of Tabasco-spiked dark chocolate wedges as an affordable last-minute gift because "spicy things + chocolate things = gifting success." Given this is for an anniversary, we should also mention that both chocolate and spicy foods have reputations as aphrodisiacs.