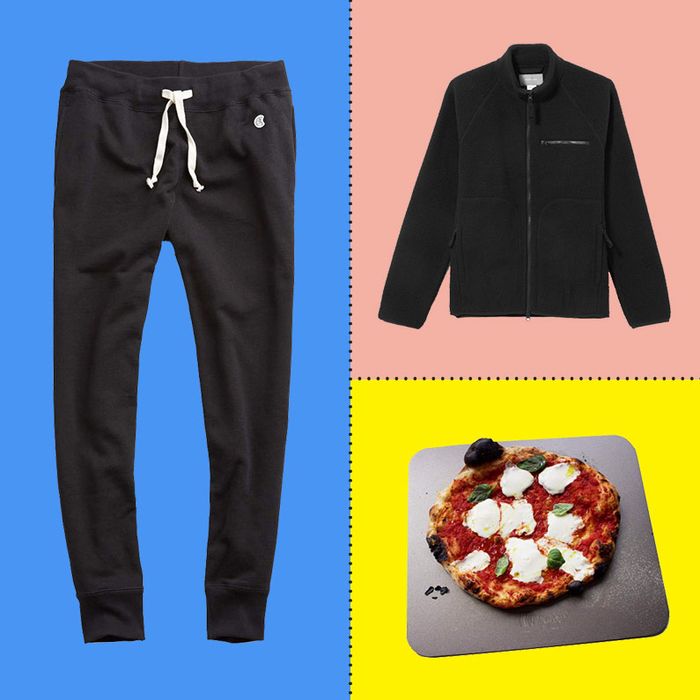 Photo: Courtesy of the retailers.
Finding the perfect holiday gift can be maddening — is this the color they'd want? Is it something they already have? Is it so last year? — but really, once you have a sense of a person's taste, it's not impossible. This season, we'll be talking to members of various tribes to find out exactly what to get that golf dad, teacher, or expecting mom in your life. Think of it as a window into their brain trust — or at least a very helpful starting point.
Men can be hard to shop for, and buying a gift for a boyfriend or husband presents all sorts of challenges. Do you get something safe that you know he'll use (like a new fleece), or do you go for something a little more niche that shows you were listening that one time he said, "I want to start making pizza" (like a Baking Steel sheet)? To find the best gifts for boyfriends and husbands, we spoke to four of them (plus one wife) about the gifts they want, and the gifts they have loved in the past. Don't miss all of the Strategist's holiday gift coverage right here, too.
It looks strange, but techies love the Raspberry Pi, a customizable, open-source computer system designed to help people learn and practice basic computer coding. "I feel like it does the same thing for me that Legos do for my nephew," says Dan Sterba, a data analyst whose wife, Nina, bought him a Raspberry Pi a few years ago. He likes that it lets him build something from scratch and figure out how it works. "The first thing I made was a Super Nintendo emulator. Then I set something up to turn the lights on and off …Now I'm getting into smart-home stuff … " [Editor's note: This is just the computer itself; you will need to get a keyboard, mouse, and monitor to go with it.]
If you know he'd enjoy some Super Nintendo nostalgia, but might not necessarily want to build his own system.
Former professional chef (and current home chef) Anubhav Bhargava thinks a sous vide immersion circulator would be a great gift for any home cook looking to step up their game. He recommends the ChefSteps Joule, which Grub Street editor Alan Sytsma likes, too.
This is basically "a really intense pizza stone," says Bhargava. Home pizza chefs love it because the steel gets super hot, which is essential for getting a crispy crust in a conventional oven.
"I know people are all about Instant Pots, but I love a good pressure cooker," says Sterba, who already has this one, but thinks it would make a great gift. "It's cheap, has great reviews, and has never done me wrong." He likes that it's low-tech, simple, and saves energy. "For some reason I just don't trust the Instant Pot."
Sterba will probably be upset to see this here, but plenty of people do trust the Instant Pot (29,908 five-star reviews and counting), so we had to include it here. The Instant Pot is ideal for cooking so many things, including stereotypical "man foods" like chili, stews, and pot roasts.
Strategist writer Maxine Builder loves her Thermapen Mk4. She says that "$99 is, objectively, a lot of money to spend on a thermometer, especially since you can find dozens of similar-looking thermometers on Amazon for a fraction of the price. But placing the ThermoWorks Thermapen Mk4 in the same category as all of those other digital thermometers is like saying a Ferrari is just another car."
The Thermapen is almost something that needs to be gifted — it's one of those splurgey-but-worth-it items that feels "indulgent" if you're shopping for yourself, but "generous" if you're shopping for someone else. It's perfect for grilling, sautéing, baking — everything, really.
While we're on the subject of accurate temperature readings … the Stagg EKG Variable Temperature Electric Kettle is a Strategist favorite, and it's on Jordan Sanchez's wish list. Sanchez takes his coffee seriously — he's a barista at Blue Bottle — so the precise temperature-control dial and the built-in timer are "must have" features. The fast heating is a big draw, too. Sanchez always wants to make coffee in the morning, but between him and his wife rushing out to work and everything else, he doesn't have time to wait for their stovetop kettle to heat up.
The Chemex is the definitive pour-over coffee maker, and it's the perfect gift for anyone dipping their toes into the water of coffee nerd-dom. It might take a little practice to get comfortable using a Chemex, but coffee purists swear by it (Sanchez uses one at home and at work).
Or if he's more of a "tea guy" …