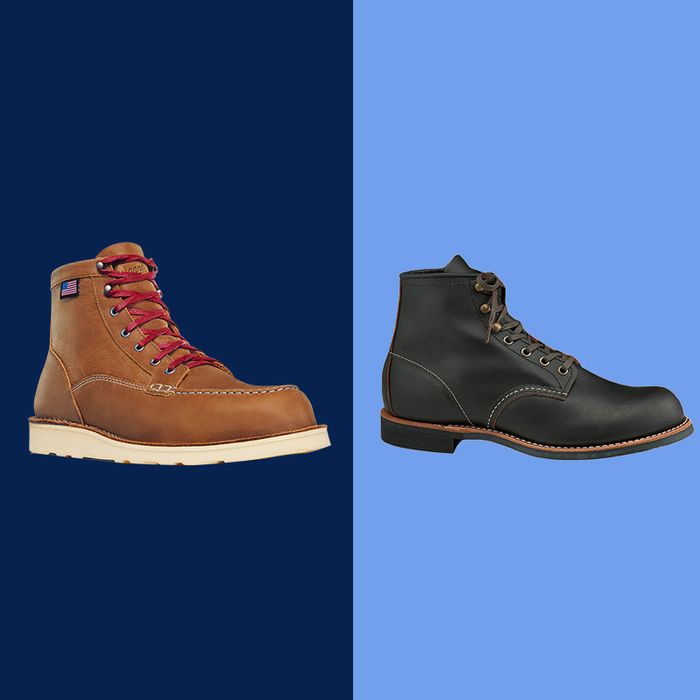 Photo-Illustration: Courtesy of the retailer
While it's certainly been nice this summer to walk, hike, and (if you're lucky enough to have one) garden in Birkenstocks and Tevas, September's arrival means that soon enough we'll be contending with rain, cold, snow, and slush as we go about our (outdoor) business.
Enter, the work boot — a menswear staple that's as functional for intensive DIY projects as it is great-looking dressed up with a pair of jeans. As with any staple, however, for every painstakingly constructed and comfortable classic, there are even more companies making poor imitations. To find out which works boots will hold up through even the bitterest of winters, we called up eight craftsmen with exacting taste (and a couple of boot salesmen) to put together a range of options for every budget, whether you're looking for a steel-toe pair to build your work-from-home shed or just a rugged leather option that'll take you comfortably back and forth from the bodega in a downpour.
Below, 15 pairs, organized by price range and recommended by those who've worn them for years, from a gardener to a leatherworker to a literary agent who moonlights as a carpenter.
Best
under-$200
work
boots
for
men
Photo: retailer
Eugene Ferreira, a salesman at Brown's Army and Navy in Jackson Heights who sells primarily to construction workers, told us that for work boots under $75, the only brand he trusts enough to stock in his store (which has been around since 1976) is Zanco. "The level of comfort is decent, as is the glue they use and the material to make the sole," he says. "For a guy that's starting a construction job and doesn't want to spend too much money, they'll do the job."
Photo: retailer
For a pair of steel toe work boots that come in under $100, Ferreira recommends these from Caterpillar, which are waterproof and have a slip-resistant soles for rainy days.
Photo: retailer
Ron Finley, a celebrated gardener who teaches his own class on MasterClass, told us that these Bean boots are his "go-to. They're comfortable, waterproof, made in the U.S., and look good." Finley says he's approaching two years of owning and wearing the same pair and that they've held up and are particularly great "when things get muddy — you never have to worry about your socks getting wet."
Photo: retailer
Ferreira tells us that often, guys who impulse buy a classic, wheat-colored Timberland boot come into his store a few months later and complain about back pain. "That classic sole is not for every foot, because it's not that shock-absorbent, no matter how many insoles you use." That, he says, is where "anti-fatigue soles," come in, which are designed "to put less stress on your back, knees, and feet." These anti-fatigue boots may cost a little more, but he says they "outlast the cheaper ones. If you're buying a pair of $50 work boots every five to eight months, you'll spend more money in the long run than one $150 purchase which could last years."
Photo: retailer
Adam Levy, the co-owner of renowned workwear retailer Dave's New York (a store that's recently become something of a streetwear mecca, too) told us about these lightweight, comfortable sneaker-style boots, which also have an anti-fatigue sole. "They're superlight," he says, "and have comfortable, cushioned Aerocore midsoles. And even though they're very flexible, they have a composite toe that meets safety standards on a worksite."
Photo: retailer
When we spoke to Brian Davis, the owner of vintage menswear emporium Wooden Sleepers, about his favorite work boots two years ago, he told us these Chippewas were his preferred pair. Though the Service Boot has a cleaner, slimmer shape than your average work boot, he says they're still incredibly sturdy. "You can beat the hell out of them," he said, "and they just get better and better." At that time, Davis had already owned his pair "for years." When we checked back in with him this month, now four years into ownership, he told us he's "still kicking around in my Chippewas."