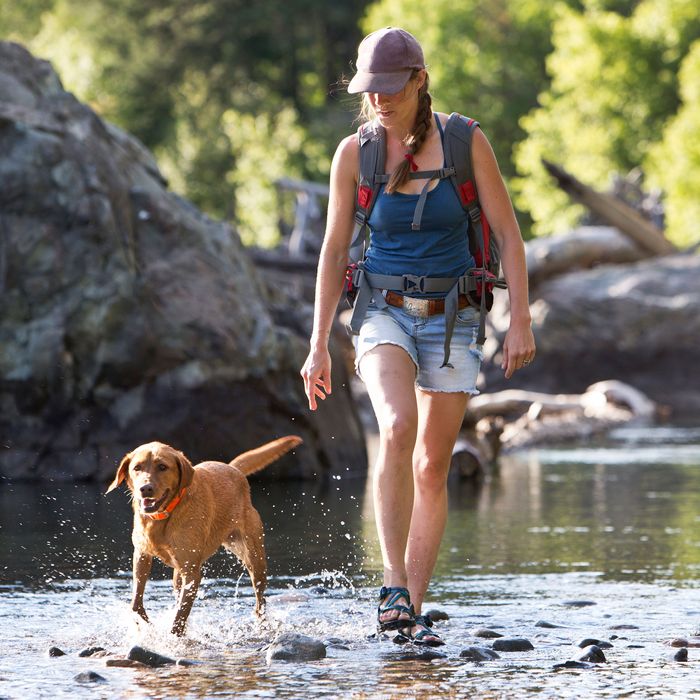 Photo: JMichl/Getty Images
Summer hikes call for summer hiking sandals: Your regular boots will be too hot, and despite being waterproof and lightweight, low-top hiking shoes or trail runners aren't ideal for crossing streams or hiking waterfalls. "Unlike hiking shoes or trail runners, hiking sandals can get wet without getting waterlogged," said Alex Beale of 99 Boulders, an outdoor-gear review site focusing on climbing and camping. To find the best ones for both men and women, we spoke with a group of eight experts that includes trail guides, outdoor gear buyers, experienced hikers, and even one of the fastest women to ever hike the Appalachian Trail. They passed along their advice for what to buy — everyone really likes Chacos — and even some hiking socks for anyone interested in a sporty socks-and-sandals look.
Best all-around hiking sandal
Chaco, the chunky, durable sandal company, was a near-unanimous favorite: Five people we spoke to said these specific ones are the best all-around hiking sandals. There were a few rationales: "Chacos come with super-grippy Vibram soles that are heavy-duty and dense," said Paul Ronto of RunRepeat, who is an experienced hiker in his own right and told us he does 90 percent of his hikes in sandals. "You not only have confidence that your feet will grip onto the slickest surfaces, but as you hike on rocky terrain, your feet will also be protected, unlike some sandal brands that use lightweight, softer rubber for their soles."
Steve Silberberg, head guide at Fitpacking, a backpacking adventure company that helps people lose weight while getting outdoors, prefers Chacos when hiking in the desert for their thick soles and because there's no Velcro to wear out from use. "I hike in both Chacos and Tevas in the desert, but the Velcro on Tevas wears out after a fair amount of use." Silberberg also warned against sandals with a less-substantial sole: "If you're hiking in the desert, skip the Crocs. Even though they're lightweight, cactus spines will penetrate them and become lodged in your foot."
Matt Schonwald, a certified ski-mountaineering and avalanche guide and founder of BC Adventure Guides, recommends the Chaco Z/1 for its simplicity: "I do not like bells and whistles — they usually cause blisters, fall apart, or just underperform." The Chaco Z/1 Classic is made up of only eight components, including a strong sole and customizable straps. So it's about as simple as it gets.
Crucially, people also say Chacos feel the best. All models in the series have also earned seals of acceptance from the American Podiatric Medical Association for promoting foot health — the only sandals on this list to do so — and fans of the shoe agree: "I walked 1,200 miles in a single pair on the Pacific Crest Trail," says Michael Hervey, a senior instructor with Outdoor Outreach, of his "bombproof" Chaco sandals. Photographer Erika Skogg, a National Geographic explorer, loves that they're "incredibly weatherproof and seem to last forever, even after years of travel wear and tear."
Plus, Chaco lets you design your own one-of-a-kind pair, so you can finally have the taco-printed, houndstooth, or Pac-Man-adorned sandals you always wanted.
Best sandals for difficult terrain