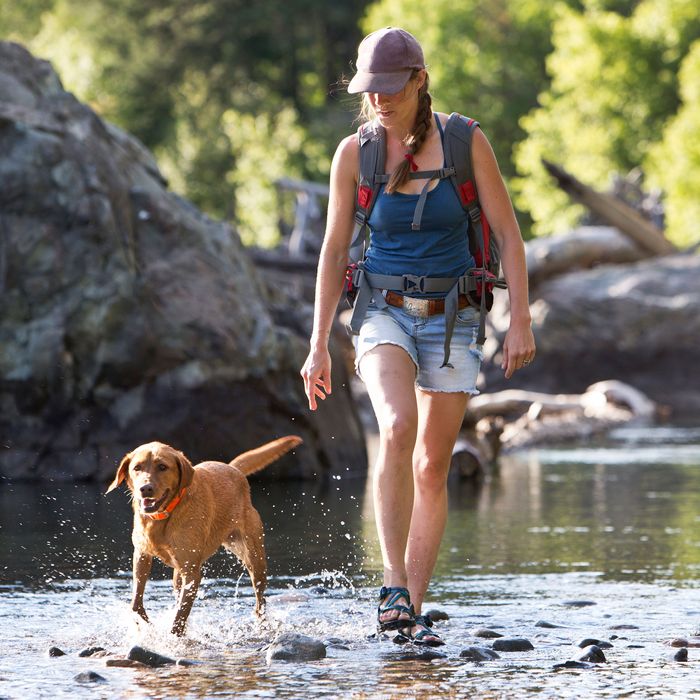 Photo: JMichl/Getty Images
Summer hikes call for summer hiking sandals: Your regular boots will be too hot, and despite being waterproof and lightweight, low-top hiking shoes or trail runners aren't ideal for crossing streams or hiking waterfalls. "Unlike hiking shoes or trail runners, hiking sandals can get wet without getting waterlogged," said Alex Beale of 99 Boulders, an outdoor-gear review site focusing on climbing and camping. To find the best ones for both men and women, we spoke with a group of eight experts that includes trail guides, outdoor gear buyers, experienced hikers, and even one of the fastest women to ever hike the Appalachian Trail. They passed along their advice for what to buy — everyone really likes Chacos — and even some hiking socks for anyone interested in a sporty socks-and-sandals look.
Best all-around hiking sandal
Chaco, the chunky, durable sandal company, was a near-unanimous favorite: Five people we spoke to said these specific ones are the best all-around hiking sandals. There were a few rationales: "Chacos come with super-grippy Vibram soles that are heavy-duty and dense," said Paul Ronto of RunRepeat, who is an experienced hiker in his own right and told us he does 90 percent of his hikes in sandals. "You not only have confidence that your feet will grip onto the slickest surfaces, but as you hike on rocky terrain, your feet will also be protected, unlike some sandal brands that use lightweight, softer rubber for their soles."
Steve Silberberg, head guide at Fitpacking, a backpacking adventure company that helps people lose weight while getting outdoors, prefers Chacos when hiking in the desert for their thick soles and because there's no Velcro to wear out from use. "I hike in both Chacos and Tevas in the desert, but the Velcro on Tevas wears out after a fair amount of use." Silberberg also warned against sandals with a less-substantial sole: "If you're hiking in the desert, skip the Crocs. Even though they're lightweight, cactus spines will penetrate them and become lodged in your foot."
Matt Schonwald, a certified ski-mountaineering and avalanche guide and founder of BC Adventure Guides, recommends the Chaco Z/1 for its simplicity: "I do not like bells and whistles — they usually cause blisters, fall apart, or just underperform." The Chaco Z/1 Classic is made up of only eight components, including a strong sole and customizable straps. So it's about as simple as it gets.
Crucially, people also say Chacos feel the best. All models in the series have also earned seals of acceptance from the American Podiatric Medical Association for promoting foot health — the only sandals on this list to do so — and fans of the shoe agree: "I walked 1,200 miles in a single pair on the Pacific Crest Trail," says Michael Hervey, a senior instructor with Outdoor Outreach, of his "bombproof" Chaco sandals. Photographer Erika Skogg, a National Geographic explorer, loves that they're "incredibly weatherproof and seem to last forever, even after years of travel wear and tear."
Plus, Chaco lets you design your own one-of-a-kind pair, so you can finally have the taco-printed, houndstooth, or Pac-Man-adorned sandals you always wanted.
Best sandals for difficult terrain
When the trail gets steeper, less predictable, and rockier, extra security and protection are key. For these types of trails, Silberberg recommends Keen Whisper sandals for women and Keen Clearwater CNX sandals for men. "I love these sandals first and foremost because they are close-toed, which gives me the freedom to power through rivers without the worry of stubbing my toes. I also love that they are lightweight, they have outstanding traction, and are quick-drying and washable." And while Chacos remain his go-to, Ronto also mentioned Keen sandals for those who're worried about exposed toes on difficult terrain: "Keen sandals protect your feet a bit more with their toe cup."
The Chaco Z/2 has all the benefits of the Z/1, but with an added toe loop to keep your feet in place when trails turn rocky and treacherous. "I've hiked, camped, paddleboarded, biked, and basically lived in them over the summertime," says Taylor McFarland, administrative assistant at the Sierra Club New Jersey chapter. McFarland has worn hers, from hiking in the parks of Monmouth County to dancing at Mountain Jam, the annual music festival held at Hunter Mountain. Matt Smith, youth-programs manager at Outdoor Outreach, said his Z/2's are still going strong after a decade of more than 500 outings, "from the jungles of Ecuador, the mountains of Yellowstone, the forest of Northern California, and the beaches of San Diego."
Best sandals for long hikes
Still more Chacos: Kelly Maggs, a merchandise manager for footwear at REI, prefers the Z/Cloud for its pillowy footbed, a necessity for arch support on long hikes. The Z/Cloud's soft feel comes from an extra layer of polyurethane foam that adds cushioning without packing on weight. "I love the strap adjustments to customize the fit to my foot," she said. "And the great grippy outsole so I stay upright when scrambling on rocks."
Most experts agreed that their hiking sandals had to meet the high standards they set for their boots. Although Merrell and Chaco share the same parent company, Merrell's expertise in hiking-boot technology informs this sandal's design. Nicole Brown, founder of Women Who Hike, a community for female hikers with chapters organizing group hikes in all 50 states, Canada, Europe, and Australia, likes the Merrell All Out Blaze sandal because it features the same durable, slip-resistant Vibram sole found on many hiking boots by Merrell. Since it's durable enough for any adventure, she recommended it as a "reliable hiking sandal for trails with stream crossings and waterfalls, and it's great for hiking mixed terrain, including hikes with any rock scrambling." Also, unlike the Chaco buckle closure, the Velcro straps on these sandals allow for easy on-and-off, and quick tightening or loosening on the go.
Like the Merrell All Out Blaze men's sandals, this pair of women's Merrell hiking sandals feature a grippy Vibram sole and durable construction with Velcro straps for quick and easy adjustments mid-hike.
Best packable hiking sandal
For backpacking and camping trips that last more than a day or two and cover lots of different terrain, it can be helpful to have the choice between traditional hiking shoes and sandals. Like the name suggests, Xero shoes weigh very little and give the sensation of hiking barefoot. Plus they roll up like a li'l burrito for easy packing. "Every year, our family hikes a trail that goes to the top of South Arapahoe peak," says Jennifer West, a movement coach who loves hiking the Colorado Mountains. West packs these minimal but grippy sandals in her backpack for areas of the trail with water: "They take up next to no space in my backpack, they have great grip, and they dry quickly."
Best budget hiking sandal
Less than half the price of a pair of Chacos, the Teva Orginal Universal sandals are an affordable pick that also feature adjustable straps and a sole with lots of grip for traction on uneven terrain. And just like Chacos, they're designed to get wet so they'll be able to handle hikes that go from trail to river and back. Maya Eliahou, a backpacker and recent Berkeley grad who's been hiking since she was 5 years old, told us she prefers Tevas Original Universal sandals for "simple hikes or short backpacking trips with water crossings or swims." She adds, "I use my Teva Original Universals because they're about $50 and very light compared to other Teva models at 5.4 oz. per shoe. They get the job done." Eliahou also mentioned that she'd heard great things about the Cairn Pro sandals from Bedrock, but reportedly "didn't love the feeling of the strap between my toes."
Best socks to pair with hiking sandals