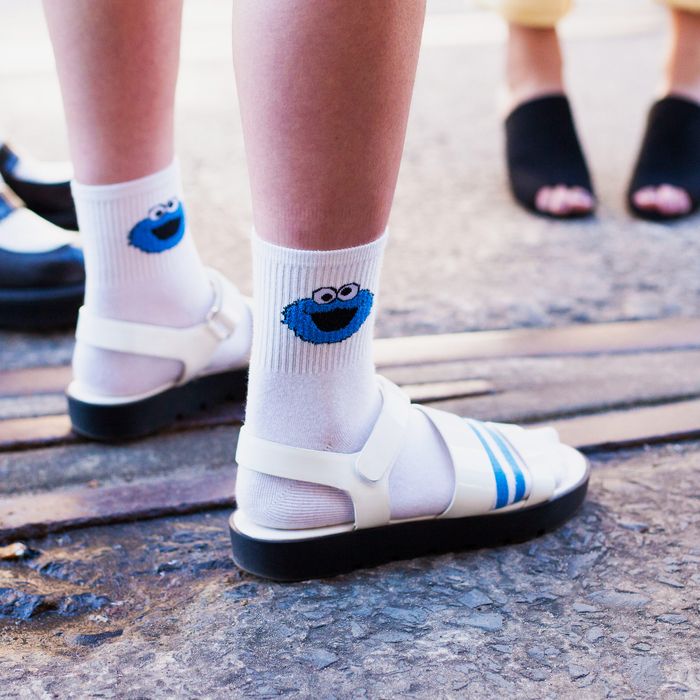 Photo: Merilyn Smith/WireImage/Getty
Socks and sandals, as a twosome, go way back: Archaeologists excavated the first documented pair of socks from the Nile in Egypt, and surmised that they were made between 250 to 450 A.D. These socks had split toes, designed explicitly to be worn with some proto-sandals.
And yet, recent history has not treated the combination kindly. Consider the Wikipedia entry for "Socks and sandals," which reads, meanly: "Wearing socks and sandals together is a controversial fashion combination and social phenomenon. It is considered a fashion faux pas." The pairing also gets mocked in a meme (a picture of Tevas and socks, with the caption, "The Best Way to Protect Your Virginity"), and in at least one song (the track "Socks With Sandals" includes the lyric, "Some haters say, 'that look was never in!'").
Against those odds, Virginity Protecting is back in style. Stylish socks-and-sandal pairings littered the runways this year: Opening Ceremony coupled low pink sandals with gray socks; Ulla Johnson went with a scrunchy yellow pair for her black closed-toed heels.
On its face, the equation is simple: Take one (1) pair of sandals and pair it with one (1) pair of socks. But that's deceptive, and getting it right is not as easy as it looks. So we brought in Karin Bereson, the owner of cult-clog brand No. 6, and a handful of stylish sock obsessives, like Need Supply's buyer and California pants designer Jesse Kamm. Bereson has styled her clogs and sandals with socks for years, and has accumulated a number of rules — or, as she puts it, "things that will make the look easier for the sock-and-sandal intrepid." She has a wide-ranging appreciation for the look: "I always think of old Italian grandmas with their nude stockings and their little slides, or Miu Miu from the '90s, which is when you first saw the look in a fashionable way," she says. "Sometimes no one even notices, but you feel a little edgier." We've catalogued the rules — or rather, tips for the averse — organized by kind of sock.
For sheer socks with sandals (and heels)
"With a sheer, ladylike sock, try them with a ladylike shoe: a mule, a block heel, or a suede sandal," Bereson says. For this, Darner socks were the resounding winner. In the words of Jesse Kamm: "I love pairing my Darners with my Martiniano glove shoes and my sailor pants," she says. "I like to give a little 'sexual ankle' whenever I have the chance." So does fashion editor Sue Williamson. "For wearing an open-toed shoe, I love my Darners, which are $38 and are basically the most high-maintenance sock in the world, but I'm obsessed with them," she says. "They look really cool with Brother Vellies sandals and really dorky-cool with everything else." Even the height of a Darner sock is perfect: "The height of where these socks hit you on the leg works with all leg types," says Wendy Martin, founder of Kick Pleat boutique in Austin and Houston.
The unanimous favorite ladylike sock. (A note: Williamson also has a sock secret and low-maintenance cheapo alternative to Darner. The dainty Walgreens brand for women, that are sadly not available online.)
Here, in a pretty fishnet.
They're on sale at Opening Ceremony!
A high-fashion option for this, according to Krystal Kemp, the buyer at Need Supply, are the (admittedly expensive) Rachel Comey Hynde Tulle Socks. "Once it starts to warm up, I'll wear these with either my Maryam Nassir Zadeh sandals or my Dorateymur Harput slip-ons," she says. "It's perfect for when you don't have time to get your toes done and your last pedi is peeling off."
This is the exact shoe, in the exact color, that Kamm wears to achieve her "sexual ankle" look.
Technically not a sandal, but per Bereson's advice, here's an exceptionally ladylike block heel, in a very ladylike blush, for showing off some socks. Would look great with Darner's rust or hot-pink colors above.
For colorful socks with sandals
"It's fun to take a sock that clashes slightly — wearing pink socks with red shoes, for instance," says Bereson. "I also think that bright blues, which are sort of having a moment, are great matched with brown sandals. They'd be too contrasty with black, but with camels and browns, they're really great." For this, we got advice to try it with some cropped jeans. Denim acts kind of like its own neutral, but won't add yet another color to this mix, if you have a blue statement sock.
Uniqlo's sock game is currently exceptional. These three-packs of sheer ankle socks are a great Darner alternate, and come in this blue melody.