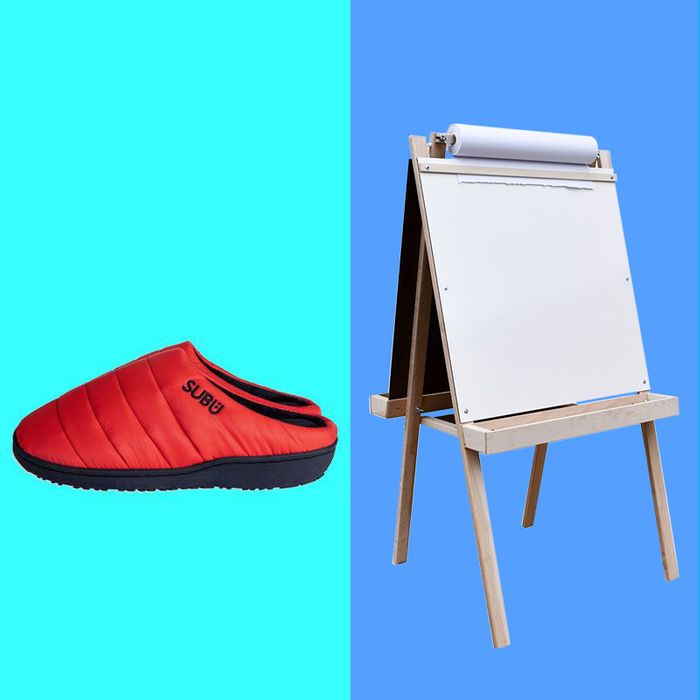 Photo-Illustration: Courtesy Netflix
Being a teacher during the COVID era has to be one of the most challenging jobs out there, so giving them a special something now might be more meaningful (and appreciated) than ever. The best teacher gifts are heartfelt, practical, and generally fall into one of two categories: something that can be used in the classroom to enhance students' experiences or something that expresses appreciation for a job well done during a difficult year. Avoid items that a teacher may already own or things that are over-the-top expensive, which can fall into an against-school-policy gray area (unless you pool resources from multiple parents or families).
To find the best gifts for teachers from students and their parents that are both practical and personal, we talked to more than 25 teachers from kindergarten to high school, who teach everything from physics to music and the arts, about gifts they actually want. Below, the teacher-approved gift ideas that your kid's teacher (or the teacher in your life) will appreciate.
Cards and gift cards
"The thing that makes me happiest is a handwritten note from a student at the end of the year," says Jesse Kohn, a high-school grade adviser at Saint Anne's in Brooklyn. "I have kept every one I've ever gotten." Six other teachers we spoke with mentioned handwritten notes as well: Sharon Thomas, a third-grade teacher at Panola Way Elementary in Georgia, says they make her feel appreciated, whether they are from students or parents, and "should not be underestimated" as a gift. Thao Vo, a sixth-grade mathematics teacher in Long Beach, CA, says, "When students take the time to write me a note or a card to tell me what they've learned or any way I've inspired them, it helps validate the many reasons I became a teacher."
Richard Schwartz, a high-school history teacher of over 40 years and the father of Strategist writer Erin Schwartz, agrees that a handwritten note is "almost always the very best gift" and helps "contextualize a class, a student, a year, a career." He adds that teachers reread these letters: "Occasionally, when things are going a little bit bumpy — and they go bumpy every school year at some point or another — [teachers] pull them out and look at them. They become a gift that keeps on giving because they'll [enable] the teacher who's had a bad day or maybe is in a rough patch … to look back and say, 'Doggone it, I am good at this.'"
Designs relevant to a teacher's subject, like the book-themed set above, are a solid option. But if you prefer something with more flexibility, the Frank Lloyd Wright prints work for pretty much any occasion.
As much as teachers appreciate receiving handwritten cards, they're also prolific writers of thank-you notes. This personalized stationery with an adorable paper-airplane motif will make them excited to sit down and gush about how much they loved that "World's Best Teacher" mug. The playful art is a nice nod to a classroom setting without feeling specific to one subject, and the thoughtfulness of a custom gift will be remembered fondly every time they dash off a letter.
Consider adding a gift card to your personalized note: It may sound boring, but many of the teachers we spoke to say that they love getting gift cards to restaurants, movie theaters, Amazon, Target, or even Whole Foods. "Families often mean well by trying to get you something very specific and elegant, but most teachers actually need things that are boring and unglamorous," says an assistant dean at a New York City private school. "A parent thanking me in a note attached to a gift card can mean a lot and also be used to help purchase a new vacuum, groceries, or a fun night out with friends." Thomas says "you can't go wrong with restaurant, movie, or store gift cards because just about everyone eats, shops, or watches movies."
Vanessa De Riggs, a second-grade teacher in Brooklyn, prefers Visa or AMEX gift cards because they avoid the problem of what to do with gifts she won't use. Vo points out that teachers spend their own money on supplies no matter where they work. He says "a Target or Amazon gift card is a gift that gives back because I'll most likely spend it on my classroom, whether it's antibacterial wipes, treats, or colored pencils."
Photo: The Strategist; Photo: Retailer
"I always can use and always do put to use a bookstore gift card," Schwartz says. He recalls a trip to a since-closed New Jersey bookstore in the 1990s: "I was delighted to have the opportunity to go and buy myself a free book." Schwartz prefers cards from retailers other than Amazon, especially local bookstores. If there isn't one near you, a gift card to Bookshop, which supports independent booksellers, achieves a similar result.
Sarah Miller, a former music teacher and current homeschooler, says that because teachers often buy their own classroom supplies, "gift cards to stores that sell school supplies are always appreciated." Depending on the type of teacher, you can get a more specific gift card based on their needs — like Office Max card for middle or high school teachers stocking up on essentials like notebooks and pens, or Michael's for elementary school teachers or any others working on creative projects. Rebecca Heller, a college counselor at the Viewpoint School in Calabasas, California, agrees: "When in doubt, teachers always love a gift card. It's not the amount, but the thought that makes the gift special."