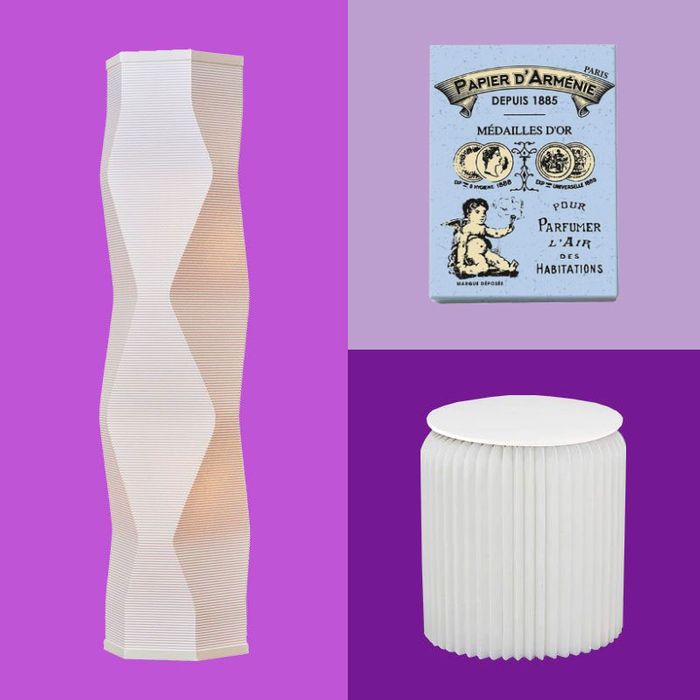 Photo-Illustration: Retailer
Congratulations! It's now been a full year since you and your husband or wife recited your wedding vows in front of your family, friends, and those other people your mom insisted on inviting. Now's the time to defrost that slice of year-old wedding cake and celebrate your first anniversary. Whether you're enjoying a special dinner out or going on a little getaway, you're probably also trying to figure out the perfect gift for your spouse.
According to tradition, first-anniversary gifts should be made from paper. Of course, a simple love note would qualify, but if you want more options to choose from, we're here to help. For this guide, we dug through our extensive archive of expert-recommended products to bring together the best paper gifts for all types of couples — from cocktail napkins for consummate party hosts to temporary wallpaper for renters. Many of the things on this list are available at Amazon, but we've found a lot of them elsewhere, too, for those who like to shop around. And when you make it to your next anniversary (and the ones after that), we have you covered, too: We've also compiled picks for second-, third-, fourth-, fifth-, sixth-, seventh-, eighth-, tenth-, 20th-, 25th-, and 50th-anniversary gifts.
For the couple that hasn't made a wedding album yet
Artifact Uprising photo albums are gorgeous and archival, making them a fabulous gift for memorializing the couple's special day (and other momentous occasions).
For the couple that always has flowers around the house
We love the abstract designs on these paper vases that we included in our roundup of the best gifts for wives. They can accommodate both faux and real flowers (just be sure to stick an empty plastic bottle inside one of the vases before inserting a real stem).
For the couple who loves takeout
This print features line drawings of restaurants and other storefronts in New York City's Chinatown, making it a perfect addition to the shared abode of two foodies. According to its artist, Felicia Liang, the piece is "an illustrated artifact of a vibrant immigrant community."
For the couple who cooks together
A very handsome copy of Joy of Cooking that they can work their way through.
For the couple that bakes together
According to chef Cassidee Dabney, these parchment paper half-sheets are one of the most ingenious cooking tools you can have in a kitchen. "I use them to line pans for easy clean up," she told us, adding, "they make a great piping bag, and you can go old school and use them to wrap food instead of using plastic."
For the couple that "bakes" together
A pack of 50 pre-rolled cones (that also come in mango, strawberry, cherry, watermelon, grape, and lemon flavors).
For the couple who honeymooned in Paris
They can use these French incense papers to freshen dresser drawers or closets (and the clothes within), or just burn 'em the old-fashioned way.
For the couple that wants to zhuzh their blank walls
This affordable subscription will help fill a gallery wall in no time: Each month, Brooklyn's Summertime Gallery (a nonprofit space for artists with and without intellectual disabilities), will send an artist-made postcard featuring the work of a different creator.
For the couple that really wants to zhuzh their blank walls
This poster by graphic designer Milton Glaser (one of the co-founders of New York Magazine) was originally created for an exhibition at the School of Visual Arts in 1967. The larger three-feet-by-two-feet size is big without being too big, but it comes in less expensive smaller sizes too, if they're short on wall space.
For the couple with green thumbs
These confetti cannons contain paper embedded with wildflower seeds. They can fire one in the backyard to celebrate their first full year together and then, by the time their second anniversary comes around, they should have a garden full of black-eyed susans, cockscomb, and sesame flowers.
For the couple that does crosswords together