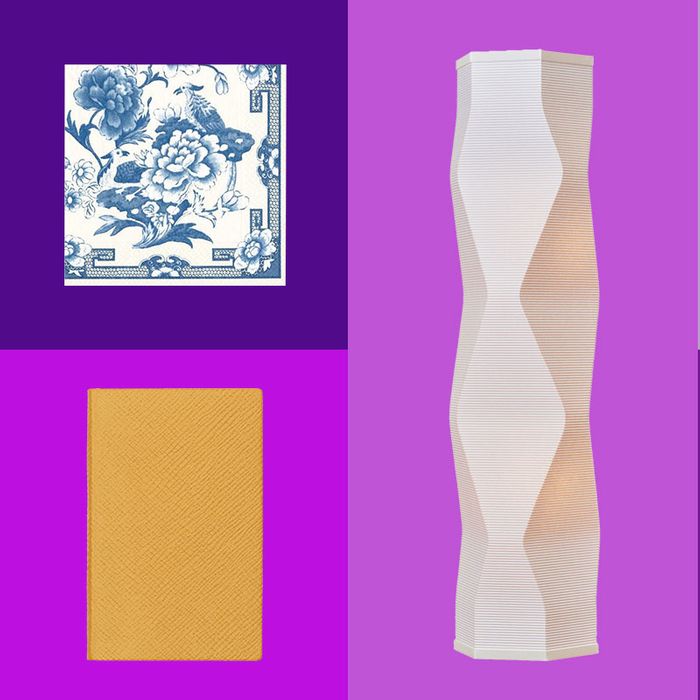 Congratulations! It's now been a full year since you and your husband or wife recited your wedding vows in front of your family, friends, and those other people your mom insisted on inviting. Now's the time to defrost that slice of year-old wedding cake and celebrate your first anniversary. Whether you're enjoying a special dinner out or going on a little getaway, you're probably also trying to figure out the perfect gift for your spouse.
According to tradition, first-anniversary gifts should be made from paper. Of course, a simple love note would qualify, but if you want more options to choose from, we're here to help. For this guide, we dug through our extensive archive of expert-recommended products to bring together the best paper gifts for all types of couples — from cocktail napkins for consummate party hosts to temporary wallpaper for renters. And when you make it to your next anniversary (and the ones after), we have you covered there, too. We've also compiled picks for second-, third-, fourth-, fifth-, sixth-, seventh-, eighth-, tenth-, 20th-, 25th-, and 50th-anniversary gifts.
For the couple that hasn't made a wedding album yet
Artifact Uprising photo albums are gorgeous and archival, making them a fabulous gift for memorializing the couple's special day (and other momentous occasions).
For the couple that always has flowers around the house
We love the abstract designs on these paper vases that we included in our roundup of the best gifts for wives. They can accommodate both faux and real flowers (just be sure to stick an empty plastic bottle inside one of the vases before inserting a real stem).
For the couple that does crosswords together
For the couple with big ideas
Fashion stylist and designer Lori Goldstein says one of Smythson's tiny, leather-covered notebooks is "perfect for a nightstand, where it is poised to take in late-night thoughts." We should add that the notebook would be just as poised for taking in thoughts from just about anywhere, thanks to its compact size.
For the couple with a modern home
Photo: retailer
Laura Fenton, the author of The Little Book of Living Small, says "this genius sculptural stool" that's made out of paper and reminds her of a Noguchi lamp will add a design-y touch to any room without taking up too much space (or breaking a budget). It has a felt seat and "collapses down to flat and weighs next to nothing," making it easy to store when not in use.
For the couple with a modern home (that has enough seating)
For the couple that hosts the best parties
Strategist senior editor Anthony Rotunno likened Caspari napkins to "tiny works of art." (The brand actually does collaborate with museums and cultural institutions on its designs.) These Blue Willow china–esque napkins would be worthy to place beside that china from their registry (even if the patterns don't match).
For the couple that wants to be less wasteful
These reusable, superabsorbent Swedish dishcloths are made from cotton and cellulose (a.k.a. wood pulp), the main ingredient in paper, but look far nicer than any paper towel. Your recipients will no doubt appreciate them for both of these reasons.
For the couple that meditates together
The teachings of psychologist and meditation teacher Tara Brach are recommended by therapists for exploring mindfulness practice.
For the couple who loves to host game night
According to Strategist writer Liza Corsillo, this Bob Ross–themed bingo game is a twist on the classic that's fun for all ages. Instead of playing cards filled with numbers, she writes that "each square says something like 'happy little trees,' 'big ol' brush,' or 'find freedom on this canvas' — things Bob himself said multiple times per episode on his show."
For the couple with daily Co–Star app notifications
Indulge a couple's soft side for the mystical with this expert-recommended book by astrologer Jessica Lanyadoo, the host of Ghost of a Podcast. It's a practical, inclusive guide to relationships of all types, from romantic to professional to familial.
For the couple that wants to zhuzh their blank walls
This poster by graphic designer Milton Glaser (one of the co-founders of New York Magazine) was originally created for an exhibition at the School of Visual Arts in 1967. The larger three-feet-by-two-feet size is big without being too big, but it comes in less expensive smaller sizes too, if they're short on wall space.
For the couple that really wants to zhuzh their blank walls
If they live in a rental or are just not ready for a long-term décor commitment, removable wallpaper can transform a space … for the time being. Home decorator Carrie Carrollo recommends trying this bold Scalamandré print that you might recognize from The Royal Tenenbaums.
For the crafty couple