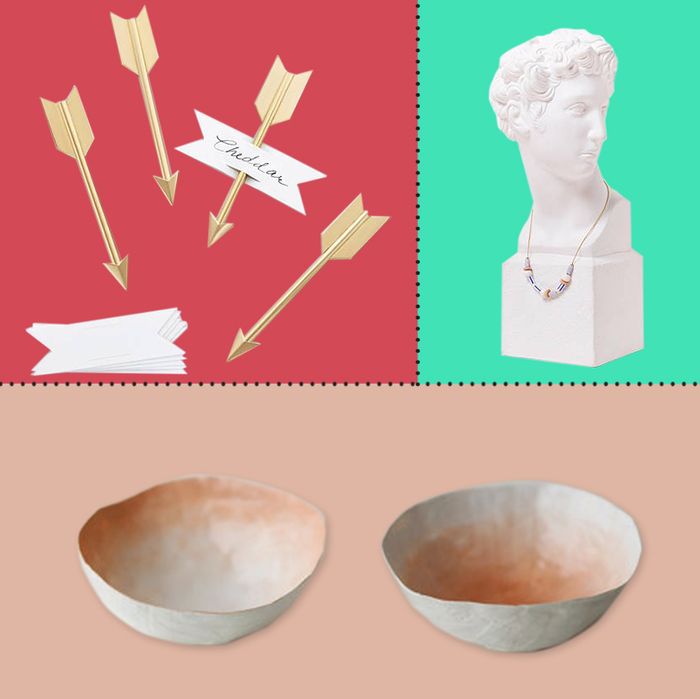 Conversation hearts are cute if you're in middle school. A heart-shaped box of Godivas is cute from your grandmother. And Mozart marzipan may just be the cutest of all. But let's say you still want to commemorate Saint Valentine's day without buying into consumer culture entirely. Etsy is a trove of handmade jewelry, art, and ceramics, and it's possible to find things on the site that aren't overly twee or cutesy. As an Etsy frequenter, I went and found all of the gifts that say "I love you" or "I like you" or even "I know you" in an altogether hipper way.
Photo: Photographer: Argider Aparicio w/Copyright: Argider Aparicio www.argideraparicio.es
Cupid's arrows are a lot less saccharine shot into the heart of a ripe Brie or a pungent manchego.
Cast in gold-plated brass, a floppy bouquet of tulips has a rugged (and everlasting) appeal.
Don't let the fact that these little beauties are papier-mâché throw you. They're dainty — and sturdy — little catchalls for keys, coins, and, well, anything that isn't liquid.
An open brass hand on the skinniest coral silk thread is an easy "you touch my heart" message.
The moon is so hot right now. There's something strangely soothing about watching it wax and wane on this calendar, which marks the days with watercolor images of the moon cycle.
If Seurat worked in lines rather than dots, his work might look something like Karen O'Leary's, who turns tiny, obsessive hash marks into whisper-soft renderings of city blocks.
Finding a decent-looking initial necklace for less than $250 is harder than you might think. These mini–block letters offer a sleek counterpoint to frillier scripts.
Quality materials — cotton canvas and pine dowel slats — mean this vintage reproduction of intricate corals doesn't look like it was made in a run of 300 at Kinkos.
Remember when everyone had a chevron print in their apartment? If your one true love still does, this will be a welcome Memphis upgrade.
Speaking of Memphis, check out these earrings — squiggly, dangly, and even sculptural.