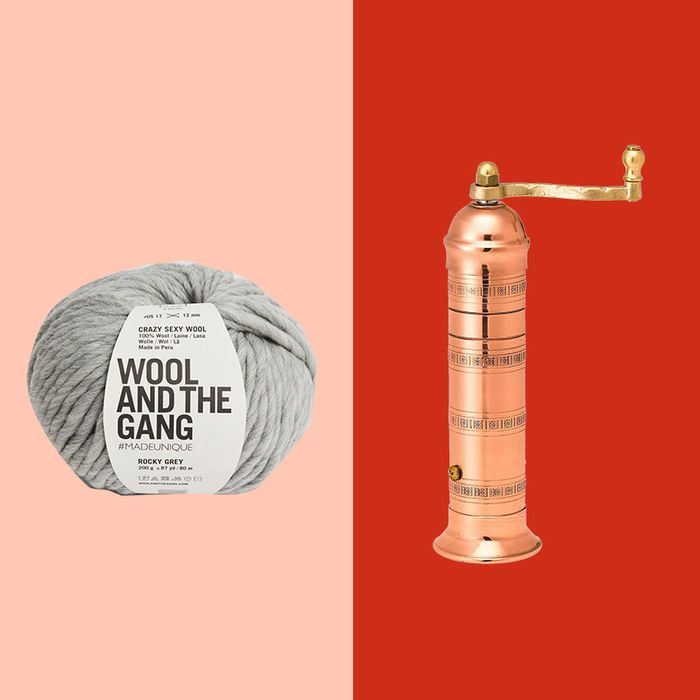 Photo-Illustration: Courtesy of the retailers
It's not a nice round number like ten or 50, but that's no reason not to celebrate your seventh wedding anniversary. In fact, unlike some of those more "special" anniversaries, the seven-year mark actually has two materials that are traditionally given as gifts: copper and wool. While it seems like an odd pairing, both materials signify warmth — copper because it conducts heat and wool because it'll keep you toasty.
To help you pick the perfect gift for your wife or husband, we combed through our archive of expert-recommended and editor-beloved products to find our greatests hits in wool and copper. With picks like a plush wool throw blanket for couch potatoes and a shiny copper cocktail shaker for amateur mixologists, there's a little something for everyone. If you haven't been married for seven years yet, we also have guides for one-year, two-year, three-year, four-year, five-year, and six-year anniversary gifts. Or if seven is far behind you, we can help you find the perfect eight-year, ten-year, 20-year, 25-year, and 50-year gifts.
For the hygge couple
We've twice named these unisex wool slippers the coziest pair to wear or give as a gift. Strategist senior writer Karen Iorio Adelson says, "They're comfortable for walking around and the wool feels warm, soft, and not at all itchy. They hug your foot and mold to your shape the more you wear them." Spouses who spend lazy weekends padding around the house in old, ragged slippers will appreciate the upgrade.
For the hypebeast couple
When we polled stylish people about the slippers they're wearing year-round, UGG's were the most-mentioned shoe of choice. With new silhouettes and colorways, they've become the off-duty option for people who also regularly sport the latest sneaker release. While the options are plentiful, we recommend starting with the Coquette for him and the Cozette slide for her, which emulate the currently trendy mule and slide, respectively.
For the couple who eschew flip flops
Birkenstock's rubbery, waterproof EVA sandals come recommended by Chris Black, who likes them as a flip-flop alternative and says they "provide more comfort than a classic espadrille or a pair of simple Havaianas." Black isn't the only fans of the EVAs — jewelry designer Irene Neuwirth told us she "lives" in hers, and Alison Freer praises the material as being "wildly flexible and far easier to clean than the classic cork-footbed versions." How convenient that they come in a seven-year-anniversary-appropriate shade of "metallic copper."
For the couple that loves their plants
Originally designed in 1886 and coveted by gardeners, the Haws copper watering can is a certified status item in the gardening world. Strategist writer David Notis called it his best purchase of the past decade: "It elevates what could otherwise seem like a mundane task into sort of a special ritual," he says. "It's like religious garb but for watering plants."
For the couple that hikes together
Since they're moisture-wicking and temperature regulating, wool socks are beloved by hikers for keeping them comfortable, dry, and blister-free. Along with being a favorite of writer David Notis and contributor James Lynch, Darn Tough's made-in-Vermont socks are also a top pick of Amazon reviewers, who rave about their durability and soft feel.
For the couple that skis together
Wool socks are popular among skiers and snowboarders for many of the same reasons as they are among hikers. Sarah Plaskitt, founding director of the ski trip-planning agency Scout, thinks these socks from Le Bent are the best of the bunch. "They're really smooth and soft but they also have a good compression on them so they're good for your muscles," she says.
For the couple that runs together