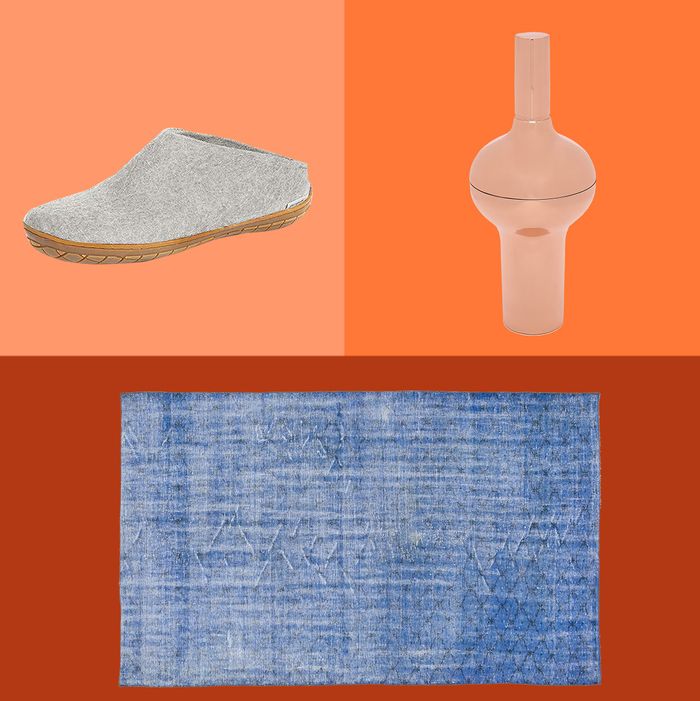 Photo: Courtesy of the retailers
It's not a nice round number like ten or 50, but that's no reason not to celebrate your seventh wedding anniversary. In fact, unlike some of those more "special" anniversaries, the seven-year mark actually has two materials that are traditionally given as gifts: copper and wool. While it seems like an odd pairing, both materials signify warmth — copper because it conducts heat and wool because it'll keep you toasty.
To help you pick the perfect gift for your wife or husband, we combed through our archive of expert-recommended and editor-beloved products to find our greatests hits in wool and copper. With picks like a plush wool throw blanket for couch potatoes and a shiny copper cocktail shaker for amateur mixologists, there's a little something for everyone. If you haven't been married for seven years yet, we also have guides for one-year, two-year, three-year, four-year, five-year, and six-year anniversary gifts. Or if seven is far behind you, we can help you find the perfect eight-year, ten-year, 20-year, 25-year, and 50-year gifts.
For the hygge couple
We've twice named these unisex wool slippers the coziest pair to wear or give as a gift. Strategist senior writer Karen Iorio Adelson says, "They're comfortable for walking around and the wool feels warm, soft, and not at all itchy. They hug your foot and mold to your shape the more you wear them." Spouses who spend lazy weekends padding around the house in old, ragged slippers will appreciate the upgrade.
For the couple that loves their plants
Originally designed in 1886 and coveted by gardeners, the Haws copper watering can is a certified status item in the gardening world. Strategist writer David Notis called it his best purchase of the past decade: "It elevates what could otherwise seem like a mundane task into sort of a special ritual," he says. "It's like religious garb but for watering plants."
For the couple that hikes together
Since they're moisture-wicking and temperature regulating, wool socks are beloved by hikers for keeping them comfortable, dry, and blister-free. Along with being a favorite of writer David Notis and contributor James Lynch, Darn Tough's made-in-Vermont socks are also a top pick of Amazon reviewers, who rave about their durability and soft feel.
For the couple that skis together
Wool socks are popular among skiers and snowboarders for many of the same reasons as they are among hikers. Sarah Plaskitt, founding director of the ski trip-planning agency Scout, thinks these socks from Le Bent are the best of the bunch. "They're really smooth and soft but they also have a good compression on them so they're good for your muscles," she says.
For the couple that runs together
Made from a breathable "merino-mesh" weave, these wool base layers can be worn on their own on crisp fall and spring days, or underneath a heavier top in the winter. They're also impressively soft. Get a set in matching (or complementary) colors for jogging together.
For the couple that binge-watches together
If you and your spouse are more likely to spend an afternoon on the couch than on the slopes, consider this throw blanket from Oregon-based Pendleton. "Pendleton is a classic brand that has been around for a very long time, and for good reason," says stylist Emily Henderson. "Their plaid patterns are timeless and will never go out of style." It's made from machine-washable wool so there's no need to panic if you happen to spill your takeout ramen.
For the couple that runs on caffeine
Power your mornings with this copper-hued, barista-recommended coffee maker that can brew 40-ounces in minutes. "I've been using it daily for the past three-plus years with zero issues. It's just no fuss," says Suyog Mody, the founder of Driftaway Coffee. "And it looks good on the kitchen counter."
For the couple that prefers pour-over
Or if you'd rather go manual, here's a very handsome kettle that can be used for prepping pour-over coffee or tea. Copper's thermal properties help it warm up water quickly — and keep it hot.
For the couple that always holds hands
On the coldest days, you can give the gift of warmth with a pair of wool or wool-lined gloves. For wives, Ari Gefen, a buyer at Westerlind, calls the wool-lined Hestra pair "the perfect city glove," because they're "exceedingly well-made, warm, and look amazing." If you're shopping for your husband, Amazon reviewers love touchscreen-friendly Timberlands. "They are warm enough that I wear them all the time now, even when the temperature is -20 Fahrenheit," one writes.
For the couple that's always cold
Nothing says I love you like the warm embrace of a wool sweater (or, of course, skipping your paleontology award ceremony because your friend Rachel needs you). For husbands, we like this Pendleton style that one Amazon reviewer "wore for two days straight" on a trip to Ireland. And for wives, go with this fuzzy Everlane sweater, a top pick among the brand's biggest fans.
For the couple with a spotless kitchen
No matter whose turn it is to clean up, reaching for the paper towels will be a more elevated experience with this expensive-looking (but actually quite cheap) copper-plated paper towel holder.
For the couple with an Instagrammable kitchen
For the couple that goes leaf peeping
In a very fall hue (Everlane calls it "cider"), this unisex wool-cashmere scarf is perfect for bundling up on a brisk day upstate — and is big enough to us as a blanket to keep both of you cozy.
For the couple with a new apartment
A vintage Turkish rug that's much cheaper than you'd expect, this overdyed blue option from Revival (the so-called "Casper of vintage rugs") helps your new place look a little more grown-up, without feeling stuffy.
For the couple with a big family
For only $100, this set of two-tone stainless steel and copper-plated silverware includes service for 12 — so even if all your relatives don't fit at the dining room table, at least they can feel a little more classy eating on the couch.
For the couple that shares laundry duty
Eco-friendly couples will love ditching dryer sheets for these all-natural, nontoxic wool dryer balls. Former Strategist senior editor Simone Kitchens says throwing them in with her laundry, "staves off static, prevents wrinkles, and — maybe most appealingly — cuts down on drying time."
For the couple that shares cooking duty
Likely fancier than the kitchen gear you registered for back when you got married, this solid copper roasting pan comes highly recommended by Eden Grinshpan Nivron, co-founder and executive chef of Dez. "It's a lovely, beautiful roasting pan. I roast turkey in there. I roast chicken, I roast everything," she says.
For the couple that hosts dinner parties
A copper pepper mill that's too pretty to store in the kitchen, this fun find brings some excitement to the (dining) table. Writer Juliet Lapidos says, "it looks like a tool you'd find at an archaeological dig and — for just that reason — always attracts attention at dinner parties."
For the couple that hosts cocktail parties
These top-rated solid copper mugs keep Moscow Mules icy cold, perfect for enjoying with friends or a romantic evening with just the two of you.