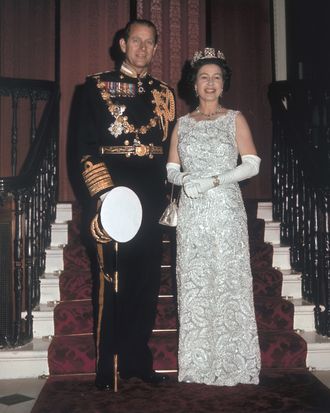 Photo: Hulton Archive/Getty Images
Whether you've been married one year or 20, if you like your marriage, it's always a good idea to mark your wedding anniversary with a gift for your spouse. But no matter how long you've been together, it can be hard to come up with new ideas each year. To help you out, we've combed through the most beloved products in the Strategist archive to find ones that would make great anniversary gifts for husbands, wives, or, if you're feeling very generous, a special couple in your life. If you're sticking to traditional anniversary-gift guidelines (like paper gifts for the first anniversary, gold for the fiftieth etc.), we've got ideas for one-year (paper), two-year (cotton), three-year (leather), four-year (fruit and flowers), five-year (wood), six-year (iron), seven-year (wool or copper), 10-year (tin or aluminum), 20-year (porcelain), 25-year (silver), and 50-year (gold) anniversaries, and will be creating specific guides for other years, too.
Bedding
It might be time for a bedding upgrade if you're still sleeping on the same sheets you got from your wedding registry. Michael Shome, director of photography at Architectural Digest, calls Frette sheets "the fantasy version of Upper East Side hotel-bed linens" and recommends this set for its "chic and simple double-line embroidery."
If the Frette sheets are a little out of your budget, Strategist junior writer Chloe Anello thinks this set is a convincing dupe at a fraction of the price. After testing both, she admits, "I actually slept better on the less expensive version."
Matouk sheets also have a luxury feel without an extravagant price tag. They come highly recommended by five interior designers including Vicente Wolf, who especially likes the Meridian style. "There's something uniquely versatile about them — they're sophisticated enough for city life, but even in a country home they work perfectly against a more rustic backdrop," he says.
There are lots of linen sheets out there, but we're especially impressed with the color range offered by Australian brand Cultiver. As we wrote when testing them out, "It's one thing to sell purple linen sheets and another thing entirely to sell a berry-stained color that could somehow pass as a very interesting neutral."
Bath
"I used to be in the thick-towel camp because I didn't know any better," says illustrator Maira Kalman who raves about these thin, waffle-weave sheets. She tells us that the waffle fabric "has great integrity and I feel intelligent when I'm using it."
We love the idea of hanging matching monogrammed towels in the bathroom, and these minimal ones from Weezie are a little bit playful. According to interior designer Ariel Okin, they're "really soft and have a classic look to them that ties the bathroom together really nicely." Order them with your initials or your private nicknames (up to ten characters).
Treat your partner to this skin-softening body scrub that's a favorite among Amazon reviewers. One satisfied customer writes, "I look smooth, healthy, and glowing from my neck, shoulders, and chest to my hands, elbows, and feet."
Home Décor
When Strategist writer Rio Viera-Newton first saw this area rug in lilac at a photo shoot, she assumed it was an ultrafancy, $4,000 piece from ABC Carpet & Home. She was shocked to learn it cost under $100, and has since picked one up in sunny yellow.
Ming Thompson, an architect and principal at the design firm Atelier Cho Thompson, says this "reproduction of the classic mid-century IBM clock" is a must-buy for a first home that'd look equally good in a home office or living room.
Multiple Strategist editors own (and love) Noguchi lantern-style lamps. Former senior editor Simone Kitchens says hers "creates this cozy, glowy living-room feel," and associate editor Katy Schneider recently bought a hanging version that she says "casts the loveliest, most diffuse light and looks very pretty and simple."
We like storage baskets for corralling throw blankets, spare towels, and even kids' toys. The handles on this sturdy model make it useful for toting laundry around as well.
For a fun twist on the traditional 15th-anniversary gift — crystal — opt for a set of crystal-salt night-lights instead of a pricey glass vase. Strategist senior editor Anthony Rotunno has one and says, "The salt crystal is surprisingly formidable and casts a nice pink-orange glow when on."