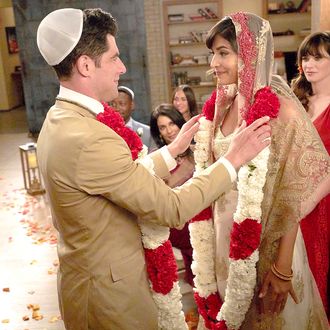 Whether you've been married one year or 20, if you like your marriage, it's always a good idea to mark your wedding anniversary with a gift for your spouse. But no matter how long you've been together, it can be hard to come up with new ideas each year. To help you out, we've combed through the most beloved products in the Strategist archive to find ones that would make great anniversary gifts for husbands, wives, or, if you're feeling very generous, a special couple in your life. If you're sticking to traditional anniversary-gift guidelines (like paper gifts for the first anniversary, gold for the 50th, etc.), we've got ideas for one-year (paper), two-year (cotton), three-year (leather), four-year (fruit and flowers), five-year (wood), six-year (iron), seven-year (wool or copper), ten-year (tin or aluminum), 20-year (porcelain), 25-year (silver), and 50-year (gold) anniversaries, and will be creating specific guides for other years, too. To help you shop, we've organized the gifts on this list into the below categories; if you know the type of thing you're looking for, you can click on any of the links below to jump straight to that section.
Bedding | Bath | Home décor | Home office | Kitchen and dining | Fashion and accessories | Tech and electronics | Travel | Hobbies and activities
Bedding
It might be time for a bedding upgrade if you're still sleeping on the same sheets you got from your wedding registry. Michael Shome, the director of photography at Architectural Digest, calls Frette sheets "the fantasy version of Upper East Side hotel-bed linens" and recommends this set for its "chic and simple double-line embroidery."
If the Frette sheets are a little out of your budget, Strategist writer Chloe Anello thinks this set is a convincing dupe at a fraction of the price. After testing both, she admits, "I actually slept better on the less expensive version."
Matouk sheets also have a luxury feel without an extravagant price tag. They come highly recommended by five interior designers, including Vicente Wolf, who especially likes the Meridian style. "There's something uniquely versatile about them — they're sophisticated enough for city life, but even in a country home they work perfectly against a more rustic backdrop," he says.
If your recipient is all set with sheets, how about something to make the ones they own feel even more sumptuous? According to Debi Mazar, that's exactly what this spray she can't live without does. "I spray this on my bed linens," she says. "It smells fresh. You just need a little squirt. We spend so much time in bed that it's nice when the sheets smell beautiful."
There are lots of linen sheets out there, but we're especially impressed with the color range offered by Australian brand Cultiver. As we wrote when testing them out, "It's one thing to sell purple linen sheets and another thing entirely to sell a berry-stained color that could somehow pass as a very interesting neutral."
Nap Dress enthusiast Harling Ross says she is "just as big a fan" of Hill House Home's core line of home goods. She put this coverlet on her own wedding registry: "In warmer months, it seems like a really practical alternative to a heavier comforter," Ross tells us. The 100 percent cotton coverlet is made in Portugal and comes in three colors beyond white.
Bath
"I used to be in the thick-towel camp because I didn't know any better," says illustrator Maira Kalman, who now swears by these thinner, waffle-weave towels. She tells us that the fabric "has great integrity and I feel intelligent when I'm using it."
We love the idea of hanging matching monogrammed towels in the bathroom, and these minimal ones from Weezie are a little bit playful. According to interior designer Ariel Okin, they're "really soft and have a classic look to them that ties the bathroom together really nicely." Order them with your initials or your private nicknames (up to ten characters).
Treat your recipient to this skin-softening body scrub that's a favorite among Amazon reviewers. One satisfied customer writes, "I look smooth, healthy, and glowing from my neck, shoulders, and chest to my hands, elbows, and feet."