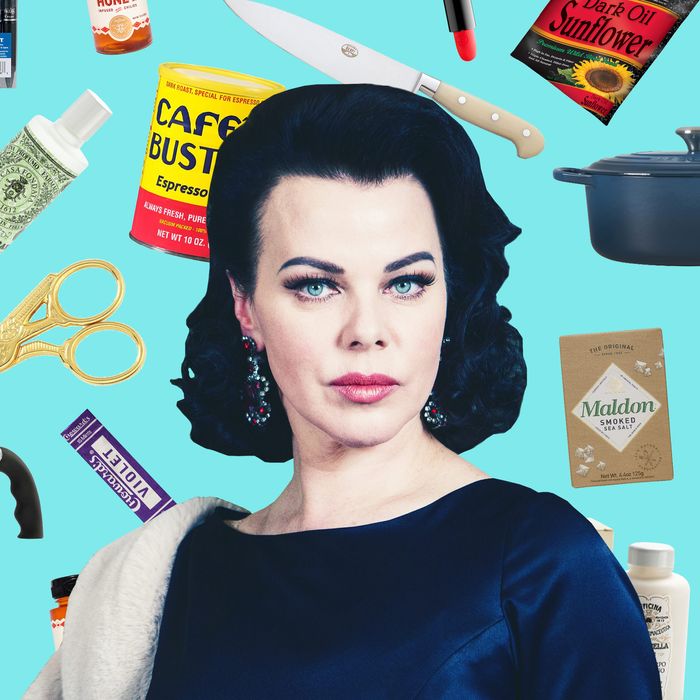 Photo-Illustration: The Strategist, Photos: Pablo Cuadra/Getty Images, Retailers
Over the years, we've talked to lots of celebrities who are very particular about their stuff. But every so often, we encounter one who is very, very particular. Amy Sedaris, for instance: When we talked to her back in 2019, she spent hours telling us about the pom-poms, straw hats, doll wigs, and 47 other things she can't live without. Earlier this year, when I called Debi Mazar to ask about the stuff she absolutely swears by, what was scheduled as a 15-minute phone call turned into a two-hour conversation about dozens and dozens of products, from her drawer full of red lipsticks, to the planner she has bought each year for almost three decades, to the hair rollers she has used since the '80s. In fact, many of the 50 products she shared with us are things she's been using for a decade or longer. That's because, when it comes to shopping, the actress and native New Yorker follows an age-old philosophy: If it ain't broke, don't fix it.
Hair care
I still like Aqua Net. The can sprays a fine mist, and it makes my hair really shiny. I love the shine. People say it's like lacquer — and I'm sure if you sprayed enough of it on, it would feel hard. But all hair sprays are like aerosol glue, and I don't have any issues with that.
This keeps my hair slick and I think actually protects it from the Aqua Net. I also love the smell. It reminds me of my father, whom I have very few memories of. My mother divorced him when I was young. He was a greaser and had great hair. I remember smelling Tres Flores whenever I'd give him a hug. It's a very old-fashioned thing.
I've been using Caruso steam rollers since the '80s. I have the kit, and when the rollers get worn out, I order two extra packages of the medium size — not the small, not the large, just the medium. I prefer steam rollers because they don't damage my hair like a curling iron can. Plus, the curls will last till the next day, and they look really soft. I leave the rollers in for 15 to 20 minutes, do a light back-comb to push my hair in place, add some product, then I'm done. I don't look good with any other style. Beachy waves? No thanks. When I go on location, I order a new kit and send it to where I'm staying.
I like to air-dry my hair, but I'll finish with a blow-dryer to give the ends a little bit of shine and bend. I use this brush when I blow-dry my hair. It's gentle, doesn't break the strands, and makes my hair super-shiny.