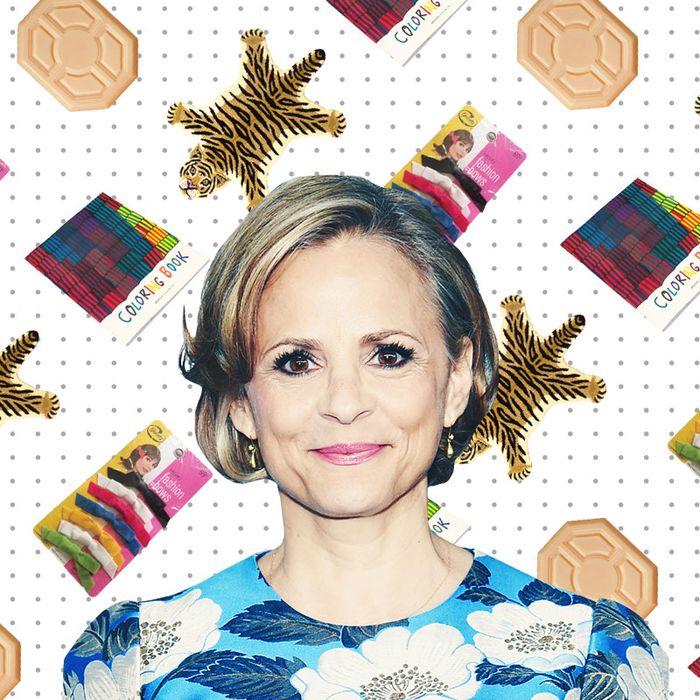 Amy Sedaris.
Photo: Dimitrios Kambouris/Getty Images
Amy Sedaris is particular about her stuff. So particular, in fact, that when the Strategist site launched in 2016, her distinct kind of particular-ness when it came to shopping was discussed as one of our many inspirations for what the site could be. So when I visited her stuffed-to-the-brim one bedroom on a recent afternoon, it was not much of a surprise to find a Venn diagram of most every type of thing the Strategist covers: from surprising things that have multiple uses (the drugstore laxative she uses to steam her pores), to the relatively unexciting items she is determinedly specific about (she uses Heavy Duty Scotch Shipping Packing Tape — if it's not heavy duty, she'll, in her words, "have a meltdown"), to the useful and singular (like the Renova pink paper towels her brother David brings her back from London), to the decidedly useless but no less specific (like her plaster — not plastic — fake Cornish Hen).
The important thing is that no object in Sedaris's house carries less significance than the other: each, from her box of small hats (labeled "Small Hats") to the five real-hair wigs shelved in her bedroom, is a revered piece of her carefully curated, eccentric ecosystem. Below, some 50 of those items.
Accessories
Photo: New York Magazine
I get these high-waisted Lollipop underpants in three-packs from old-lady bra shops on the Upper West Side.
Photo: AmySedaris/Instagram
I was obsessed with these Goody bows when I was little. Now I find them on eBay.
Photo: The Tonight Show Starring Jimmy Fallon/YouTube
This wig was made for me at the University of North Carolina School of the Arts. It's all real hair.
I'm best friends with Adam Selman, and he makes these tube socks, which I'm completely obsessed with. The quality is so nice and cushion-y and thin. Plus, the initials of his company is A.S.S., which is printed on the ankle of these. So I've been sending them to assholes lately.
Crafting Tools
Photo: SiamHillTribes/Etsy
I cannot live without pom-poms. I put them on everything: pillows, lamps.
Photo: PartyFavorsPlus/Etsy
I buy a ton of plain white matchbooks so I can decorate them myself. A must-have.