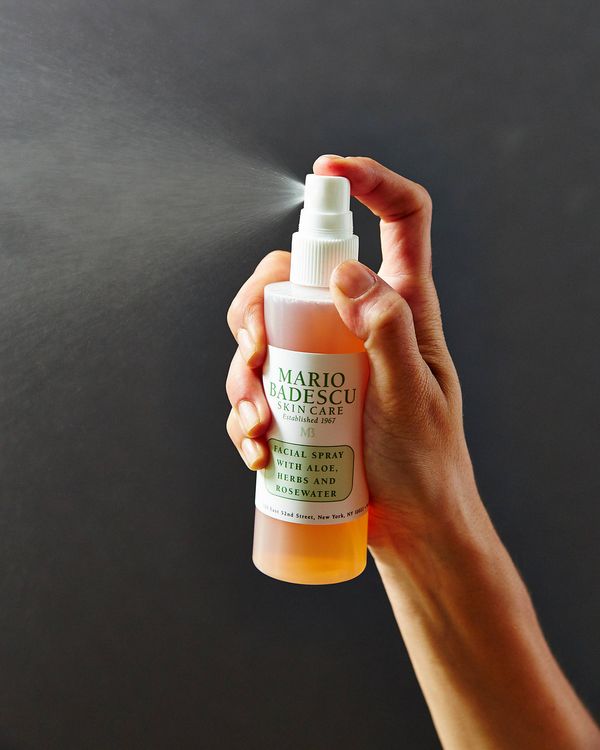 One spray and you're back: senses refreshed, mind clear.
Photo: Courtesy of Urban Outfitters
Sometimes life is about surrendering to cliché and recommending a Mario Badescu product on the internet, but not for the reasons you might think! The facial spray with aloe, herbs, and rosewater has no skin-care benefits that I know of — I use it as a reset button during a tedious, overwhelming, or high concentration day. I first realized I needed such a tool — one that wasn't caffeine or moving my body — after talking with the actress and acting teacher Tina Benko. She can see when a student has gotten too inside their own head during a scene. Their face contorts, they're thinking too hard, they've left the room and entered a reality where everything they do or say is wrong. Tina will gently ask them to pause, take a whiff of lavender and eucalyptus, breathe, and start again.
A strong oil blend can do the job, but I like the facial spray because, well, it appeals to two senses, obviously. I first found this little bottle at a fancy pharmacy, and felt so refreshed by that one sample spritz that it became a part of my routine. It helps me break out of the tunnel vision that can come with writing for hours on end, or with saying the same words over and over under the fluorescent lights of a rehearsal studio. The last couple shows that I did, I kept it on my dressing room table and used it before going onstage and at intermission. There is so much mythology around the cognitive tricks writers and actors play on themselves, and I was thrilled to discover that sometimes a small physical shift does the job.
You may be wondering: Why not just a little spray bottle of water? Because I'm a simple cog, and rosy pink water gives me something to look forward to. Mario Badescu also makes a version in lavender, which I think smells too watery, and cucumber, which I haven't tried. The bottle also claims that it doubles as a "setting spray" for makeup, which I've never understood as not just muddying one's makeup, but I can promise that if you hold it far enough away from your face, it won't ruin your look.
Another perk: The people around you will like the smell, and then you can offer them a spray, briefly feel popular and useful, et cetera. To a less forgiving crowd, using the spray might make you look tired to the point of hungover. To you, it might feel like being a plant (in this scenario you are the plant-parent as well as the plant). But it's over in a second, and then you're back: senses refreshed, mind clear.
More Strat-approved facial sprays
Strategist beauty writer Rio Viera-Newton swears by her Tatcha mist: "There is no product that will snatch your skin and give you the most natural, dewy, angelic glow quite like this Tatcha Dew Mist. It's just heaven in a bottle. You can use this to set your makeup, but it's pricey and that feels like a waste."
Rio loves this M.A.C spray, too: "There's no talking mists without first discussing this iconic, makeup-artist staple from M.A.C. Whether you're just wearing some spot concealer, or a full face of makeup with contour, this spray will allow the makeup to melt into the skin and provide that lovely, seamless effect you want, plus a gorgeous glow."
The Strategist is designed to surface the most useful, expert recommendations for things to buy across the vast e-commerce landscape. Some of our latest conquests include the best