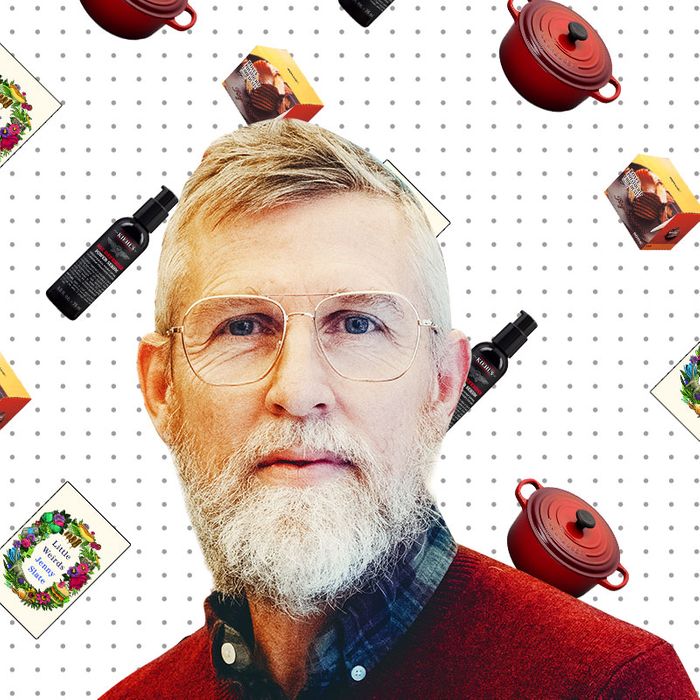 Photo: Courtesy of Todd Oldham
If you're like us, you've probably wondered what famous people add to their carts. Not the JAR brooch and Louis XV chair, but the hand sanitizer and the electric toothbrush. We asked designer Todd Oldham, whose Shadow Box Kit created in collaboration with MoMA is now available, about the Dutch oven, chocolate potato chips, and skin serum he can't live without.
It's so embarrassing. I use the Age Defender in the morning, and I think you're supposed to do it later in the day, too, but I don't really do that. I'm not big on serums and globs, but this one doesn't feel like I've put anything on, and it doesn't hurt, so I like it. I try not to look in the mirror too much but I do feel moisturized.
Oh, my God. These are mind-blowing. If you haven't tried them, I want to tell you to hang up the phone right now and go to the Oculus, where there's a kiosk. Or just buy them online. There are no words to describe how sophisticated they are. The Japanese are just superior in everything, and so the ratio of chocolate to potato is just great on these. I was gifted a box, and it was the loveliest gift. The best $17 gift you can buy.
I have virtually all the Le Creuset basics, and I'm amazed to have something that is still a workhorse after 30 years. The stuff is just perfect and permanent. It distributes heat incredibly evenly, and even when something goes awry, you can still clean up your Le Creuset with no problem. It's expensive, but consider the amortization on it. You'll just need one of them forever. It's also a bit of a workout because it weighs about 80 pounds. Any day with Le Creuset is arm day.
Jenny's first book comes out this fall, and I was lucky enough to read it. It's not a comedy book, though it's of course very funny because Jenny can't help it. It has the poignancy of Marcel the Shell but is also very personal and funny and peculiar. It's such a rich voice that Jenny has anyway but I was delighted to see it translated to print. It's like nothing you've read. You'll want to sit with the words. To me it was like looking at jewelry.
I love dragon's blood. It's an amazing smell that's complex. It's sort of stinky and aromatic at the same time, like a lovely mold. I actually find it super relaxing. And the only place I can find it is at Candle Science. So I make my own candles with the oil I buy there. I use coconut wax because it has the cleanest burn, meaning it burns without creating as much soot. It has a lower flash point, which makes it better for distributing the fragrance; you can put in about two ounces of it in about a pound of wax, and it'll distribute it through the room in a significant way.