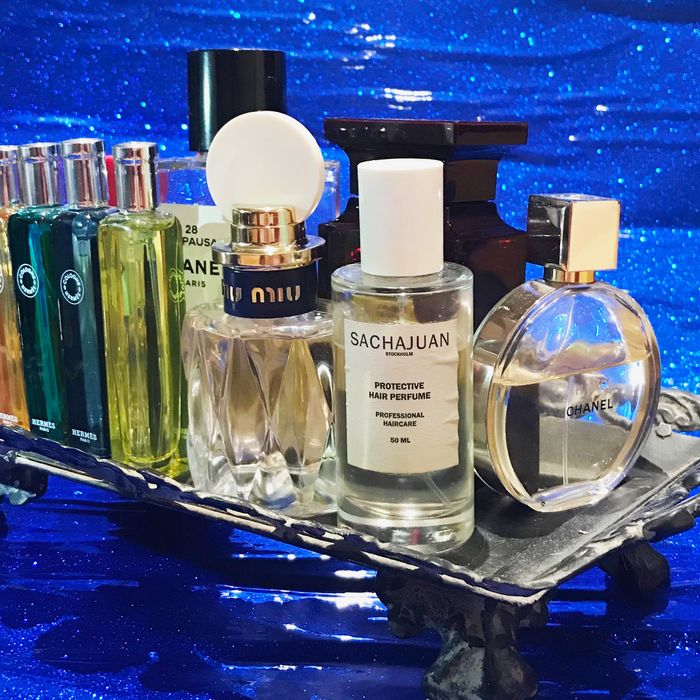 The author's scent collection includes a few that didn't make the cut.
I'm very sensitive to scent. So much so that when I was younger, I chose friends based on how much I liked their smell (this went on until I accidentally offended a unsavory-smelling classmate — at which point I was told by my mother to keep my scent opinions to myself). In my adult life, my sensitive nose means mostly that I have a complex relationship with perfumes and colognes — for me, there's a thin line between perfumes that nicely enhance my natural smell and an intense, overwhelming stench.
Bad perfume isn't just unpleasant for those of us with sensitive noses, though: I think we've all experienced sitting next to someone on the subway or being introduced to a colleague whose scent is so overpowering, you essentially lose all sense of space and time. Since I love wearing perfume but am mildly terrified of overdoing it, I've taught myself a few tricks to keep my scent in check. What's most important, I've found, is to spray the scent directly on one pulse point (i.e. wrists or neck) and then, if you want a little bit extra, spray in the air and walk through it. Not a drop more than that.
The good news: Below is a list of charming, inoffensive perfumes that will enhance your natural scent, adding another level of fun self-expression to your beauty routine. The bad news: I've found it very difficult (and very frustrating) to find pretty, non-offensive scents that I like for under $50. Most everything I've tried on the cheaper side not only hurts my nostrils but is actually sticky on my skin — and there's nothing worse than actually feeling like I'm wearing perfume. Which is all to say, I'm sorry in advance for recommending fairly expensive perfumes, and as an apology, I've also added some incredible-smelling candles to the list so you can more affordably bring fragrance into your home and life.
Affordable and effective, this Glossier perfume is one of the best perfumes on the market for that "enhancing your natural scent" vibe. It's warm, woody, and clean with almost no floral or fruity notes. It's not as cheap as most things from Glossier, but there is a lot of product, and the bottle is glass, not plastic.
I recently added this perfume to my medicine cabinet and it's quickly become a staple. A variation on the original Miu Miu scent, this new rendition is less earthy and more rosy, making it feel a bit lighter. Rose is personally one of my all-time favorite scents — it's classic without smelling old lady–ish, and always makes me feel fresh and elegant. I wouldn't say she's a cheap deal, but she's worth the splurge if you're feeling like investing in a nice, soft but effective scent.
This is the first perfume I ever bought online without trying the scent out in person first. Trusting that I'd like the scent based on the description ("Juniper berry and Sandalwood") alone felt really crazy, but I went for it anyway. And thank God I did because I really love it. DedCool is a Los Angeles–based, unisex, vegan fragrance brand that I first noticed while window-shopping on Garmentory. Though it's one of the "louder" scents I have in my collection, I almost always get complimented on it when I wear it out — and I've found that it actually smells better after a few hours when it's fully absorbed into your skin. In fact, I always keep a tester version of it in my purse for when I want a midday spritz.
This perfume was a birthday gift from my mother many years ago and is a true first perfume love of mine. Again, I wouldn't say this scent is subtle — you can certainly smell it immediately when someone wearing it walks by. Having said that, it's a lovely floral, romantic scent — always what I wear on nights out and times when I want to feel fun and flirty. A little does go a long way, so I always buy the smaller version. I understand that this still isn't even that cheap, but for a designer perfume that will last you a good amount of time, it isn't awful.
I randomly got this perfume in sample form at Sephora (although, oddly, you can't buy it on the website) and became immediately addicted to it. It's so soft and subtle, but also really charming with subtle honey and vanilla notes that are surprisingly not too sweet.
Note: You can get it at Walmart, too.