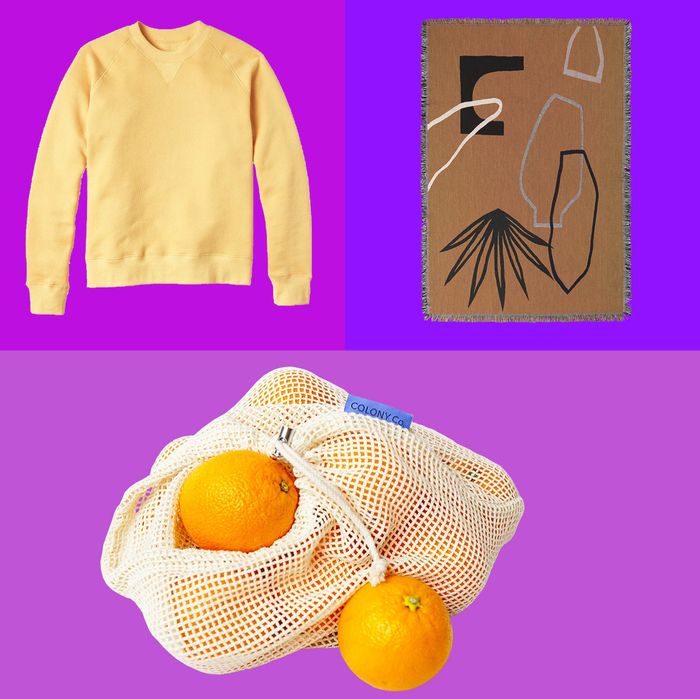 Photo: Courtesy of the vendors
There may be more fanfare around one's first wedding anniversary (like sharing a piece of stale, year-old cake), but that doesn't mean the two-year mark isn't any less special. By now, you've probably settled into a comfortable routine with your husband or wife, so your second anniversary offers an opportunity to celebrate all the reasons you fell in love in the first place — and raise a glass to the fact that you've already outlasted more than a few celebrity marriages.
If you're observing the traditional anniversary-gift guidelines and bought each other paper presents for your first anniversary, you'll want to follow that up with a cotton gift this year. To help you out, we've rounded up some of the best cotton things we've written about here at the Strategist (mostly from our archive of expert-approved products) for all types of couples — from cocktail party co-hosts to frequent travelers. If you haven't been married for two years, we also have a guide for first-anniversary gifts. And when the time comes, we've compiled picks for third-, fourth-, fifth-, sixth-, seventh-, eighth-, tenth-, 20th-, 25th-, and 50th-anniversary gifts, too.
For the couple who needs a bedding upgrade
Designer Ashley Moore says "you cannot beat the price" of these extra-soft, prewashed sheets from Target. She loves that they come in a variety of colors and patterns, and that the fitted sheets "will fit around deep mattresses and stay put."
For the (fancy) couple who needs a bedding upgrade
If you're looking for luxurious sheets, you can't do much better than Matouk. When we polled interior designers about their favorite high-quality bedding, the brand's cotton percale sheets came out on top. Designer Sasha Bikoff says she keeps coming back to this subtle pattern: "It's this very Hollywood Regency scallop-shell pattern that's kind of Miami–influenced too."
For the (ecofriendly) couple who needs a bedding upgrade
Couples who take pride in their metal straws and reusable beeswax sandwich wraps will love that this duvet cover is environmentally friendly and ethically made. SOL Organics is a favorite of Ashley Goldman, founder of the Gold Hive, because it uses non-GMO, certified-raw, and fair-trade-certified, 100 percent cotton.
For the couple that's tired of their white towels
Plain white towels seemed like the logical choice back when you made your wedding registry, but a couple of years later, you might be itching for some color in the bathroom. These towels come in a range of shades like teal, soft pink, and mustard, and are a top pick among Amazon reviewers. One happy customer calls them "a little bit of heaven."
For the couple that's redecorating
Strategist writer Lauren Ro found this mellow, traditional number when she was on the hunt for cheap (but expensive-looking) area rugs. "There's something about the soothing blue pattern of this hand-tufted, wool-and cotton-rug that makes it impossible not to stare at," she says.
For the couple that's trying to make their kale last longer
An easy way to eliminate plastic in the kitchen (and keep your veggies crisp for longer) is to store your vegetables typically in these organic cotton Veijibags, which writer Mattie Kahn said kept her kale fresh for 16 days. "Carrots retain their crunch. Swiss chard doesn't lose its luster. Scallions don't turn to goo. It's a miracle."
When we asked experts about what one needs to achieve a more sustainable kitchen lifestyle, expert Danny Seo (of Naturally, Danny Seo) called these netted, organic cotton bags a game changer at the supermarket — they hold everything from loose lettuce to lemons, and eliminate the need to use tear bags altogether.