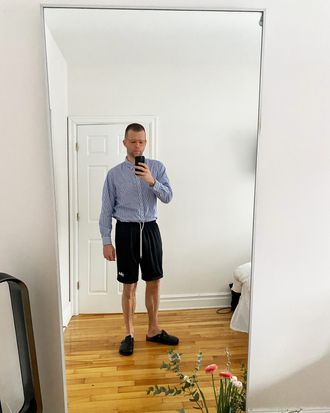 The author in his go-to WFH fit of a Uniqlo button-down and Stussy shorts.
Photo: Chris Black
If you're looking for the most powerful hair dryer or the handiest chef's knife, those things can be easy enough to find. Other objects of desire are a little more taste-based. What's the next status water bottle or hand wash, for instance? If you have a burning question about the next fanny pack or Noah rugby shirt, Chris Black is here to answer it in a regular column.
You have previously said the first rule of working from home is "getting dressed," so can you recommend some WFH fits? Ideally, anything I might buy would be versatile enough to wear to the office (or out in public) when I am not required to send emails from the couch.
I will mostly be in my Stussy shorts and Uniqlo button-down. Simple, comfortable, breathable, and the fit fits into my normal "Ivy Sport" look.
They're available in a range of colors, and I say go for a fun one that will brighten your day. Every little bit helps.
If I decide to really get dressed, it will be in a white-with-blue-piping Henry pajama set from Sleepy Jones. It's the suit and tie of loungewear!
But maybe you need more glamour, more panache?! Immediately upon receiving this question, I had to throw it to the enlightened brain trust behind @WFHFits, a timely Instagram account dedicated to chronicling only the best looks during this difficult time. I'll let the masters take it from here …
Never has there been a more vital moment in your life to get dressed. At last, you can truly not care what anyone else thinks, because they cannot see you. Comfort and chic for you — not for that weird guy who sat two rows over and would keep asking you to come to his Escape Room birthday party — are the highest priorities. With that in mind, how about a matching tracksuit by Adidas?