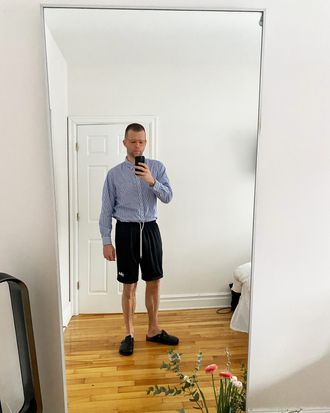 The author in his go-to WFH fit of a Uniqlo button-down and Stussy shorts.
Photo: Chris Black
If you're looking for the most powerful hair dryer or the handiest chef's knife, those things can be easy enough to find. Other objects of desire are a little more taste-based. What's the next status water bottle or hand wash, for instance? If you have a burning question about the next fanny pack or Noah rugby shirt, Chris Black is here to answer it in a regular column.
You have previously said the first rule of working from home is "getting dressed," so can you recommend some WFH fits? Ideally, anything I might buy would be versatile enough to wear to the office (or out in public) when I am not required to send emails from the couch.
I will mostly be in my Stussy shorts and Uniqlo button-down. Simple, comfortable, breathable, and the fit fits into my normal "Ivy Sport" look.