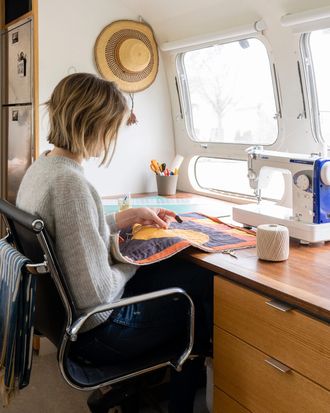 Photo: John Ellis/John Ellis
In case your time at home has led to a renewed (or brand-new) interest in crafting, let us suggest a slightly more advanced option: quilting. Quilting has experienced something of a resurgence in the past few years, metamorphosing from heritage- and antique-store staple to something seen frequently on streetwear sites and the runway — Off-White sent a quilted skirt down the runway in 2018; in 2019, Bode, which arguably started the quilting-as-fashion trend, had its first menswear show in Paris. More recently, quilting has gone millennial mainstream, with brands like West Elm and Madewell selling wall quilts from Vacilando Quilting Co., which makes "quilts relevant for the modern home."
Actually making a quilt — not just buying one from Vacilando or A.P.C. — requires time, patience, and an affinity for cutting and piecing together fabric over and over. But, it's rewarding: "Quilts don't come together quickly, but making one is very satisfying — when you see your skills start to improve, your seams become more consistent and your points match, you'll be thrilled," says graphic quilter Audrey Esarey of Cotton & Bourbon. We spoke to 13 experts — including textile artists, designers, patternmakers, and teachers — to figure out exactly what tools the quilting beginner needs to get started. Many recommended picking up a quilting book like The Quilter's Ultimate Visual Guide or joining a (virtual) class on platforms like Creative Bug, where quilters like fabric designer and author of Savor Each Stitch Carolyn Friedlander teach skills like hand-stitching curved appliqués and how to paper-piece a quilt. YouTube, several said, is a great place to start too, where there are endless videos on how to do just about anything quilt-related.
For anyone looking to making minimalist, modern-looking quilts (that also don't require cutting hundreds of squares and triangles, Nina Dodge of Sky Clad Quilts and Minnesota-based modern quilt designer Arianna Caggiano recommend this book by Laura Preston of Vacilando Quilting Co. for beginners, which offers designs that use minimal piecing and large swaths of fabric, making it a good option for beginners. "She has some really beautiful modern and contemporary designs," says Dodge.
Unless you're hand-quilting (where you sew everything together by hand), a sewing machine is a must. Everyone we spoke to agreed that it isn't necessary to get the most expensive machine. "Any sewing machine with a straight stitch will do," says Erin Wilson, a textile artist based in Brooklyn. Aside from cost-effectiveness, finding a good sewing machine largely comes down to preference, with Esarey likening it to choosing a car. One thing to look out for is a machine that can make an accurate quarter-inch seam, says quilter and interior designer Carson Converse. This can be helped along with a good quarter-inch foot, she says, or using masking tape on the bed of the machine to mark the distance. Another thing to pay attention to is throat size, which refers to the space between the needle and the base of the machine. The bigger this space is, the easier is it for larger, thicker quilts to pass through. This becomes particularly important when sewing the three layers of a quilt together, the top, the batting, and backing, but isn't something to be particularly worried about if you're primarily focused on making the top of a quilt (called piecing), or looking to get started without too much financial commitment up front. "Entry-level machines don't necessarily have a huge space, but it's definitely manageable" says Friedlander. Many of our experts recalled using a Janome machine when starting out — the brand makes entry-level machines starting as low as $100. The Janome Mod 30 has a built-in needle threader, up-down positioning capabilities (for quilting, you often want to stop the needle in the "down position," and a drop feed which allows for free motion quilting (this means the feed dog is disengaged, which limits fabric to a back and forth motion) too. Another affordable, under-$200 option is the Brother CS6000i, recommended by Caggiano, who likes how cheap and compact it is. "If you're just starting out and don't want to invest too much in a machine this definitely a good starter machine," she says.
Three of our experts recommended Schmetz needles, which quilter and co-author of Quilt Modern Curves & Bold Stripes Daisy Aschehoug says are just as good as pricier options. "I've tried some fancy titanium needles and never really noticed a difference in the performance or longevity," she says. Award-winning quilter and teacher Peter Byrne likes this five-pack, which comes with five needles in two of the most popular sizes (two 90/14 and three 75/11). "The specially tapered design allows easier fabric penetration and helps eliminate skipped stitches," he says.
Thread choice is important for any quilting project, because it holds everything together. It's best to start with a simple, strong thread, and wait on specialty threads like metallic or monofilament thread (made for invisible stitching), which are more difficult to work with. You should stay away from vintage threads too, which are often broken down by light and dust and more prone to breaking off in your machine. Almost everyone we spoke to name-dropped Aurifil 50 weight cotton thread, an Egyptian cotton thread that Massachusetts-based quilter Nina Dodge says is popular among quilters. "It's a really nice all-purpose sewing and quilting thread," says Wilson, "thin and strong." Esarey likes the shade 2021 in particular, an off-white she uses for the top portion of her quilts. Aschehoug, who's an ambassador for the brand, says she notices the biggest difference between Aurifil and other threads when it comes to quilting the three layers together. She prefers the brand's thicker threads (the lower the number, the thicker the thread) for hand-sewing projects.
On the topic of fabric choices for beginners, all of our experts agree that you should stick to cotton that doesn't stretch. This will make it easier to work with, as other fabrics like jersey and silk need to be reinforced in order to hold their shape and stay put. Most suggested using quilting cotton, which has a tighter weave than regular cotton. While big-box-store fabrics work fine (like what's available at Michael's or JoAnn's), these fabrics tend to be lower quality than what you would find in your local quilt shop. Four of our experts recommend Kona Cotton by Robert Kaufman for beginners, which comes in a wide range of patterns and colors. "It's not too thin and it doesn't stretch, which makes it stable for more precise patchwork," says Caggiano. If you want to go the upcycling route, Aschehoug recommends using men's shirts, which she says aren't superthin or thick and don't stretch.
You'll also need lots of pins. "As many as you can get," says contemporary artist Michael Thorpe. Pins are used to temporarily hold fabric together and are essential for piecing. Converse swears by flower-top pins by Clover, which she says are easy to grip thanks to their large, flat top. "They are really great for people with any sort of grip issues," she says, noting that even with the added surface area, they lay flatter than other pins she's used. A note about pins: If you're ironing or steaming mid-project with the pins still in, Esarey recommends using glass head ones instead, which are heat-resistant and won't melt upon contact.
A rotary cutter is also a must for the aspiring quilter — it's what many quilters use to cut the majority of their fabric. The tool, which has a round blade and sort of resembles a pizza cutter, is designed to create precise squares and strips. Friedlander, Thorpe, and Paula Steel, quilt designer and author of Modern Rainbow Patchwork Quilts, all swear by this Olfa 45mm rotary cutter, which can cut through six layers of fabric at once and has an ergonomic handle for comfortable use. The blade is also retractable and has a safety lock so you don't have to worry about slicing yourself accidentally.
With a rotary cutter comes a self-healing cutting mat, a must-have to avoid damaging your surfaces and the mat itself. Friedlander is partial to this one from Olfa because of the vibrant, green color which makes fabrics easy to see. "Some fabrics disappear on different colored mats," she says. She also likes the size. "You want the cutting mat to be large enough that when you put your fabric on it, you can still see the reference numbers," she says. "This one is great because it works with some of the standard dimensions of fabric."
A ruler is also a must-have, preferably a clear one with grids. Thorpe, Converse, Wilson, and Friedlander are all partial to this one by Omnigrid, which features neon lines for added visibility and a nonslip back that helps when cutting fabric. It's ideal for rotary cutters but compatible with scissors too.
If you're not cutting perfect squares, scissors are essential, preferably a sharp pair with at least an eight-inch blade. The most important element for scissors is sharpness, which you can ensure by only using them for fabric. Byrne swears by Kai scissors, and recommends this three-pack, which comes with a six-inch, eight-inch, and four-inch blade. Wilson likes them too, noting that the serrated blade helps to grip the fabric and keep it from slipping. According to Friedlander, when the scissors start to dull, you can send them back and have them sharpened for a small fee.
Another option are scissors from Gingher, which Thorpe calls "the creme of the crop," and Esaray agrees. "They are just as sharp as the day I got them," she says. Outfitted with supersharp edges, these make it easy to cut through several layers of fabric in one slice.
An iron is also a must, necessary for making sure your fabrics stay flat during the process. While the type of iron is up to you, our experts recommended sticking with something affordable. "You either have to go total low-end or total high-end," says Friedlander. "You can end up spending a lot in the middle range and they still leak." Wilson recommends using what you have, but if you're in the market for a new one, suggests the Rowenta DW8080 Stainless Steel Iron, which she says is durable. For a lower-priced option she recommends the Rowenta DW2171, which also has a stainless-steel plate.
If you're using a cheap iron, one way to elevate the experience is by using a wool pressing mat. "They're usually about a half-inch thick or they go over your entire ironing board, and they lock in the heat and create steam from the bottom and you get a much better press, even with a very basic iron" says Friedlander. She's partial to this one from Wooly Felted Wonders, and recommends picking up a basic stock size like 12x12 or 18x18. "Your piecing will come out much flatter," she says.
The Strategist is designed to surface the most useful, expert recommendations for things to buy across the vast e-commerce landscape. Some of our latest conquests include the best acne treatments, rolling luggage, pillows for side sleepers, natural anxiety remedies, and bath towels. We update links when possible, but note that deals can expire and all prices are subject to change.