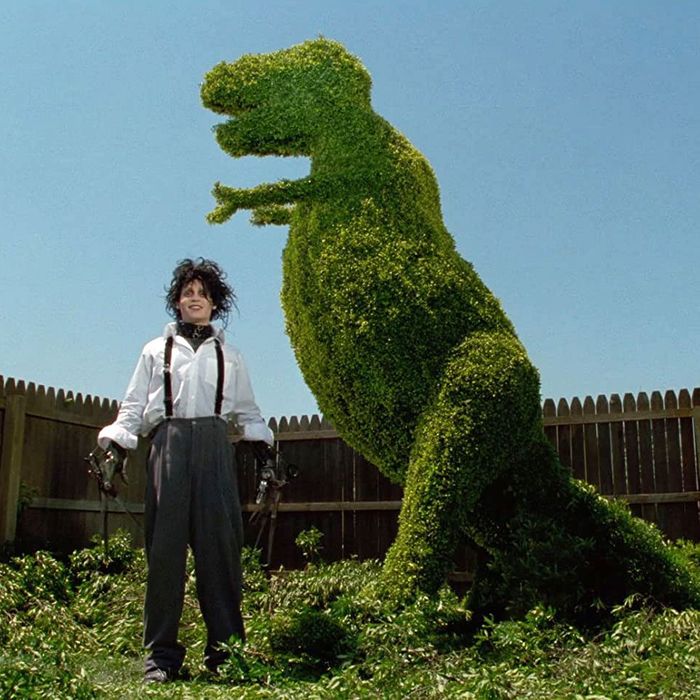 Photo: Twentieth Century Fox
With spring in full bloom, and the sun shining down, it's time to plant. Whether you're a professional horticulturist or an amateur green thumb, every gardener needs a good pair of shears. From the hobbyist trimming back begonias on the front lawn to the landscape designer sculpting hedges and boxwoods on a big estate, all gardeners are basically looking for the same thing: a sharp, comfortable, durable pair of shears that can accomplish the task at hand and hold up well over time.
To find the best tools for any job, we spoke with nine experts who know a thing or two about gardening shears: Bob Fiorello, chief horticulturist at San Francisco Botanical Garden; Laura Mele, horticulturist at the Arnold Arboretum; Kyle Forrest Burns, owner of Nye Ranch; Krista Everage, principal designer of Everage Design, which specializes in interior, garden, and floral design; Kurt Morrell, VP of landscape operations at New York Botanical Garden; Rachel Burlington, curator of the International Rose Test Garden in Portland, Oregon; Caleb Leech, horticultural manager of the Met Cloisters; Valerie Strait, a garden designer based in Brooklyn and Michigan; and Michelle Alfaro, co-owner of Maranta Plant Shop in Milwaukee. Below, their recommendations for the best pruning shears, hedge shears, lopping shears, and garden scissors.
Best pruners
Best overall pruner
Our experts told us that if you had to choose just one type of garden shear, nothing is more essential than a good "bypass" pruner — or secateur — which is basically a one-handed pruner with two curved blades. This is the go-to tool for clipping delicate branches and trimming shrubs, perennials, and flowers because the blades are specially designed to give a "clean cut" without tearing the plant tissue. As Morrell puts it: "The cleaner the cut, the quicker a plant heals. The quicker a plant heals, the less susceptible it is to disease."
Nearly every gardening expert we spoke with mentioned the Swiss-made Felco F2 as the industry standard. "A good gardener or horticulturalist anywhere in the world is most likely going to have a pair of Felcos," says Morrell. Gardeners prize the F2 for many reasons, but it's perhaps most famous for its durability. Morrell still has his original pair from 1985. He told us that the NYBG's School of Professional Horticulture gives a pair of F2's to every new student. The large handles and strong coiled spring make it the most comfortable pruner on the market, our experts say. They also like that it uses interchangeable blades, which allow the pruner to feel "like new" no matter how old it is. "They're a staple of every gardener's tool box," says Burlington. "I never leave home without mine."
Best bypass pruner (for smaller hands)
The Felco F6 or F7 is the same idea as the classic F2, but it's built for smaller hands. Morrell says the F6's smaller blade is "nicer for pruning in tighter spots" with roses, for example. Strait uses these herself — "They fit in my small hands," she says — and has been for the past 25 years.
Best (less-expensive) bypass pruner
Corona is an old-standby brand that Morrell, Burlington, and Leech all mentioned. Burlington says that if you want a less expensive bypass pruner that's still "a quality tool," the Corona 3180 is a great choice.
Best Japanese-made bypass pruner
Although the F2 is a favorite of the staff at the San Francisco Botanical Garden, Fiorello actually prefers the VS-8 hand pruner from Japanese brand ARS. "They are very good quality stainless steel, they are very easy to clean, and they don't gum up nearly as much as the Felco," he says. "Some people refer to ARS as 'always really sharp,' and that's pretty much true." Mele agrees and calls her ARS pruners "my favorite." She loves the squeeze-lock feature and finds that her hand "doesn't fatigue as much" as with other pruners.
Best (less-expensive) Japanese-made bypass pruner
Like ARS, Okatsune is a Japanese gardening-tool company with a cultlike following in the States. Leech almost exclusively uses Japanese-made shears at the Met Cloisters Museum. "I just love how Japanese hand tools are built," he says. Most Japanese hand pruners lock with a latch, which Leech vastly prefers to the "dial lock" used by Felco and many American brands. He says the dial locking mechanism can be "fiddly" and doesn't always close right away. "I just like simplicity." While Leech declined to mention a specific brand — per the museum's policy — we have a strong suspicion this Okatsune pruner is the one he was referring to, since it fits his description and all of the experts we asked confirmed the brand's reputation. Mele confirms that these Okatsune pruners are a great investment: "A number of people at the arboretum swear by them," she says.
Best bypass pruner for flowers
Everage swears by these pruners for deadheading, trimming, and floral arranging. "They are supercomfortable in the hand," she says. Plus, "some brands get stuck in the spring, which drives you crazy. With the way the spring is designed, this one stays loose, so it is very quick and you can keep moving." And you always want to keep moving: "When you are pruning or deadheading, you are in an uncomfortable position a lot of the time, so you want to be as quick and efficient as you can," she says. Forrest Burns uses this tool exclusively for "flowers and bigger tomato branches" on his farm. "It's a smaller, delicate pruner, and it offers a lot of finesse," he says.
Best affordable anvil pruner
While bypass shears are definitely more generally useful, Burlington says a good pair of "anvil shears" is important to have in your kit. Anvil pruners can sometimes crush the branches or stems as they cut, so while you wouldn't want to use them on living plants that need to heal quickly, they can be really helpful if you want to "deadhead roses" to encourage reblooming or "cut back herbaceous material like annuals and perennials." Basically, "if you're looking more for speed than precision," an anvil pruner is a good choice according to Burlington, who uses these needle-nose hand shears from ARS. "It's hard to find a good anvil pruner because a lot of time they're cheaply made. I highly recommend this one."
Nicest-looking anvil pruner
According to Alfaro, these anvil pruning shears from Modern Sprout are great for beginners. With pale-blue handles and a lock that integrates seamlessly into those handles' design, these look a lot nicer than your average garden-shed gear. "I love how neat and clean they cut," Alfaro says, adding that the pruners are easy to grip and "lightweight and durable," too.
Best shears
Best overall shears
According to Morrell, these German-made Berger hedge shears are the only model used to trim and shape the many hedges and bushes on the NYBG's property. His favorite thing about them is the wooden handles. "A lot of homeowners will go for something with rubber handles because they think it's cushiony, but rubber gets slippery when you sweat. The wood is just more comfortable if you're working all day long." Morrell says that while it's a higher upfront cost to supply all their groundskeepers with these, it ends up being worth it because they almost never need to replace them. "If you go and buy something cheap, it may only last one hedge trimming. If you're using a tool all day long, you want something that's durable and that's going to last. We have pairs that are 15 or 20 years old." This strong endorsement, coupled with the fact that these shears are also less expensive than the other styles we heard about, led us to give them the title of "best overall."
Best Japanese-made shears
"Hedge shears are really geared toward cutting soft fresh growth on a hedge," says Leech. The long sharp blades are perfect for shaping hedges and even for topiary design. These have wooden handles and the same high-quality construction that Leech values in Japanese garden tools. Leech says the strong steel blades will hold an edge, but "you have to take care of them" by periodically sharpening. That's all part of the process that Leech appreciates, and it's key to getting many good years out of these or any other garden shears.
Best battery-powered "shears"