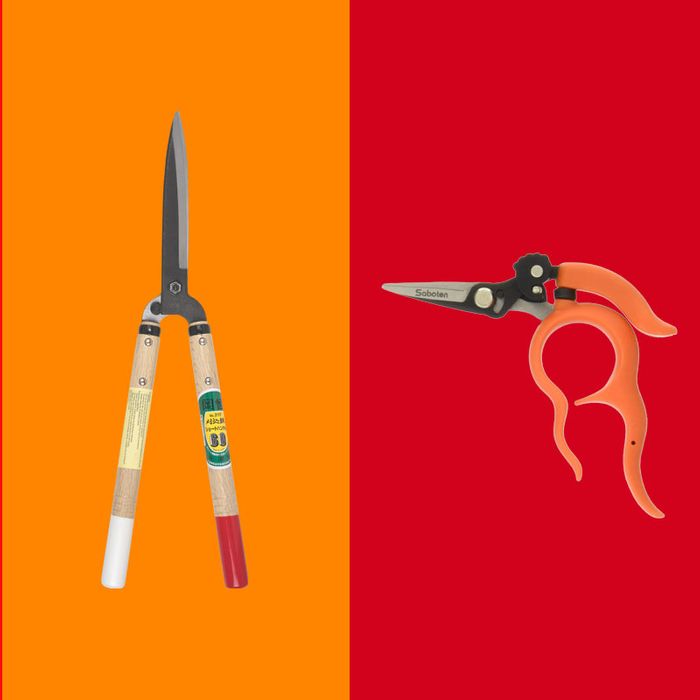 Photo-Illustration: The Strategist: Photos: Retailers
One of the most indispensable gardening tools is a good sharp pair of shears, useful for everything from the dead tops of flowers (known as "deadheading") to intricate hedge-trimming to harvesting a crop of tomatoes. The right tool will make the difference between a miserable, blister-inducing day of garden chores and achieving a flow state as you trim shrubs — and with some maintenance, can last for decades. A tool that consistently delivers sharp, clean cuts will make you a more efficient gardener, and it's also healthier for your plants: "The cleaner the cut, the quicker a plant heals," says Kurt Morrell, the vice-president of landscape operations at the New York Botanical Garden. "The quicker a plant heals, the less susceptible it is to disease."
Best overall | Best less expensive pruner | Best Japanese-made pruner | Best less-expensive Japanese-made pruner | Best hedge shears | Best less-expensive hedge shears | Best loppers | Best scissors | Best hands-free shears
What we're looking for
Blade type: The best style of blade will depend on how you're planning to use your shears. According to Strategist contributor and veteran gardener Joseph Truini, you'll get the cleanest cut from bypass blades, which cut past each other, versus anvil blades, which meet when you cut and tend to crush plant matter. The shape and size of the blades themselves also vary by use. Longer, heavier blades are better for covering a large area; thin, sharp-tipped blades are good for pruning more delicate plants.
Handles: You want a pair of shears that are comfortable enough to stand up to a long day of repetitive movements. We're looking for easy-to-grip handles that won't slip when wet or cause cramps or blisters. For one-handed shears, we're also noting where a left-handed option is available; like scissors, one handed-shears usually default to right-handed. (Two-handed tools, such as hedge trimmers or loppers, work for both righties and lefties.)
Locking mechanism: A lock keeps a pair of spring-loaded shears shut when they're not in use, so a reliable, easy-to-use style is important — a fiddly, unreliable lock can cause the blades to either accidentally seize up while you work or spring open inside your bag. Some common styles are latch, dial, and squeeze locks. While we've noted locking mechanisms that our experts particularly like, which you choose is largely a matter of personal preference — what matters most is reliable engineering.
Durability and maintenance: Shears aren't a tool you can afford to treat preciously. They'll get dirty and wet and thrown into a gardening bag; the blades will cut through tough, woody stems and get covered in sap. A good pair can last for decades, but they require maintenance. Beyond sharpening your blades, you may have to occasionally perform small repairs or replace components. We're favoring shears made of durable materials that are also designed to make swapping out new parts relatively easy.
Best overall pruner
Bypass blades | Ergonomic rubber-coated handles | Dial lock | Replacement parts available
Far and away, the most popular pair of all-purpose shears among experts are the F2 bypass pruners manufactured by Swiss company Felco. "A good gardener or horticulturist anywhere in the world is most likely going to have a pair of Felcos," says Morrell. Felco pruners are popular for their durability — Morrell still has his original pair from 1985 — and their versatility. He told us that the NYBG's School of Professional Horticulture gives a pair of F2s to every new student.
Another reason the Felco F2 is our top pick: The brand sells replacements for every part, neatly identified on a schematic on its website, from tiny screws to fresh blades. It sells a lefty version of the F2 and other styles, including the compact F6, which garden designer Valerie Strait says is a better fit for small hands. There are less expensive pruners on the market, but the long lifetime you can expect from Felco F2s makes the investment worthwhile. "They're a staple of every gardener's toolbox," says Rachel Burlington, curator of the International Rose Test Garden. "I never leave home without mine."
Best (less expensive) bypass pruner
Bypass blades | Straight handles | Latch lock | Replacement parts available
For a less expensive alternative, Morrell, Burlington, and Caleb Leech, horticultural manager of the Met Cloisters, all mentioned Corona's bypass pruners, described by Burlington as a "quality tool." Replacement parts are available on the Corona website and at the Pruner Warehouse.
Best Japanese-made bypass pruner
Bypass blades | Ergonomic handles | Squeeze lock | Replacement parts available
ARS is one of several Japanese gardening-tool brands with a devoted following in the States. Leech says he almost exclusively uses Japanese-made tools at the Met Cloisters Museum: "I just love how Japanese hand tools are built," he says. Bob Fiorello, chief horticulturist at San Francisco Botanical Garden, actually prefers the VS8 hand pruner from Japanese brand ARS to Felco's pruner, although most of his colleagues use the F2. "They are very good quality stainless steel, they are very easy to clean, and they don't gum up nearly as much as the Felco," he says. Laura Mele, a horticulturist at the Arnold Arboretum, also says that the ARS pruners are her "favorite": She likes the squeeze-lock feature and says the VS8 pruners lead to less hand fatigue. Replacement parts are available from Growtech, the U.S. agent for ARS products, and can be purchased online here.
Best (less-expensive) Japanese-made pruner
Like ARS, Japanese brand Okatsune has a reputation for making solid, hard-wearing tools. Its bypass pruner also has a torsion spring and a latch lock, a style Leech prefers to dial locks, which he describes as "fiddly." Mele says that these Okatsune pruners are a great investment: "A number of people at the arboretum swear by them," she says.
Best hedge shears
Photo: Retailer
Straight blades | Curved wooden handles | Some replacement parts available
The German-made Berger 4490 shears are the only model used to trim and shape the hedges and bushes on the NYBG's property. Morrell says his favorite thing about them is the wooden handles. "A lot of homeowners will go for something with rubber handles because they think it's cushiony, but rubber gets slippery when you sweat," he says. "The wood is just more comfortable if you're working all day long." Morrell also appreciates their durability: "If you go and buy something cheap, it may only last one hedge trimming. If you're using a tool all day long, you want something that's durable and that's going to last. We have pairs that are 15 or 20 years old." One minor drawback: Some small replacement parts are available on the Berger website, but the company doesn't sell replacement blades.
Best (less-expensive) hedge shears
Straight blades | Straight wooden handles | Replacement bolts available
"Hedge shears are really geared toward cutting soft fresh growth on a hedge," says Leech. Okatsune, the maker of one of our favorite bypass pruners, also makes these hedge shears with straight oak handles. Leech says the strong steel blades hold an edge well, but "you have to take care of them" by periodically sharpening with a whetstone.
Best loppers
Toothed bypass blade | Straight rubber-coated handles | Replacement parts available
Lopping shears, or loppers, are used to cut "larger woody things," says Leech. "It's like a big pair of hand pruners that you can use for a large-diameter branch." Morrell recommends Felco's loppers, which have a toothed bypass blade. Fiorello also recommends Felco's pair: "If you are really training a tree or managing shrubs and you want them to be great cuts," he says.
Best scissors
Straight blade | Plastic handle; designed for right-handed and left-handed use | Replacement parts not available
Leech says his "No. 1 tool" is "bonsai scissors or grape scissors" — pointed-tip scissors with small blades designed for grape cultivation that he uses for detail work and trimming flowers. These Joyce Chen scissors are a favorite among chefs — they're "small and sharp enough to do fine tasks like cutting herbs, but they are also strong enough to go through fish bones, lobster shells, and chicken backs," says NoMad chef Mike Reilly — and Strategist writer Emma Wartzman also uses them in her garden. "Their shape and size gives you a lot of control," she says. She's used them to prune everything from tomatoes to "smaller herbs like oregano or thyme, when you want to snip a few stems without hacking at the whole plant."
Best hands-free shears
Straight blade | Ergonomic plastic handles | Dial lock | Replacement spring available
Kyle Forrest Burns, the owner of Nye Ranch, likes these hands-free pruning shears that rest on two fingers to free up both hands while you garden. "They are a time-saver, but also they are so light and small you hardly even know they are there," he says.
Some more garden shears we've written about
Our experts
• Rachel Burlington, curator of the International Rose Test Garden
• Kyle Forrest Burns, owner of Nye Ranch
• Bob Fiorello, chief horticulturist at San Francisco Botanical Garden
• Caleb Leech, horticultural manager of the Met Cloisters
• Laura Mele, horticulturist at the Arnold Arboretum
• Kurt Morrell, VP of landscape operations at the New York Botanical Garden
• Valerie Strait, garden designer
• Joseph Truini, gardener and Strategist contributor
• Emma Wartzman, Strategist writer
The Strategist is designed to surface the most useful, expert recommendations for things to buy across the vast e-commerce landscape. Some of our latest conquests include the best acne treatments, rolling luggage, pillows for side sleepers, natural anxiety remedies, and bath towels. We update links when possible, but note that deals can expire and all prices are subject to change.