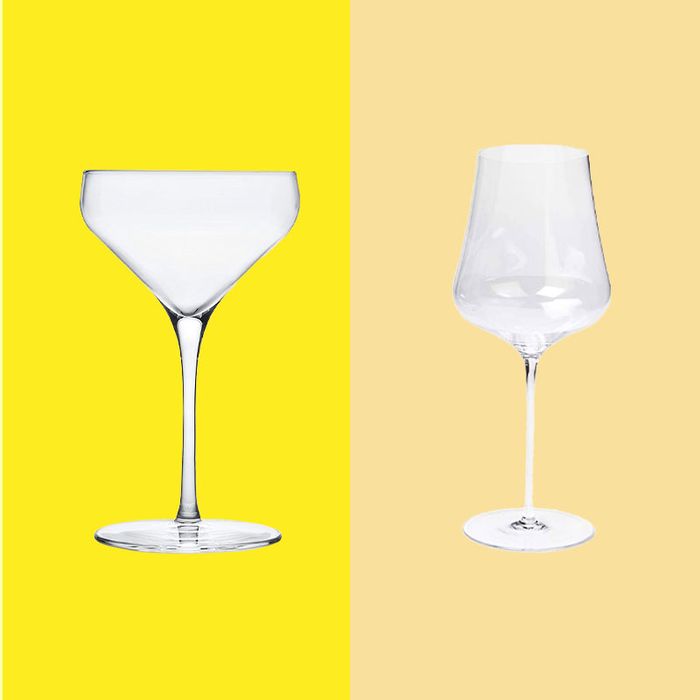 Photo-Illustration: The Strategist; Photos: Retailers
In my house, celebration is synonymous with bubbles — especially during the holidays. And while the bottle of fizz runs the show, the ritual of toasting, clinking, and sipping from a fancy Champagne glass elevates the whole experience. "Each glass influences the drink," says sommelier Aldo Sohm. "It's a bit like what music is from different speaker systems. You'll experience the same song in a different way from a Bose speaker versus a Bang & Olufsen. A glass has the exact same impact." To help you find the best Champagne glasses, we spoke to six bubbly experts. Read on for the glasses, flutes, and coupes that they reach for (including white-wine glasses, ideal for swirling).
When it comes to getting the best from your Champagne, aroma is key, and that can be influenced by the shape of the glass you're drinking from. When you point your nose over the rim of your chosen glass, that scent you smell carries the complexities of the Champagne's flavor. So to get the most from your drink, you'll want to give it a real sniff. "There are some Champagnes that I can just smell for hours and still discover something new," says Stuart Weaver, manager of Lady Jane cocktail bar.
That's where the vessel's shape comes in. Champagne glasses are most often coupe-shaped (flat and shallow with a wide rim), flute-shaped (long, tall, and narrow), or tulip-shaped (a narrow base that widens in the body of the glass, before becoming narrow again at the rim). The best options for capturing the aroma are the flute- or tulip-shaped glasses, because "the aromatics travel right out of the narrow opening to resonate around your mouth and nose as you take a sip," says Lauren Paylor O'Brien, who won the title of Netflix Ultimate Drink Master 2022. Traditionally, a narrow flute is also meant to keep your bubbles from going flat as quickly. A coupe's wide rim makes it less than optimal at capturing your drink's aroma, but it makes for a nice-looking beverage with a vintage aesthetic.
If you're less interested in stocking your bar with single-use glasses, many experts we spoke to also recommended drinking Champagne from an all-purpose wineglass, with a wide base great for swirling.
Champagne glasses can be pretty pricey, especially when you're shopping for the very best. You won't often want to just buy a single glass, but I've noted the price per glass to make it easier to compare across different-size sets.
Best Champagne glass overall
Shape: Sloping flute | Price: $11.25 per glass
O'Brien says that "you can't beat a flute." We'd have to agree. The reason, she explains, is the traditional reason we pair flutes for fizzy wine: a narrow opening that's been designed to channel both the bubbles and aroma toward your nose as you take a sip. Her favorite flutes are from Libbey, a Strategist favorite. At around $40 for four, a pack will leave you more money to spend on the Champagne itself. When it comes to choosing stem versus stemless, O'Brien says it's just a matter of personal preference. However, she does prefer a stemmed glass, so she can hold her glass and chat for longer without her hand warming up her Champagne.
Best Champagne flute for a party
Shape: Curved flute | Price: $10.33 per glass
Sommelier Candy Olsen also agrees there's something special about pairing your bubbles with a flute. "It exudes celebration, it's got that perfect clink for every toast and I think immediately stimulates our salivating glands like Pavlov's dog." In the spirit of indulgence, she recommends investing in flutes like these lightweight, slightly curved and delicate glasses from Schott Zwiesel. "For me, this glass is designed for effortless sipping, hours on your feet dancing or happily schmoozing," she says. "It's not really built for swirling or aromas … but who is thinking of that at a party anyway?"
Best overall Champagne coupe
Shape: Shallow coupe | Price: $11.25 per glass
"I love a coupe for Champagne cocktails because the visual aspect is such an important part of the experience," says O'Brien. And while Champagne coupes aren't the best option for capturing aroma, they're great for showcasing Champagne cocktails, as their wide rim leaves a lot of room to play with. O'Brien sees her favorite coupe, the Libbey Signature, as a wide canvas on which to display the visual element of her cocktail — helped by the rim's ample space for garnishing. There's also a vintage Gatsby vibe to a Champagne flute, if you're looking for that 1920s fantasy.
Best less-expensive Champagne coupe
Shape: Coupe | Price: $6
When her drink is sparkling, Strategist editor Maxine Builder is anti-flute and pro-coupe. "Most of my cocktail glassware is vintage or thrifted or passed down from friends, but these from CB2 are very similar to one of my favorite sets at a very thrift-shop-friendly price," she says. Plus, for an extra $10, you can get them in a vibrant cobalt and peony.
Best deep Champagne coupe
Shape: Extra-deep coupe | Price: $7.50 per glass
Kimberly Hunter, CEO and founder of Potent Pours, says she likes to drink from a coupe as "I can sip Champagne without fear of losing my bubbles." Her clients adore these slightly deeper coupe glasses; at eight ounces, there's plenty of room for swirling, and there's no fear of overfilling or spilling, great for when you're enjoying Champagne at a busy party. And thanks to their vintage-inspired stem, they look as though they've been plucked straight from a speakeasy.
Best crystal Champagne coupe
Shape: Shallow coupe | Price: $55 per glass
"When I'm hosting friends and we are having more of a fun evening, I tend to lean towards the traditional coupe-style glassware," says Natalie Migliarni, co-founder of Beautiful Booze. The coupes that she reaches for on truly special occasions are this visually stunning pair. She admits that they're a more expensive option, but insists that the handcrafted crystal glasses are so elegant, it makes them well worth the price. Like O'Brien, Migliarni also appreciates mixing Champagne cocktails in her coupes.
Best colorful Champagne coupe
Shape: Coupe | Price: $34 per glass
Tiffanie Barriere, founder of the Drinking Coach, says that these glasses are "some of the best cocktail coupes I've seen in my entire life." Handblown in Poland, they're available in seven shades, from mint green to lavender. Inspired by vintage stemware, these pastel coupes will make a colorful addition to any home bar.
Best all-purpose wineglass
Shape: All purpose wine glass | Price: $75 per glass
Another great option to revel in your Champagne's aroma is actually a wineglass. "The bell shape of the glass will allow you to really capture all of the complexity in the nose of the wine," says Weaver. "There are some Champagnes that I can just smell for hours, and still discover something new." He thinks the Zalto Universal is shaped perfectly to get the most from a glass of Champagne, from the glass's slightly narrowed top to its subtle bell shape. Zalto glasses were also a favorite of sommelier Candy Olsen, who loves to sip Champagne from the brand's wineglasses. While a little pricey, the Universal glass can be used for various drinks too, whether you're sipping whites, reds, dessert wines or, of course, Champagne.
Best less-expensive all-purpose wineglass
Shape: All purpose wine glass | Price: $35 per glass
At home, Weaver drinks from a Gabriel-Glas wineglass. They're half the price of the Zalto Universal, but still have that narrowed rim to capture and channel the Champagne aroma. Their wide bell shape, meanwhile, sits comfortably in your hand, where you can comfortably give it a swirl. They're another type of universal glass, so you can reach for them as you uncork other grapes besides Champagne.
Best extra-wide all-purpose wineglass
Shape: Extra-wide bottom all purpose wineglass | Price: $45 per glass
This extra-wide glass "lets you incorporate more air and smell," explains food and drink writer Tammie Teclemariam. While this is great for picking up the notes in a sparkling wine, from a Vouvray to Vilmart, it's also great for picking up all the notes in a glass of Champagne, too. And the extra-wide base is ideal if you're someone that likes to swirl before sipping.
Best tulip glass
Shape: Wide tulip | Price: $94.50
"Although I'll never pass up on a flute or a coupe, drinking Champagne in a good quality tulip glass is like watching your favorite film in 4K," says wine writer Hannah Crosbie. She echoes a lot of the same virtues of the wineglass as Weaver and Olsen — that its large base is great for swirling, while a narrow top captures aromas worth inhaling. "These are the glasses your Champagne deserves." To make sure your tulip glass captures your Champagne's aroma, make sure it's only ever half-full, leaving plenty of room for the fizz to accumulate in the top half of the glass.
Best less-expensive tulip glass
Shape: Tulip | Price: $35 per glass
Migliarni says that these Dom Perignon glasses have been designed for an elevated tasting experience. She and her husband reach for them when they "want to get into a serious Champagne tasting and take in as much of the aroma and essence as possible." They're small, curved, and delicate, designed for slowly working your way through a bottle of fizz with thoughtful sips.
Best white-wine glass
Shape: White wine glass | Price: $73 per glass
This is the glass Olsen would invest in if she had "carte blanche, trusted myself not to break them all, and could have absolutely anything." She prefers a lightweight white-wine glass when sipping Champagne. It allows her to "focus on the color, beads or fine bubbles," and is ideal for a swirl. Olsen lets the glass warm a degree or two before it's time to "fully dip my nose in to receive everything the drink is giving."
Some other Champagne glasses we've written about
The Strategist is designed to surface the most useful, expert recommendations for things to buy across the vast e-commerce landscape. Some of our latest conquests include the best dining-room décor items, coffee makers, knife sets, Japanese coffee brewer, charcoal water filter, and drinking glasses for water and more. We update links when possible, but note that deals can expire and all prices are subject to change.
Every editorial product is independently selected. If you buy something through our links, New York may earn an affiliate commission.