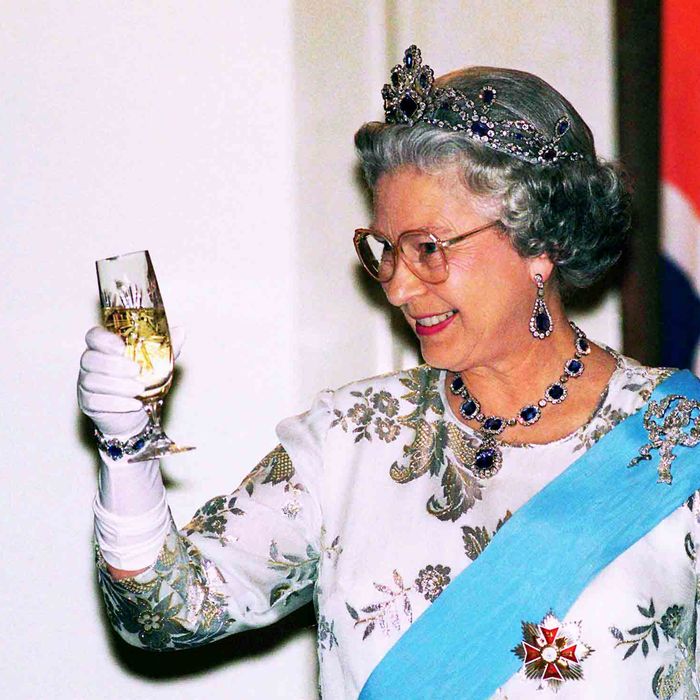 Photo: Tim Graham/Tim Graham/Getty Images
Here at the Strategist, we like to think of ourselves as crazy (in the good way) about the stuff we buy, but as much as we'd like to, we can't try everything. Which is why we have People's Choice in which we find the best-reviewed products and single out the most convincing ones. (You can learn more about our rating system and how we pick each item here.)
And while we've written about lots of glasses before — including the best drinking glasses, the best cocktail glasses, and the best stemless wine glasses— here we've rounded up the best Champagne glasses as praised by the most enthusiastic reviewers on Amazon.
Best-rated (and less expensive) Champagne glasses
The main appeal of these plastic Champagne flutes for party-loving reviewers is that you can toss them once you're finished. "Since they were disposable, it made the after-party cleanup very easy," explains one. But at least one reviewer actually thought they were "too nice" to just throw away. One notes she will normally "throw out plasticware, but these were so nice I washed them to use again." Another agrees, saying after her party, "Everyone was in love with the quality. No one wanted to throw them out, they handwashed them all to reuse for another time." The quality of the plastic impressed customers, too. "After having a party with 40 guests and doing all the cooking, the last thing I expected to do was wash these by hand, but I did. Seriously, they are that nice. Several guests asked me where I got them because the quality was so good," one reviewer admits. "Fancy" is another word used in lots of reviews, from one mother-of-the-bride who notes these flutes "made the bride feel fancy instead of using cheap plastic cups," to another who thinks "these make any drink look fancy, even sparkling apple cider. Or just normal juice. It's the little things in life, right?"
And now for some micro-picks for every type of Champagne glass you might be looking for.
Best crystal Champagne glasses
"These flutes are true luxury. I actually cried when one of my children slammed a stem in the dishwasher door and broke one," admits one reviewer, adding, "They feel good in the hand, hold a generous pour, and they are really very striking." Despite that accident, several reviewers speak to the glasses' durability, like one who describes them as, "Beautifully shaped, perfect size, and very strong I knocked one over on my granite countertop and was sure that it would break but it amazingly didn't." Another reviewer says "everyone always wants to know where they came from," while another just goes ahead and buys them as gifts for others. "They are so elegant to drink out of and I get many compliments. Very great value for what you get."
Best stemless crystal Champagne glasses
Many satisfied reviewers of these stemless Champagne flutes already own some Riedel glassware. "I got some stemless white and red glasses from Riedel and was looking for stemless Champagne. Then came across these. They are light, look elegant, and most of all on the dinner table next to my stemless white-wine and water glasses made the setting all complete," writes one wine lover about these Riedel Champagne tumblers. Another explains, "I have the Riedel stemless wine glasses for both red and white, but I wanted a set of stemless Champagne glasses for Sunday-morning mimosas. These are absolutely beautiful." One just appreciates the high-quality crystal: "These glasses are very high quality and lead-free, too. Crystal clear in appearance and very sleek looking." Another says they "are almost paper thin with a perfect ring when you gently tap on them," while one more just thinks "they look great in a display."
Best stemless Champagne glasses
The sturdy stemless bottom is what lots of reviewers point out as the best feature of these glass Champagne flutes. "I love that they are the stemless kind. Much more sturdy and less likely to tip over when sat down. And let's face it, a bunch a women chatting and drinking someone is bound to knock a drink over or break one, didn't happen with these bad boys," raves one reviewer. Another prefers these to her more expensive Champagne flutes for parties: "These are attractive, light, and graceful, and so affordable that you don't worry about bringing them out for a party." One reviewer even "referred this product to several professional caterers who have since purchased these," and yet another kept them with her other glassware "to use all the time because they are perfect for any kind of drink." As she explains, "They are hard to knock over and they just feel very nice in your hand." A few complain that there's "a slight variation" between the glasses, but this optimistic reviewer sees it as a perk, saying, "It makes me feel like they're from Sweet Home Alabama, so it's a plus."
Best plastic Champagne glasses
One reviewer picked up these plastic Champagne glasses because she needed a glass alternative for her seaside wedding: "Glassware is prohibited on the beach. They looked lovely, even in the photos. Aside from the seams (and a less musical 'clink'), you would have thought they were glass." Many write that even though these plastic glasses are disposable, they are difficult to part with. "I get what the other folks mean when they say these are hard to throw away. They are excellent. I personally dislike cheap-looking plastic glasses, which is why I went with these," one reviewer raves, noting, "You really can't tell they aren't glass." One ordered them for a work event where he "wanted to have Champagne in the limo on the way to a swanky event," and overall was "really impressed with how high-end they looked in person."
Best plastic Champagne glasses in bulk
This 96-piece set appealed to reviewers throwing big blowouts. "I had two toasts to make this holiday season with groups of 25 or more. I found these flutes perfect for both occasions," one partier writes, adding, "They have a cut-glass look and the size was perfect. With a large crowd it is perfect not to have to worry about broken glasses or even cleaning them." Another agrees: "They look very nice for being plastic Champagne flutes and are way easier to have these for big parties instead of needing to wash regular Champagne flutes. Just throw them away and easy clean up." Another feature that makes these plastic flutes different is the fact that they're one piece, not two. That saves lots of time, and broken glasses, according to one reviewer: "Last year I bought two-piece flutes that had to be assembled. We must have broken half a dozen before we mastered the technique of assembly. These one-piece flutes were the perfect cure for that particular malady."
Best coupe Champagne glasses
People love the vintage feel of these coupe glasses. "I was pleasantly surprised by how elegant these coupe glasses were. They are well-made, have no visible flaws, and have an antique look about them," one happy customer explains, adding, "They could just as easily blend with an Art Deco bar set as an Edwardian." One bar owner wanted to add something sophisticated to his glassware collection, noting, "These are much nicer looking and feeling than Champagne flutes and give my bar a little extra retro sophistication. They are well-made, feel pretty sturdy, and I've been able to wash them in the dishwasher." Another reviewer believes that coupe glasses are superior to flutes, because "this style glass allows a much richer enjoyment of sparkling wine and Champagne since it really allows the bouquet to come across unlike the tall and thin flutes." He adds that he "could not be any happier with this purchase" and shortly after "went out and donated all of the old tall-style Champagne flutes."
Best Champagne glass and bong hybrid