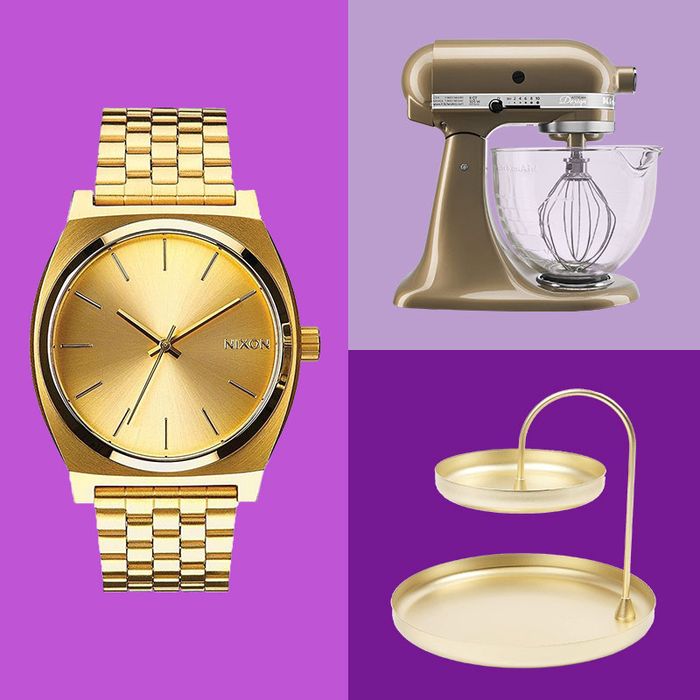 Photo: Courtesy of the retailers
Whether you've spent the past half-century traveling the world together, growing your family, or supporting each other's career and life goals, reaching your 50th wedding anniversary is a major accomplishment. You've likely encountered highs and lows over the years but figured out how to handle whatever comes your way while keeping your bond strong. And we think that's worth celebrating with a great gift.
Since it's known as the "golden anniversary," it's no surprise that the traditional gift for the 50-year mark is gold. To help you find the perfect gift for your husband or wife or a special couple in your life, we've combed through our extensive archive to find the best gold things (as well as less expensive gold-tone and gold-plated options) we've written about here at the Strategist. And if your 50th anniversary is still a few decades away, we've also compiled gift guides for milestones along the way, including first, second, third, fourth, fifth, sixth, seventh, tenth, 20th, and 25th anniversaries.
For the couple that tells time the old-fashioned way
Leave the phone checking to millennials and Gen-Zers. These analog watches keep the time on your wrist, right where you like it. The oversize men's Nixon style has a "simultaneously understated and bold '70s vibe," while tiny crystals add just a bit of sparkle to our gold-tone women's watch.
For the couple with advanced style
While our Resident Cool Guy Chris Black is known to have expensive taste, he's also a wealth of knowledge on inexpensive products that look way fancier than they cost. One is this affordable, high-quality men's belt with a gold buckle from Maximum Henry, a New York–based brand that Chris says "makes classic belts in a myriad of colors and styles that all come in around $200." For wives, try these even less expensive gold earrings (which are actually designed for babies) recommended by writer Alice Gregory, who calls them sweet and delicate. If those aren't exactly her style, we also like these affordable (but expensive-looking) hoops from Walmart.
For the minimalist couple
If you've been eyeing a Serge Mouille chandelier but can't stomach the $7,000 price tag, this gold-accented fixture is another designer favorite that'd be perfect for a contemporary space. "It's very modern, and large enough to engage a super-open loft," says designer Orlando Soria.
For the minimalist couple (in a small space)
For under $100, this shiny gold fixture with frosted globes adds elegance to a small dining room without being overwhelming.
For the couple that flies south for the winter
It doesn't get much more classic than a pair of gold-rimmed Ray-Ban aviators, and they're a style that works for both men and women. Stylist Donnell Baldwin says he's been wearing his "for more than seven years," and Strategist junior writer Chloe Anello has had hers for "four and counting!"
For the couple that hosts holiday dinners
For special occasions when the whole family gathers around the table, break out this pretty brushed-gold flatware that's beloved by Amazon reviewers. One writes, "The Moda set is a gorgeous, classic shape and adds a bit of class to every type of place setting." Considering that the set comes with pieces for eight people, it's a very good deal.
For the couple that's redecorating
For the jet-setting couple
You're not likely to lose your luggage when you use these gold-accented black croc tags recommended by writer Bridget Arsenault. "Each comes with an address card that's disguised by a flap, keeping personal information slightly more concealed," she says. "And the gold hardware makes them stand out from other all-black tags."
For the letter-writing couple
In our ranking of the top 100 pens, we said we'd save this elegant rollerball for "signing expensive checks on a well-appointed desk." But feel free to treat yourself and use it for everyday correspondence, too.
For the crafty couple
Artsy types will love using these gold-handled scissors from Danish brand (and Strategist darling) Hay that will also look cool peeking out of a pen cup.