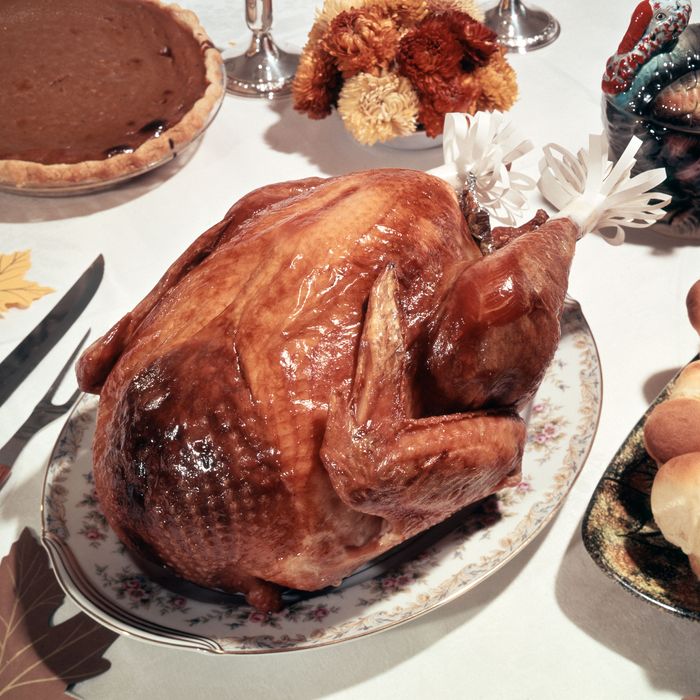 Photo: H. Armstrong Roberts/ClassicStock/Getty Images
Thanksgiving, a time to eat our feelings and fight with cousins from Wisconsin, is about to be upon us. If you're hosting people, you're going to need some things — and maybe some things that aren't from Party City. Here, the napkins, salad plates, and marbled table runners that will make your Citarella-bought stuffing a little more presentable. (And for some more ideas for tackling Thanksgiving prep, click here.)
For setting the mood
A minimalist candleholder to bring a touch of Scandinavian style to your table.
If you're decorating a bigger table, this sleek gold option with seven arms will surely add some warmth to your setup.
This Nest Hearth candle will instantly cozy up the place. The Cut's former senior beauty editor Ashley Weatherford, who's now at Into the Gloss, described it as smelling "like there's a fire quietly burning in the fireplace across the room."
For setting the table
You don't have to worry about getting gravy on this elegant marbled-paper table runner.
Polished gold flatware: always a nice touch.
A modern trivet with some MoMA Design Store vibes.
These salad plates are a little mumsy — but in the best way.
If you're looking for dinner plates, these square ones in a seasonally appropriate mustard have just the right amount of '70s-revival flair.
A simple porcelain bowl with blue trim would make a lovely vessel for cranberry sauce (it kind of goes with those salad plates in a not-too-matchy way).
Think of how nice your string beans will look in this cheery yellow casserole dish.
Enamelware looks good year round, but there's something particularly autumnal about it, too — all the better for presenting your Thanksgiving turkey.
A handsome cutting board that's perfect for serving cheese and crackers or carving turkey (Boos is a favorite home-goods brand of our Resident Cool Guy Chris Black).
A carving set elegant enough to leave out on the table.
You can't go wrong with some stemless Riedels.
A gravy boat makes a good "starter Le Creuset" piece; this one comes in the most pleasing shade of palm.
Another not prohibitively expensive piece from Le Creuset, it's the kind of serving platter you'll use on Thanksgiving — and every other fall and winter holiday — for years to come.
This lovely jadeite butter dish has an old-fashioned feel, but will be more fun to look at than your great-great-aunt's old porcelain one.
A pack of ten gingham cotton napkins will gussy up the table.
If you're not into gingham, this set of rustic, striped dish towels could double as napkins if you're going for a cozy farmhouse aesthetic.
And some toile dish towels, if you're going for a cozy French farmhouse aesthetic.