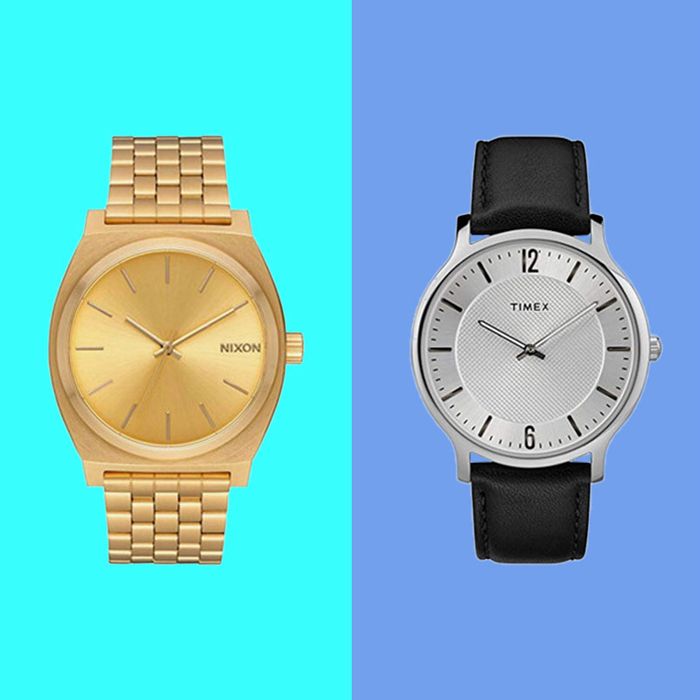 These are all on Amazon, all under $150.
Photo: Courtesy of the vendors
While poking around the bowels of Amazon, we noticed something slightly surprising — sprinkled among the site's many, many men's watches from brands you've never heard of were plenty of actually great timepieces, from known makers like Braun, Nixon, Timex, Skagen, and Daniel Wellington. The best part? Lots of them cost under $150. It's true that people are less inclined to wear watches these days, but a lot of these watches are so fun — and affordable — that we think you might be convinced to go analog again (okay, there are a few digital watches here too, but you know what we mean).
The military-style Timex Weekender is a classic at a great price. We like the rugged look of the olive nylon band and off-white dial, but there are plenty of other options, including one with Snoopy in a space suit.
This old-school Casio G-Shock is simple and durable, with plenty of throwback style. Plus, it's much more low-profile than your typical G-Shock.
With its black, genuine leather strap and silver dial, Timex's Metropolitan watch makes for a sophisticated and surprisingly affordable timepiece.
A self-winding automatic watch at less than $70 is basically unheard of, and the brushed-steel casing and blue canvas band give this a refined-but-casual look.
While it's not exactly built for diving deep underwater, this watch looks just as nice as any fancy diving watch we've seen.