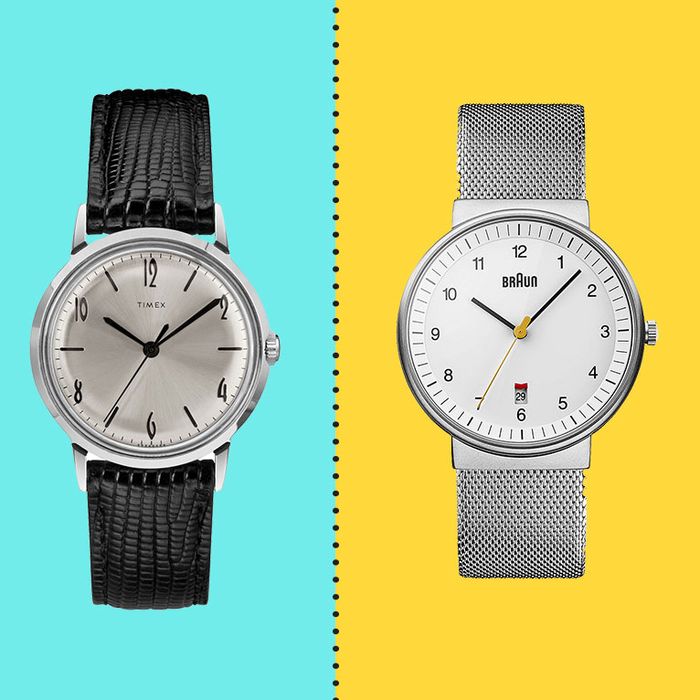 Photo: Courtesy of retailers.
When it comes to holiday gifts for guys, you can't really go wrong with a wristwatch. The problem with watches for men, however, is that we're not in a place to spend tens of thousands of dollars. To find the best watches that aren't obscenely expensive, we talked to James Stacey, watch expert and senior writer at Hodinkee for his professional take on the best men's watches you can get for under $200.
And to widen the field, we also asked him what he thought of some of our all-time favorite watches, plus ones we've written about in the past. The main takeaway here is that there are plenty of great mechanical watches almost anyone can afford. Here are Stacey's and our recommendations. Don't miss all of the Strategist's holiday gift coverage right here, too.
The Best Watches With Mechanical Movements
At the top of Stacey's and our list is the Timex Marlin. Stacey explains the appeal: "You're getting a classic style that plays into Timex's history as an original manufacturer in the States, but you're also getting a proper mechanical hand-wound movement, which is typically not accessible at this price. This watch is a reissue of one that Timex made in the 1960s, which is most likely why they opted to go with a 34-inch case — on the smaller side of what is typically offered these days. It's got a bit of grandpa charm, you know the Don Draper effect where it looks like you're wearing something from another era."
Still, if Stacey had to choose a watch for himself from the bunch, he'd go for a Seiko. "Seiko is a fully vertically integrated company, so they're capable of producing a wide variety of watches, including pieces that cost $40 or $50 all the way up to a few thousand, and at this price point you don't commonly get mechanical automatic movements." This watch made the list thanks to its gold tone, which Stacey has been seeing interest in the last few years.
If gold tone isn't your thing, though, Seiko also makes a ton of other styles, like this olive-green military-inspired automatic watch. "Not only is Seiko offering an almost limitless selection of mechanical watches: diver, military, classic, but also each one is a simple robust, super-reliable watch that's easy to get repaired. For what you might pay for a nicer Casio, you can get a really legit enthusiast sport watch."
Stacey opened our eyes to another Japanese watch brand with a cult following. "Orient has been around a while and has a respectful enthusiast following. They're in the same vein as a Seiko at the same price. But where a lot of Seiko's are sport watches, Orient has made a name for themselves with the Bambino because it's a bit dressier."
Stacey has good news for lovers of Swatch watches and beginner enthusiasts. "Swatch now makes their own line of watches called the Sistem 51, a very cleverly produced and manufactured collection of automatic watches. These are really cool, and we even did a Hodinkee launch when they came out. If you're even a little bit interested in the mechanics of the watch, you can turn it over and see that the manner in which they developed the movement is super modern and very minimal. This is a great move for someone who appreciates cutting-edge technology and design."
The Best Watches With Quartz Movements
Here at Strategist HQ, we're big fans of Braun, and so is Stacey. "For the Apple crowd that isn't into an Apple watch, this kind of Dieter Rams aesthetic — clean and minimal, but not to the extent that it's not functional — works really nicely. They're not expensive and are well worth the $100 you'll pay for one. Plus, they look good on everyone. I don't think you can be too old or too young to wear this watch, and they're also not gendered in any way. I think the Milanese style mesh bracelet is really comfortable, and it deals really well in hot climates."
The Timex Navi Ocean with its reversible strap is a great choice for a wide range of guys. "It's in that dive-watch aesthetic, which I think works pretty well for most guys. You don't have to overthink how it will match up with what you're wearing."
Breda wasn't on Stacey's initial list, so we asked him what he thought about the simple square-faced watch. "I like the design of Breda's Visser quite a bit. I like that it comes in a bunch of different colors, a nice size, with a simple Japanese quartz movement, and a nice warranty."
Same goes for Citizen watches, which come in almost every style you could imagine. "Picking one Citizen model is difficult because they make so many. With Citizen, you get their Eco-Drive technology, which is a solar-powered quartz movement. It's very clever and was their huge innovation over the last two decades."
The Best Digital (and Water-Resistant) Travel Watch
Stacey didn't hold back his enthusiasm for this throwback gold Casio. "Casio still makes a lot of their most popular watches from the '80s and '90s. This one comes in a bunch of styles, costs somewhere around $50 bucks, and weighs barely anything on your wrist. Plus this watch makes a really great travel companion, not only because it does multiple time zones really easily but also because you're not going to get a bunch of attention if you travel with it, you can take it in the pool, and it's not a big deal if it breaks. I'm a huge fan of these watches."