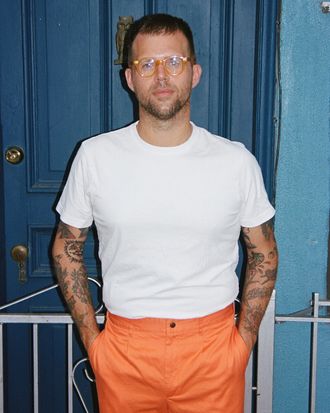 If you're looking for the most powerful hair dryer or the handiest chef's knife, those things can be easy enough to find. Other objects of desire are a little more taste-based. What's the next status water bottle or hand wash, for instance? Chris Black (he's a partner at brand consultancy Public Announcement) is here to help in the form of a regular column. If you have a burning question about the next fanny pack or Noah rugby shirt, drop us an email with the subject line "Ask Chris" at strategist@nymag.com.
What are your thoughts on watches? Now that I graduated from college and I'm moving to the city, I'd like to purchase one that I can wear anywhere from work to out at night. Rolexes are a little pricey me for right now, and I hate smartwatches, so looking to find something tasteful and high-quality that won't totally break the bank.
I have had a long journey with pricey wristwear. In my early 20s, in an attempt to seem rich and grown (SMFH), I bought a Panerai (before the bankers ruined them). It was a little gauche for me and ended up sitting in a drawer. So I sold it and got a Rolex GMT Master II, which also sits in a drawer. Watches just aren't for me. That said, they can be so so chic.
I would definitely advise buying vintage, as your dollar will go further. A timeless, previously owned Cartier Tank never goes out of style and can be had for less than $3,000. Good enough for Alain Delon and Princess Diana, good enough for you. Then there's the Rolex Air King, which is a little more pricey. This one from 1973 would do the trick. Initially produced for the British Royal Air Force and its pilots, it will serve you well at the office or a corner table at Frenchette. And a lot of guys I know love Omega. This vintage Seamaster has a cool rugged look and is one of the most important dive watches ever made. Jump into the Atlantic without worry!
If you want something new and crushingly simple, the Swatch Skin Classic is the perfect choice. A truly "less is more" piece of wristwear, it says I am smart and successful, but don't need a piece of high-end wristwear to prove it.
I just bought a new 13" Lenovo Yoga laptop, and I'm looking for a sleek, classy sleeve or case to protect it. What's the best way to protect my laptop without looking like a dweeb?
First of all, what is a "yoga laptop"? I have never seen those two words next to each other. Laptop sleeves are a tough category since most of them are over-designed and scream … "dweeb." I'm lucky enough to have a plain black leather one that a friend made for me almost ten years ago, and it's held up beautifully. A search for "laptop sleeve" returns mostly the bad stuff, so the key here is to search for "document holder" — it's fashion-speak for two pieces of leather connected by a zipper that can hold something.
Show your love for British heritage with this one from Burberry with the brand's classic check, but in a darker hue. Timeless!